7 Sexy Lingerie Garments Sizes 4X And Up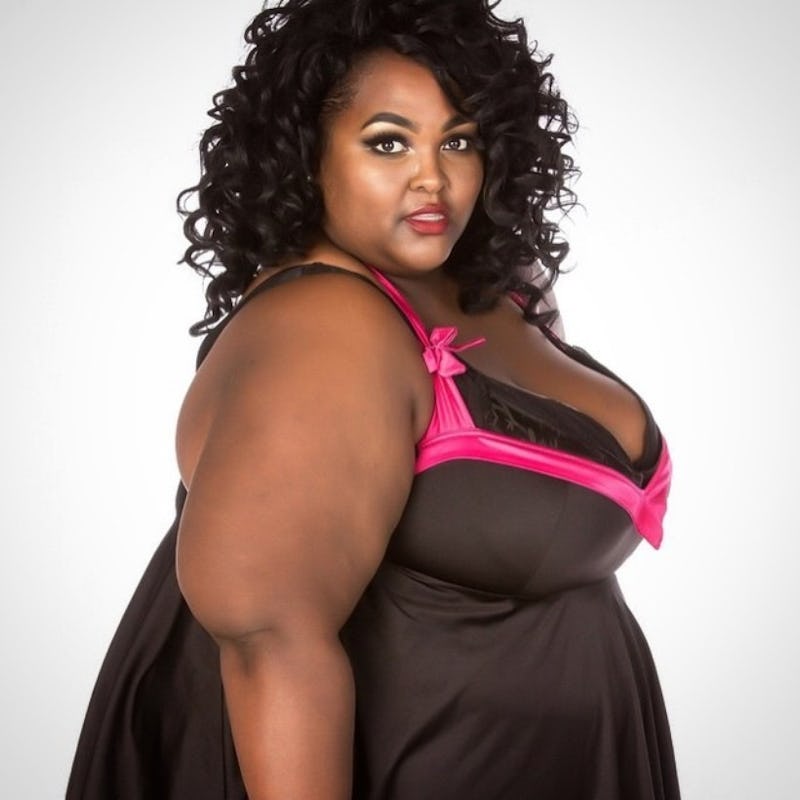 As soon as I sized out of Victoria's Secret when growing up, I had basically no idea where to shop for bras, let alone plus size lingerie. When a friend first suggested Torrid, I remember finding a bra that I liked and essentially buying that same bra over and over again every time the wire snapped. Which occurred every six months or so.
I didn't really know that I had other options. Confronting your lack of choice as a plus size woman can be so extremely frustrating and emotional that sticking to what you know can oftentimes seem easier. But now that I have begun dabbling in lingerie, I have learned that there are so many wonderful plus size brands making sexy underthings in larger sizes. The site Lingerie Addict is a great resource, because its coverage is catered specifically to women whose needs may differ from what is typically shown in mainstream lingerie campaigns — such as women who have had a mastectomy, trans women, and women of size.
But it's not all rainbows, shine shine, and garter belts for me. As I began my love affair with plus size lingerie, I also started to realize that I was once again very close to being sized out by many brands that stop right at my current size of 3X. The fact is that lingerie — much like plus size swimwear — is still difficult to find above a size 3X or 44DD.
Wearing sexy lingerie can be empowering, however, and that feeling should not be limited to women only of a certain size. The good news is that there are brands that are size inclusive and they are turning the sexy factor way up.
1. Babydoll Dress
The Joci, $65, Curvy Girl Inc.
Curvy Girl Lingerie has both a physical location in San Jose and a corresponding e-commerce store. The online shop very easily allows you to search by 4X-6X, which is a huge help. The Joci babydoll halter is available up to size 3X/4X. Like the majority of Curvy Girl Lingerie's items, this piece is shown on three differently sized models, which really allows you to visualize how the garment will actually fit.
2. Lace Camise
iCollection Sexy Lace Chemise, $40, Forever Yours Lingerie
I found this iCollection chemise on the site Forever Yours Lingerie, which also has a physical location about 40 minutes outside of Vancouver. Its online store allows you to shop every category by size, which makes it easy to locate its plus size items. This chemise comes in pink, turquoise, or black and goes up to a size 6X, which is priced the same as the size small. SCORE!
3. Frilly Panty
SILK Bridal Ivory and Dusty Pink Rose Frilly Burlesque Panties, $105, Etsy
I found out about the handmade indie brand RavenDreams on Lingerie Addict. The U.K.-based designer has worked to perfect the construction and craftsmanship of her garments and that attention to detail really shows. Her items include these frilly panties, which come in red for burlesque or peach for bridal, and are available up to a U.S. size 4X. But since she's a handmade designer, she also has an option where you can send in your measurements. Her custom work goes up to a 50JJ bra size, according to Lingerie Addict.
4. Bustier
Bandage Bustier, $80, Hips and Curves
Hips & Curves bills itself as "your ultimate plus size lingerie boutique," and it certainly offers a lot of styles and options. H&C carry up to a size 6X in certain pieces and there's a way for you to sort by size once you are in your desired category. This bondage-style bustier comes in four different color options and goes up to a size 5X. The halter and garter straps are both detachable.
5. High-Waisted Garter Panty
High Waisted Vintage Style Garter Panty in Black, $44, Domino Dollhouse
Domino Dollhouse is one of my indie faves. Its clothing and accessories never disappoint and now that I have discovered its lingerie products, it's really just game over for my wallet. DD's lingerie selection has a similar vibe to all of its daywear garments: Classic vintage-style silhouettes with a modern twist. This high waisted garter panty is available up to a size 8X, which gives me all the more reason to swoon for this brand.
6. Thigh Highs
Black Lace Top Thigh High Stay Ups, $24, Donatella's
I definitely do not trust anything that comes in one size because I have been burned too many times by ripping brand new queen size tights. The big appeal to Donatella's thigh highs is that they are individually sized and available up to a size 5X. As long as you have a tape measure, you can figure out your exact thigh measurement. Be aware that your thigh measurement may not line up with the size you normally take in pants so consult the size chart before you buy.
7. Corset
Plus Size Classic Sweetheart Corset and G-String, $32, Yandy
I first learned about Yandy as a budget-friendly option for plus size lingerie. Its online selection is very extensive, boosting more than 10,000 items stocked. Prices for plus size lingerie start around $5 and it's not unheard of to find a lace babydoll set for under $20. Though the brand does not feature all of its products necessarily shown on a plus size model, you can sort by size — which is how I found out that this corset is actually available up to a size 7X/8X.
Images: Courtesy Brands