9 YA Novels All Artists Must Read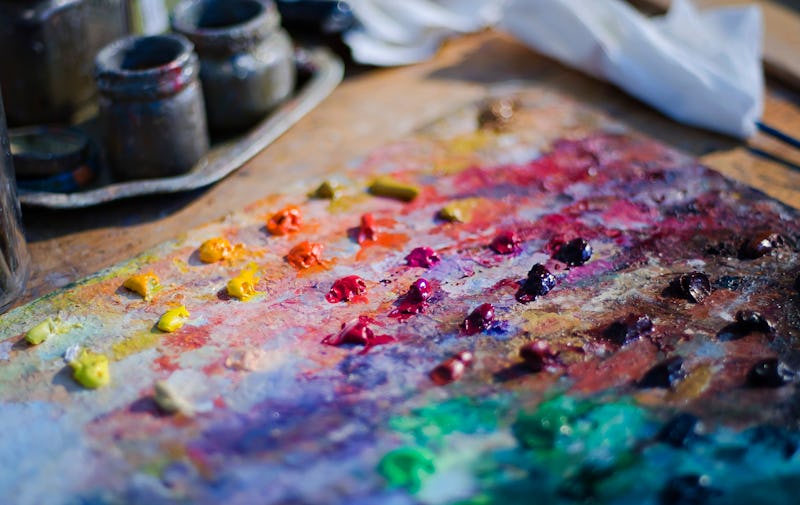 Paint a mural. Start a battle. Change the world. Daniel José Older's Shadowshaper takes a Caribbean legend and puts it into a sticky Brooklyn summer, one during which street art becomes even more powerful to society than usual. Older's unique story meshes the mystical with realism to tell a tale about culture and the transformative nature of art.
Brooklyn street artist Sierra Santiago plans to paint a mural on an abandoned building, spanning five whole stories. But then things start get weird in her community — especially when a nearby mural starts to weep real, human tears. Sierra's dying abuelo, or grandfather, warns her about the coming shadowshapers, ancestral spirits that embody music, stories, and art. But someone is killing off the shadowshapers one by one, and Sierra comes to learn that her own heritage is deeply invested into what's going on around her.
Like the murals who shed real tears, you're probably going to be imbued with the same kind of spirit reading Shadowshaper — dripping sweat like you are really in the Brooklyn humidity. Older's setting envelops you until you feel like you're there, alongside Sierra. And you'll love following Sierra through her story, she's a proud, body-positive, tough Puerto Rican artist, someone you feel like you could know if your real life. Or really, really want to know.
If you identify with Sierra's creative identity, here are eight other vibrant YA novels that will appeal to the artist in you.
Shadowshaper's artists painted on the streets, but The Truth Commission takes things into the classroom of the Green Pastures Academy of Art & Applied Design. Susan Juby's book itself is a unique piece of art, working as the narrative nonfiction book written by the characters, complete with illustrations and notes. A junior at the school, Normandy Pale, grew up in the shadow of her artist older sister and her popular graphic novels The Diana Chronicles, which do little to obscure Normandy and the rest of her family members as the eccentric characters. Now Normandy and her artist peers aim to make their own project: This book, an anti-gossip, pro-truth project that doesn't go exactly how she imagines.
Both twins in Jandy Nelson's breakout YA novel I'll Give You The Sun are artists in their own right, though only one of them was accepted into art school. Noah is a painter. He thinks, dreams, and breathes painting so much that he envisions surrealist paintings of every person he meets. Jude is quieter about her passion for art. She builds sculptures in the sand that are washed away by the tides. But Nelson herself is an artist for her book; she paints brushstrokes across every character as Noah — (A Series: Boy Inside a Box of Darkness), (Portrait: Jude Braiding Boy After Boy Into Her Hair) — making the entire novel a slightly surrealist portrait of twins falling away from each other and finding their way back.
Palmares Tres is a Brazilian city developed after a nuclear winter, some time into our future. June Costa is a Palmares Tres street artist that is destined for mythological status for her work, but she only gets more prolific when she meets fellow artist Enki and they stage projects together across the city. Their art works as an inspiration for a rebellion against the government and the strict class-stratified society, much like today's street art. Alaya Dawn Johnson's novel The Summer Prince is an ode to the power of art in society, and though it's set far into the future, it's as relevant today.
Two-time National Book Award finalist Adele Griffin opens her unique novel with a newspaper article, breaking news of the death of famed teenage street artist Addison Stone. Stone made a lot of waves with her subversive art, and the story of what happens to her unfolds through a series of interviews with her huge fanbase, her critics, art dealers, and those close to the artist. Oh, and, of course, the book is fully illustrated.
The Sculptor by Scott McCloud
Scott McCloud's graphic novel The Sculptor knows all about the price we pay for our art. David Smith literally makes a deal with Death for the ability to sculpt anything he can dream up. And now he only has 200 days to live, and he's realizing that figuring out just what to sculpt may be the hardest part. It's a conflict every true artist has struggled with. Plus, add in a final-hours true love interest and you've got yourself a conundrum.
Trade in your paint brushes and pottery wheel for a video camera. Nina LaCour's Everything Leads to You is basically a love letter to film, following a skilled young set designer as she tries to make her way in Hollywood. Emi works on both small indie flicks and blockbusters, putting her romantic touch on all movies. But, the romance doesn't quite translate to her real life, until she meets Ava, whose life in a homeless shelter gives Emi a glimpse into glamorous city's division between the rich and the poor.
Selwyn Arts Academy is one of the most prestigious art schools in the country, so it's a no-brainer location for a new reality show For Art's Sake. But some of the young artists revolt against their student work being used for a very non-artistic commercial TV show. As an act of rebellion, the students take inspiration from Ezra Pound and write a vigilante long poem about the various evils of For Art's Sake. Things aren't always so black and white though, as real artists know, and one of the vigilantes takes an opportunity to appear on the show, throwing the whole mission into chaos. Kate Hattemer's work is as vibrant and cracking as the students', and you're going to love getting a glimpse into the Academy, which will confuse you even more about the nefarious reality show.
What Nick and Norah's Infinite Playlist did for underground music, Graffiti Moon does for underground street art. Both stories take place over the course of one life-changing night. Recent high school graduate Lucy is spending her night searching for the inspiring but mysterious graffiti artist Shadow who covers her city in color. She did expect to go find the artist she loves, but she didn't expect to be with Ed, a guy who she spent one terrible date night with. It's an electric and fast-paced romance story that is as much about the love of art as it is about relationships.
Image: javcon117/flickr