Amy Schumer Crushes Our Disney Princess Dreams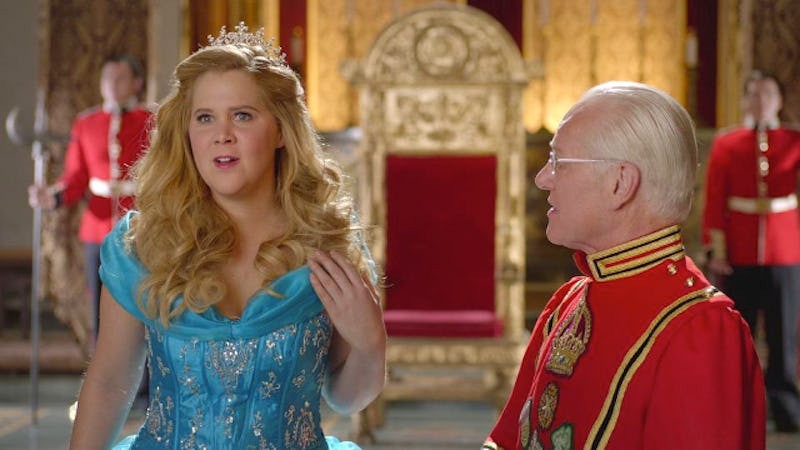 In only three minutes, Inside Amy Schumer gave us an important history lesson and shattered the illusions that being a Disney princess is a good thing, instead revealing that it should not, in fact, be every little girl's dream. In the "Princess Amy" sketch from Inside Amy Schumer, the comedian plays "a rancid peasant girl" cleaning a la Cinderella, when Tim Gunn's "royal attache" character Willamby bursts through the door and tells her that she is "not just a disgusting filthy commoner at all," but a PRINCESS! It's every girl's dream, especially our generation, who were raised on a steady diet of Disney's Cinderella and Sleeping Beauty.
As Samantha Grossman joked over at Time, "Maybe it's finally time for girls to grow up dreaming about becoming lawyers or PR professionals instead." And, to be honest, dreaming of becoming a princess is not the best fantasy for little girls to have. Why? Well, Schumer's sketch shows all the various reasons in the most amazing and hilarious way. While Disney movies are obviously great, and the magic present in every one still define the childhoods of all of us, Schumer's sketch is for the adult in all of us, re-watching those films with a more critical eye and realizing that the whole Fairy Godmother schtick just wouldn't work out in real life.
Here's the sketch, and the life lessons we learned.
1. Being a Princess Isn't Glamorous
Married off at 14? Not even singing, or cute blue birds adjusting your dress, can make that pretty.
2. History Was Not Kind to Women and We Shouldn't Forget It
Forced marriages. Beheadings, if all a girl does is produce other girls. Period tracking and misogyny at every step. The 13th century sucks.
3. Classicism Sucks
On the plus side, Schumer sang this beautifully.
4. Hooking Up With Your Cousin Isn't a Good Idea
They'll be born all "jacked up," as Princess Amy says. This is an important addition to Karen from Mean Girls' famous PSA, "Well you have your cousins, and then you have your first cousins."
5. Tim Gunn is a Great Actor
"F**k yeah, Willamby!" Amy cheers, and we agree.
6. We Should Reach for More
The real takeaway of the sketch is how intrinsic sexism really is — girls internalize these stories of princesses at a young age. What these fairy tales tell us is that this is the best the world has to offer women, and our fates aren't even our own. Even today, people think of a woman's role to "incubate an heir."
By examining these implied and intrinsic ideas that are often presented in fairy tale stories, but doing so in a wonderfully comedic way, Schumer forces us to really think about what it is that we're idolizing in our princess fantasies. And that's what makes her such an amazing entertainer.
Image: Comedy Central (7)