Make This Gummy Bear Piñata Cake For Pride Month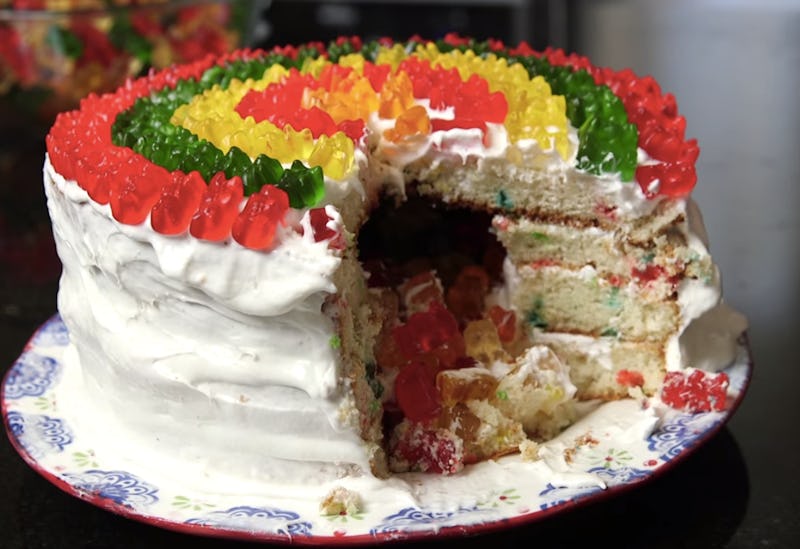 As you probably know, cake by itself is great. Cake covered in dozens of rainbow gummy bears and stuffed with more gummy bears? That's not just great, that's freaking fantastic — which is really the only way I can think of to describe this rainbow gummy bear piñata cake we made in honor of Gay Pride Month. Seriously, people, you're going to want to try a slice of this for yourselves... especially now that same-sex marriage bans have been ruled unconstitutional by the Supreme Court. This is one delicious way to celebrate.
What exactly is a piñata cake, you ask? A piñata cake is kind of like two desserts in one. From the outside, it looks like just an innocent frosted layer cake, but cut into the center of this sneaky baked good, and you're instantly treated to a shower of, well, more treats. That's because a piñata cake is stuffed with an assortment of candies, cookies, or in this case, gummy bears, all cleverly hidden in a large hole cut in the middle. It may sound complicated, I know, but watch this cake in action, and you'll see just how simple it is to get the piñata effect to work. As for your cake's decorations? We chose a rainbow theme to celebrate Pride Month, because there's honestly nothing sweeter than love and equality, am I right?
So gather up your cake pans, grab your frosting and your gummy bears, and get baking. This is one sugar rush you don't want to miss.
Looking for more cool ideas? Check out Bustle on YouTube.
Video: Bianca Consunji/Bustle