7 Wedding Dress Alternatives You Can Snag ASAP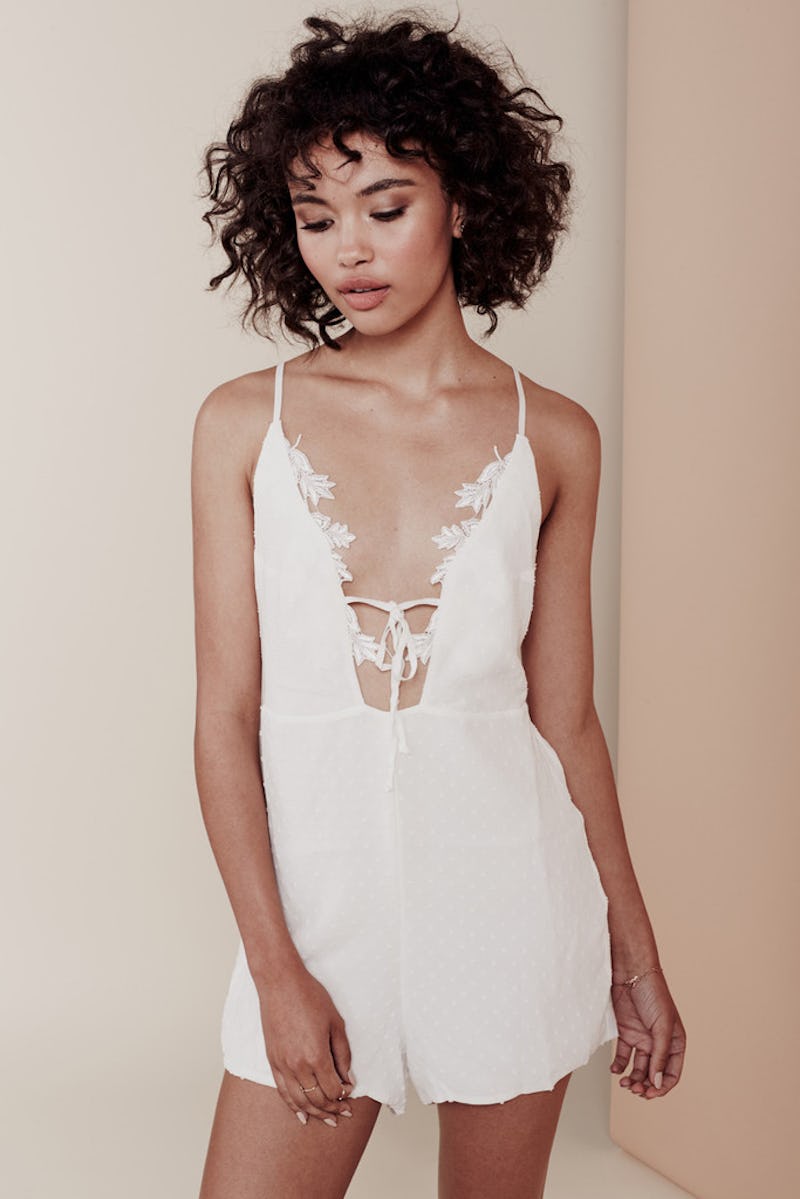 Given that there's now marriage equality for all (Go America!), there are plenty of reasons why you might not want to spend a ton of time shopping around for a wedding dress. For those of you looking to get hitched ASAP (or simply don't care all that much about splurging on a fancy dress) there are plenty of wedding dress alternatives out there that are super fashionable and can be just a dreamy as an expensive gown, without all of the fuss.
You can choose to go the traditional route and still wear a dress, but one that comes from a regular retailer, rather than one that specifically sells bridal gowns. Or you can go a more modern route and rock a gorgeous white pantsuit or romper at your wedding. Do whatever makes you feel the most beautiful, because it's your day!
I love the idea of getting something that's much cheaper than a wedding dress — but just as gorgeous — without having to wait forever to be able to actually wear your ensemble down the aisle. Now that everyone is free to get married why would you want to wait, you know? I'm not saying you should rush into anything, but if you've been waiting forever to be able to marry your loved one, there's no time like the present.
So, for all of those spontaneous love birds out there, check out these options for your wedding day:
1. Jumpsuit
Kimono Jumpsuit In Sequins, $145, ASOS Curve
A jumpsuit is a super easy and super stylish way to dress for your special day. Go glam and modern with a sequin number, like this jumpsuit from ASOS Curve.
2. Pantsuit
Cape Blazer, $63, Nasty Gal
Crochet Lace Pants, $178, Nasty Gal
Why not pair a sophisticated blazer with a great pair of pants for your trip down the aisle? This lacy pair is just the right amount of classic and modern.
3. Maxi Dress
Flutter Sleeve Maxi Dress, $57, ASOS Curve
This maxi dress is definitely more traditional, but so easy to find. So, for a bride looking for a classic bridal look ASAP, this is the best of both worlds.
4. Romper
Garden Isle Romper, $207, For Love & Lemons
How adorable is the romper? Simple and feminine. Perfect for a casual summer wedding.
5. Crop Top And Skirt
Guava Crop Top, $153; Guava Skirt, $162; For Love & Lemons
A crop top and skirt is such a great option for a bride. Sexy, but not too over the top, you know?
6. Co-Ord Set
Spot Jacquard Blazer, $81; Spot Jacquard Culottes, $72; ASOS
This look is clean and elegant. Co-ords always seem to just be effortlessly chic — just the way I'd want to look on my wedding day, that's for sure!
7. Slip Dress
First Kiss Slip Dress, $50, Free People
Slip dresses are simply sexy in every way. If you're wanting to look like a goddess on your wedding day, this is the way to go.
Images: Courtesy Brands