'Teen Wolf' Could Bring Jackson Back For Season 5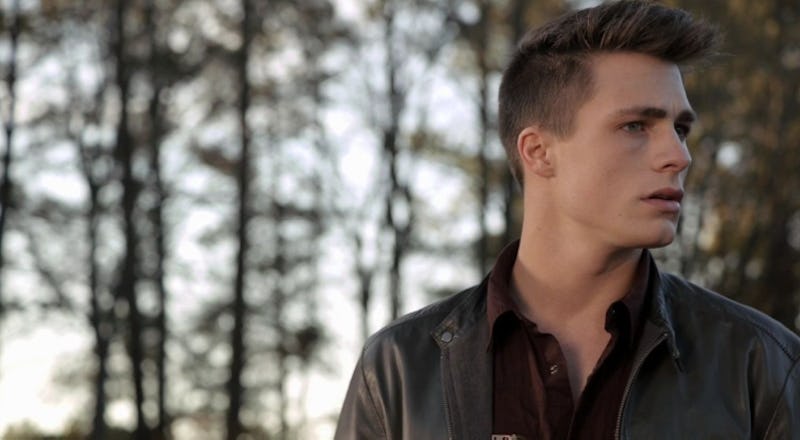 Colton Haynes, you serial heartbreaker you. After two seasons of becoming an integral part of Starling City's greatest (and best looking) crime-fighting team, Haynes left Arrow. In retrospect, we really should have seen this coming. That is, the part about him leaving, I don't think anyone could have predicted his jail-shank-death-fake out. After two years of building up a passionate following, leaving a show is kind of his thing. (Maybe it's a leave them wanting more technique? If so, it is very effective). Nobody knows this better then Teen Wolf fans, where he perfected the love 'em and leave 'em move. He spent two seasons on the MTV hit show playing Jackson Whittemore, baller lacrosse player, high school nemesis to Scott, and later the Season 2 big bad Kanima. Now that his schedule has cleared up a bit, I have to wonder, could Haynes return to Teen Wolf Season 5 as Jackson?
He didn't leave suddenly. He at least had his reconciliation with Lydia before he took off for London (get it? Werewolf in London?), but for me the key fact was always that they left him alive. Alive and hunky, with more than a few plot threads to tie up. When he first left Teen Wolf there were murmurs he might come back, but now that he is off Arrow they have elevated to screams.
I've got good news for the Whittemore-loving Wolf fans, I think that Haynes might just return to Teen Wolf, if only for a special guest arc.
This isn't just fan speculation (OK, this isn't entirely fan speculation). Apparently getting Jackson back into the fold is on the mind of show executives as well. The Teen Wolf team has given us enough hope to last us all summer that Jackson will make an appearance. During a master class in Paris show creator Jeff Davis spoke with Melty about the possibility of a fan favorite returning to the show. "One of our missed characters might come back next year," he said. "Jackson has turned into a wolf now. I would love to see him in a wolf-fight."
You and me both, Davis, you and me both. From the sound of it, there is a chance we could get a guest appearance from Haynes, letting fans see him with Lydia again, maybe fight Scott, attend a reunion, or whatever else the show wants to do with Jackson — I'm not picky. In an ideal world, Season 5 would be the Jackson show with him in every plotline, but unfortunately, I don't think that's in the cards.
While I would love to have Haynes back on my television every week in a series regular role, we likely won't be so lucky. Haynes has already had great success on two television shows and is now doing giant blockbuster movies (like this summer's San Andreas). He doesn't seem content to settle down on a show for a long stretch of time and I don't think he'd want to re-tread old territory. No, I think we'll just have to be happy with getting a small Jackson-fix and hoping it lasts until Haynes picks his next project.
Images: MTV; Giphy