Missing 'GoT'? 13 Ways To Channel Myrcella's Style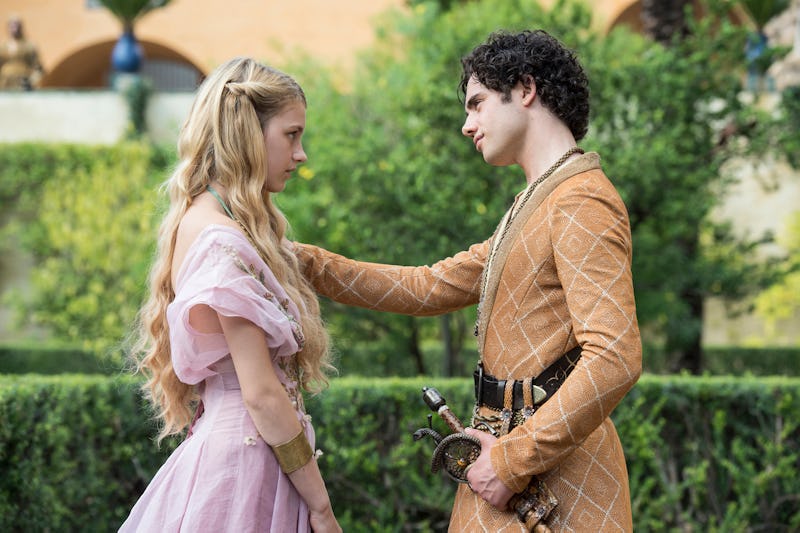 Although not entirely unpredictable, Princess Myrcella's poisoning at the lips of Ellaria Sand and the Sand Snakes was heart wrenching. Especially when tied with Jaime Lannister's stumbling but emotional confession of paternity. It is, in the end, one of the more elegant and peaceful deaths in the Game of Thrones series, one rather fitting of the innocent princess. We certainly didn't want to see her go, but if it had to happen, at least it was in the arms of her father/uncle. (Sigh. Why must everything involving the Lanister twins and their children be so complicated?)
One thing that's for certain though, is that Myrcella's time spent in Dorne seemed to help her blossom (with the exception of that final kiss, of course). Her betrothal to Prince Trystane Martell was favorable and kept her in Prince Doran Martell's good graces, the Dornish climate clearly leaves Westeros wanting (impending winter, and the potential of White Walkers doesn't seem to be of great concern there, at least), and Dornish fashion definitely suited her. So much so that her look, and those of the Sand Snakes, may be some of the most coveted from the HBO series this summer. The airy, chiffon dresses with floral and gold embellishments that Myrcella adopts during her stay in Dorne are stunning, and would make for lovely modern day formal wear and festival apparel.
If you're looking to channel Princess Myrcella's undeniable Dornish style, you're going to want to start with something flowing. These chiffon and silk dresses in pink and yellow are lovely possibilities, and they'll help you beat the summer heat. Plus, there's definitely something about chiffon that lends to the delicate princess mystique.
Light Pink Flowing Chiffon Evening Dress with Gorgeous V-neckline, $130, dressale.com
Yellow Elegant V Neck Side Split Chiffon Evening Dress, $29, bonanza.com
Yellow Kimono Dress w/ Gold Chain Shoulder Straps, $60, etsy.com
Apricot Peachy-Pink Prom Dress, $40, etsy.com
Of course, Myrcella's fashion went beyond flowing form. She regularly wore garments with beautiful embroidery, usually of a floral nature. The embellishments supplemented her general lack of jewelry, save some of the simple golden vambrace-esque bracelets she wore on her arms and an occasional necklace. Here are a couple of lovely, embroidered gowns if you're looking to highlight Myrcella's delicate style.
Pink Lace Flowing Summer Dress, $100, etsy.com
Vintage 90s Light Brown Embroidered Maxi Dress, $48, wanelo.com
Although chilly air is rarely an issue in Dorne, Myrcella was prepared for sea breezes with lovely overcoats, embellished with golden thread. Her daily finery was subdued, but her outerwear made a statement. Make a similar statement with these stunning shawls, ranging from affordable, to uniquely vintage (and a bit more pricey), because your royal finery doesn't necessarily have to break the bank in order to keep you warm.
Women's Turquoise and Gold Jacquard Shawl Wrap, $18, overstock.com
1920s 1930s Art Deco Art Moderne Black Gold Metal Lame Brocade Evening Shawl, $275, etsy.com
Evening Wrap - Shawl Scarf - Stole - One Shoulder Drape- Gold Brocade - Taupe Copper Brocade - Pashmina, $25, etsy.com
With her simple, straight forward jewelry choices, Myrcella makes accessorizing easy. Here are two boldly beautiful brass cuffs to mimic Myrcella's arm adornments. The brushed brass pays homage to the shape and style of Myrcella's pieces, but the hammered brass lends character and some personal flair to your tribute.
2" Wide Metal Cuff in Brass, $25, etsy.com
Hammered Brass Cuff, $86, etsy.com
And last, but not least, paying homage to Princess Myrcella's flower of the Lannister family innocence (even if she may have been trading some of that innocence for exploration and stolen kisses from her beloved) means incorporating a few floral accents in your mane. Adorning your locks with delicate lilies or golden roses is a perfect way to channel Myrcella's style with subtlety and grace in the midst of this summer's Dorne-like heat. From festivals to formal events, a little floral flair can go a long way, so keep it simple, sweet, and classy with these options from Etsy.com.
Bridal Headpiece, Wedding Headpiece, Bridal Headband - MYRCELLA, $138, etsy.com
White Pink Stargazer Lily pin polymer clay flower, $33, etsy.com
So go forth, ladies. Pay tribute to Cersei and Jaime's second (and possibly best) child, and embrace all of the beauty that Dornish style mixed with innocent, flower child appeal has to offer. The flowing chiffon frocks and brass arm bands will provide you with an ethereal atmosphere at your next formal event, and you'll never be short on conversation starters wearing clothing inspired by one of HBO's most watched shows.
Images: Macall B. Polay/HBO; HBO; Courtesy Brands