20 Different Ways To Grill Fruit This Summer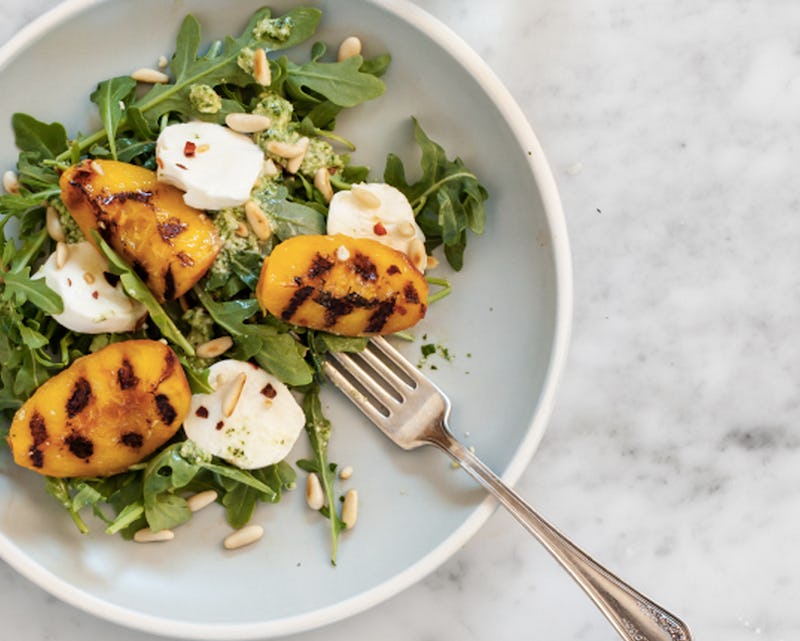 One of my favorite things to do in the summer is to whip up a few grilled fruit recipes. That may sound weird with all of the other amazing summer food options out there, but it's true: grilled fruit is amazing. When you take a sweet, juicy summer fruit like peaches or cherries and stick them on the grill, they get this really great smokey flavor that just mixes in so well for a really unique taste.
Plus, there's so much you can do with grilled fruit. You can eat it as is, you can drizzle on honey or chocolate, you can use it to make a boring salad instantly more interesting, or you can pile on the whipped cream or ice cream for a truly decadent and impressive dessert. And the whole time, you can pat yourself on the back because you're eating something healthy — although, trust me, it won't even feel that way.
Whether you want a quick, smokey-sweet snack, or a dish that will impress the heck out of your parents and friends at your next barbecue, look no further. Here are 20 ideas for grilled fruit inspiration, along with more time-consuming recipes that are also totally worth it. Enjoy — nothing feels more summery than eating fruit off the BBQ outside!
1. Watermelon
Grilled watermelon doesn't need much to make it delicious, but if you want to do something more with it, try this simple salad. With salty feta, spicy arugula, and tangy balsamic, this mix of flavors is perfect for summer.
Image and recipe: Cooking For Keeps
2. Lemons
When grilled, lemons become less bitter and make a great garnish for desserts or drinks.
3. Figs
It's hard to imagine anything could make fresh figs more delicious than they already are. Grill them, add some honey and mascarpone cheese, and you've got an easy and irresistible dessert.
4. Grapefruit
Warm grapefruit is not only more satisfying than cold grapefruit, it's also easier to eat and get out of the rind. Topped with jam and almonds, this makes a simple yet decadent breakfast!
5. Pineapple
Grilled pineapple is one of the best things to eat in the summer, and it goes particularly well with grilled shrimp. These grilled and jerk seasoned shrimp and pineapple skewers are spicy and sweet.
Image and recipe: Closet Cooking
6. Apples
Keep grilled apples simple by just adding a sprinkle of cinnamon sugar on top. You can also add honey, chocolate, or Nutella if you're feeling crazy.
7. Cherries
Grilled cherries are awesome. Grilled cherry salsa? Even better.
Image and recipe: How Sweet It Is
8. Strawberries
There are so many things you can do with grilled strawberries. Put them over ice cream. Stick them into a s'more. Dip them into chocolate or Nutella. Basically, whatever you want!
9. Peaches
Grilled peaches are another one of summer's little treasures. Make them even more delicious by wrapping them in bacon and adding a sweet balsamic glaze.
Image and recipe: Foodie Crush
10. Oranges
Grilled oranges don't only look amazing — they taste amazing too.
11. Avocado
Avocados really don't need extra love to make them taste great, but stick 'em on the grill for a smokier flavor. Squeeze a little lemon or lime on top, and you're good to go.
12. Plums
Grilled fruit, especially plums, goes perfectly on any type of cake or cupcake you might make.
13. Bananas
How awesome does this breakfast look? Grill up some bananas, and add honey and coconut oil, or even some chocolate.
14. Kumquats
Put some kumquats on a skewer, stick 'em on the grill, serve with Nutella. Perfection.
15. Apricots
Grilled apricots go perfectly on a salad of arugula, fennel, and almonds. Simple, yet fancy.
Image and recipe: Food and Style
16. Kiwis
Make your BBQ more tropical with some grilled kiwis. They're so sweet, they don't need much!
17. Cantaloupe
Grill some cantaloupe to eat on its own, or add it with avocado and dressing for a quick salad.
18. Mango
This will make you want to eat oatmeal every day: top it with grilled mango and toasted coconut.
19. Pineapple
Grilled pineapple is so good that I couldn't resist adding one more recipe. This one is a twist on eggs Benedict with coconut-almond Hollandaise.
Image and recipe: Half-Baked Harvest
20. Pears
Make a sandwich with grilled pears and your favorite cheese.
Image: Love and Lemons