Kate Moss & Lara Stone Are Perfect For Balenciaga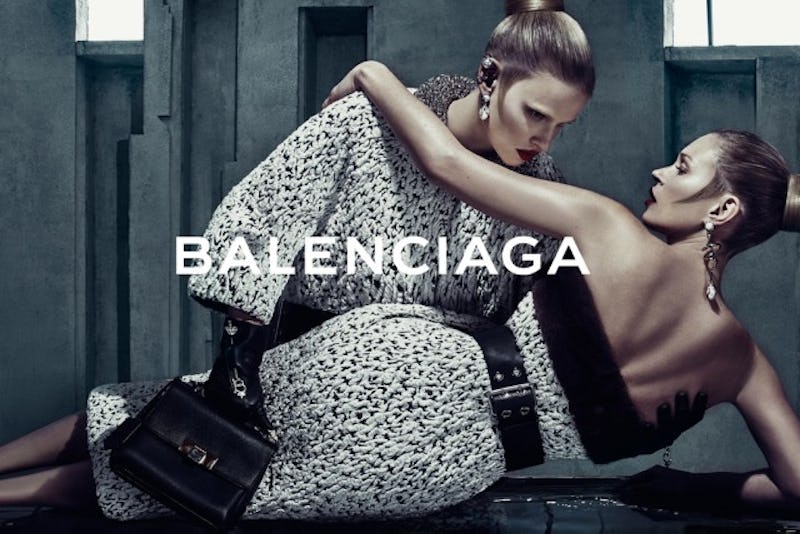 Move over Kendall Jenner and Gigi Hadid. Or even Taylor Swift and Karlie Kloss. There's a not-so-new dynamic duo in the modeling world, at least in a Balenciaga Fall 2015 campaign shot. Kate Moss and Lara Stone are unrecognizable in their Balenciaga ad, thanks to how their golden locks are swept tight off their beautiful, contoured faces, which are also marked by serious, pointed sideburns. It's beyond striking. When you are not focused on the fact that it's Kate and Lara all wrapped up in a longing embrace, you will end up paying some attention to the fabulous clothes themselves.
This is not the first time that Kate the Great has gotten all sorts of cuddly or sexually suggestive with other female models in an ad (more on that in a second), but she and Stone smolder. Don't get too close to the screen when looking at the image or you might catch fire. Rawr!
"For me, the fall collection began with the real women of Balenciaga—women who are multi-faceted and multi-dimensional: Strong and sensual yet also austere and mysterious," Alexander Wang, who is multi-faceted himself as the brand's creative director along with fronting his own eponymous label, said, according to Women's Wear Daily.
Yeah, that about sums up Moss x Stone in this image. This ad is equal parts mysterious and sensual.
Wang furthered, "I wanted the first image for the campaign to frame Kate and Lara in a mysterious conversation."
I don't know what the models are talking about since I don't see their red-stained lips moving. But even on the non-literal level, the conversation Wang mentions can't have anything to do with words.
What I do sense is some serious non-verbal heat. It's sexy and romantic.
That's Moss on her side, with her back to us, rocking the strapless, belted, black and white textured dress. Is she pulling Stone, who is gripping her luxe, squared off bag and owning that voluminous top in the same fabric, to her? Or is it Stone who is initiating some closer contact?
I can't tell and that's what I love most about this ad. The power of sensual suggestion is off the charts here.
As stated previously, Moss isn't afraid to cuddle up to her co-stars in ads or images.
Like her S&M-themed V covers with Rihanna.
RiRi and Kate sizzled and scorched, getting very, very close.
Because one photo of Rihanna and Kate Moss nuzzling suggestively isn't enough...
Two of the greatest British models ever got all tangled up for Burberry! Moss and Cara Delevingne rock those trenches and strappy heels. But its how they were draped on one another that increased the heat.
Once more, with feeling! It's another scorcher, featuring effortless bedhead.
Kate Moss really is the "sex" factor in her photos. She elevates things to a whole other level of hawt.
Images: Balenciaga (1); V Magazine (2); Burberry (2)