We Break Down RiRi's "BBHMM" Trailer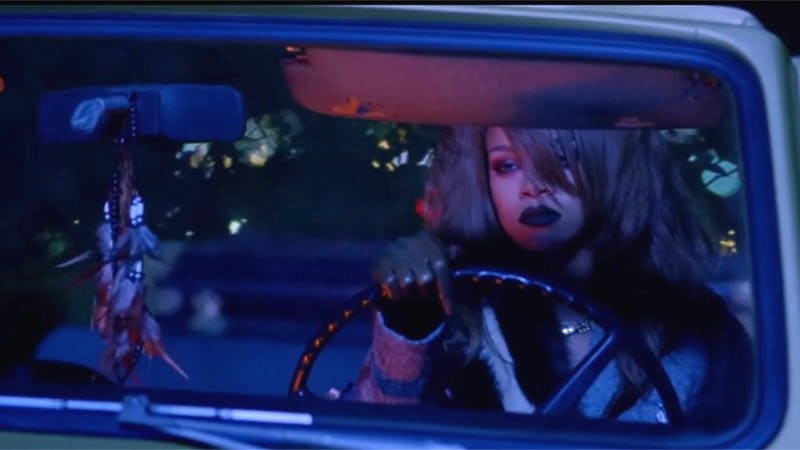 I've been jamming to Rihanna's "Bitch Better Have My Money" for years (OK, months), so I'm ecstatic that she's finally releasing a video for the song. During the 2015 BET Awards on June 28, the good girl gone bad premiered a teaser for "Bitch Better Have My Money" and it's just as epic as I hoped it would be. Although the full video won't hit Tidal until July 2, the trailer does give us a few hints at what we can expect.
Of course, the track is Rihanna through and through. Not only is it insanely catchy, but it radiates the kind of confidence only the singer can pull off. Seriously, who else can demand "Bitch better have my money! / Pay me what you owe me" without sounding cheesy? To quote the song, she's "ballin' bigger than LeBron."
Although we're still waiting for the video, Rihanna did grant us a small gift, in the form of a prank she pulled on Jimmy Kimmel. The singer stormed the late night host's bedroom while he was sleeping, cranking her new song and throwing dollar bills everywhere. Just a day in the life, right? As epic as the stunt was, I've got high hopes that the official video will be even more exciting.
Here seven things the trailer tells us about "Bitch Better Have My Money."
There's A Warning
Here's your friendly reminder not to cross Rihanna.
There's Another Woman
I'm going to bet that she doesn't have Rihanna's money.
Rihanna Sneaks Around Under The Cover Of Night
Something tells me this isn't going to end well.
There's Possibly A Love Triangle
Well, there's at least a man involved somehow.
The Cutest Dog Ever Makes A Cameo
He's so fluffy!
Something Happens In The Elevator
Ahhh, the two women meet!
Rihanna Is Not Messing Around
Pay her what you owe her.
Images: Island Def Dam (7)