11 Dyed Beards Causing Major #BeardEnvy Problems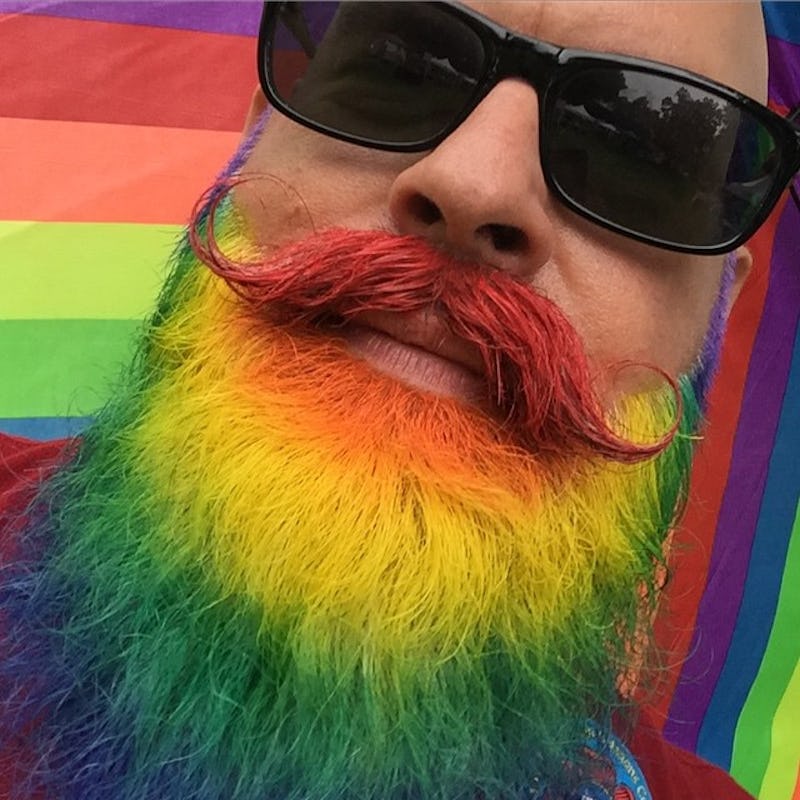 That's right, guys: The latest do in color play is the dyed beard trend. If you've looked up from your iPhone lately (or, if you were scrolling through Instagram), you may have noticed a sharp increase of colorful coifs across all genders; maybe you've been lucky enough to spot a glorious rainbow, a trendy two-toned topper, or perhaps even some dyed armpits. It's clear that this spectacular strand style is not going away any time soon, in fact, it seems to be migrating a few inches south.
Although these fabulous facial fashions might not be for the faint-of-heart (or those with super-corporate careers), they are a perfect way to experiment with adding color to your everyday ensemble. If you're ready to make a serious commitment, try dying your beard and mane the same striking shade, or if you're only into it for a weekend fling, pick up a semi-permanent dye or hair chalk from your local beauty supply store and be ready to shave it all off before your first Monday meeting. Need some inspiration for your future facial fuzz (or just want to scope out the magnificent multicolored men)? Check out these 11 strapping stunners who are proof that bold and beautiful bristles are for everyone!
1. Business Casual
Make corporate do a double-take with an eye-catching color combo.
2. Glow Guy
Highlight every ensemble with matching neon yellow strands.
3. St. Patty's Stud
Prevent any pinching with gorgeous green.
4. Pink Perfection
Temper a neutral 'do with a hot pink beard for a powerful contrast.
5. Emotional Rainbow
Make every face fabulous with a beard that covers the spectrum.
6. Make Kermit Jealous
Proof that it is easy being green.
7. Purple Rain
Utilize hair chalk to spruce up some scruff.
8. Ombre Hombre
Gradient game on point.
9. Sporty Style
Root for your favorite players while rocking the team's colors.
10. Scenic Stubble
Be even more colorful than your surroundings.
11. Purple Pride
Wear your happiness on your shirt and your face.
Images: Boqipod, Theryanmorgan, Contrastingconsonance, Mathieuwain, Samernoun, Therainbowbeard, Angelvprado, Japles242, Evermanny, Leesfc, Gochashorena, Ok_allgood/Instagram