Is There Really A Stripper Convention?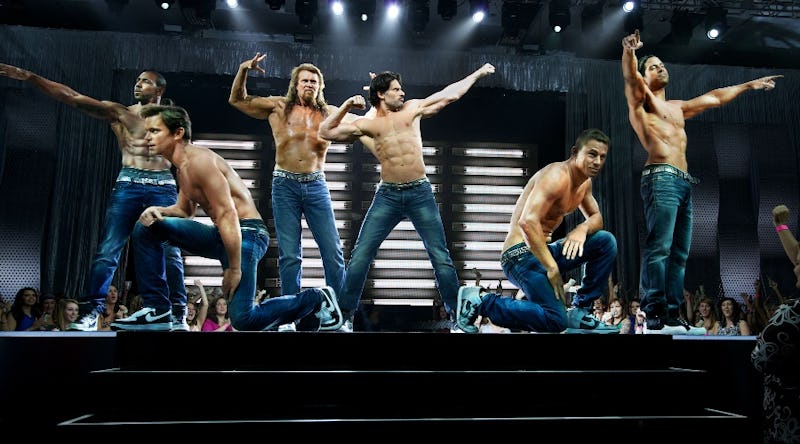 In 2012, many of us rolled our eyes upon hearing that the summer's cinematic offerings would include a comedy about male strippers. Lo and behold, Magic Mike surprised us all with its witty writing, dynamic performances, and truly impressive dance numbers. The sequel to this sleeper hit has been highly anticipated, and on July 1, Channing Tatum slides his way back into our hearts with the release of Magic Mike XXL. The new movie aptly takes place three years since Tatum's Mike Lane threw in the G-string and quit stripping in favor of running his own furniture business. But when the opportunity for excitement comes knocking in the form of a stripper convention in Myrtle Beach, Mike finds himself reunited with the gang on a roadtrip of nostalgia and debauchery. Fans of the original film will remember that it was loosely based on Tatum's own experiences as a male dancer. That being the case, we find ourselves wondering to what extent the sequel also has roots in reality. Specifically: is there such a thing as a stripper convention?
Matt Bomer, who reprises his role as Ken in XXL , confirmed the existence of stripper conventions in an interview with Ellen Degeneres before filming for the sequel even started. At the time, he explained," ...it's kind of a road-trip film that leads to a stripper convention, which really exists! It's a real-live thing."
Tatum himself has addressed this topic in interviews for Magic Mike XXL, revealing that the sequel's narrative was in fact inspired by two conventions he attended as a dancer. One of these was in Raleigh, North Carolina and drew in over 3,000 women. Tatum explained the phenomenon to GQ, saying, "The women would come from miles and miles around. Then you lock the doors and you say all bets are off. It gets zany and crazy, and it's a wild ride. It's an incubator for insanity."
He went on to describe the experience, remarking, "It doesn't matter almost what you do onstage. I don't want to put anything in black and white on a page, but if you've been to one, you know how crazy it gets, and now pour kerosene on that. You've seen Magic Mike — now multiply that. Mob mentality. It's just exponentially crazier. I thought it was absolutely insane."
For those of us who don't have "attend stripper convention" written on our bucket list, there is still the opportunity to see Tatum in action when Magic Mike XXL hits the big screen Jul. 1. Insanity, hilarity, and sick dance moves await.
Image: Warner Bros.