This 'Scream' Sangria Is So Good, It's Scary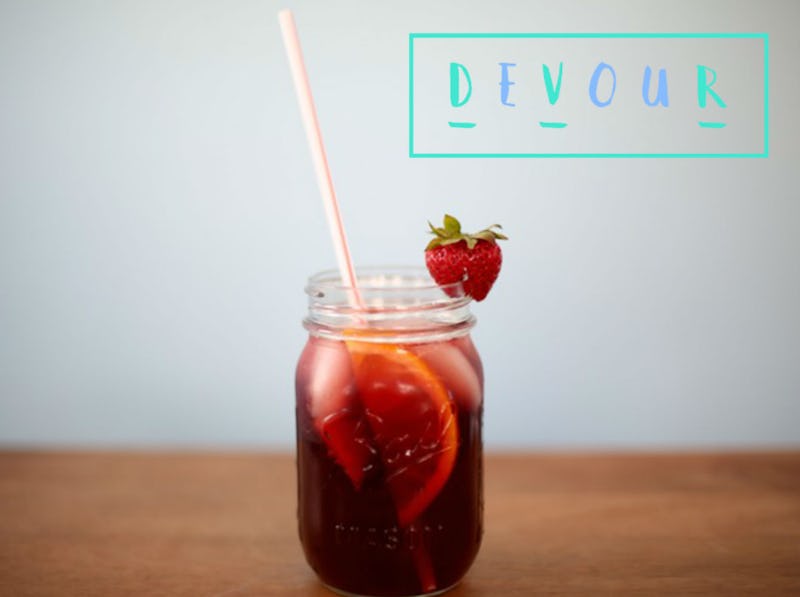 Do you like scary movies? Do you like sangria? Great! Because Scream premieres tonight on MTV! Based on the throwback slasher movie franchise, MTV has updated the story for the small screen nearly 20 years after the first film premiered in 1996. It airs tonight, Tuesday June, 30th at 10 PM. In celebration of this momentous occasion, we're getting drunk! That's to say that we're getting drunk (in a classy way) with a blood-red "Ghostface" Sangria, courtesy of our own cocktail expert Jenna Wexler. It'll make your tastebuds, ahem, scream with delight. (Sorry, I had to do that.)
Incorporating plenty of fresh citrus and some apropos blood orange soda, this wine punch will bring your viewing party to the next level. In the event that you still have a Ghostface mask lying around from a childhood Halloween costume, consider wearing that as you sip this cocktail. (Well: First cut a hole in the mouth, and then sip away to your heart's delight.) The booze will definitely assuage your show-induced anxiety that a man in a scary costume is waiting somewhere in your house to attack you.
Without further ado, here's how to make our blood-red Scream-gria. 'Cause sweet booze is calling you ... and the call is most definitely coming from inside your house.
What You'll Need:
1 bottle red wine
1/4 cup triple sec
2 cups blood orange soda
1 lemon, sliced thin
1 lime, sliced thin
1 orange (any variety), sliced thin
1 cup strawberries, sliced
2 plums, sliced
1/2 cup raspberries
1 serving pitcher
1 large stirring spoon
Feel free to adjust the fruit to your taste — it's really hard to go wrong here.
1. Prep Your Fruit
First, make sure all of your fruit is washed and dried.
Slice lemon, lime, and orange into thin (but not too thin) discs.
Slice plums and strawberries, and set raspberries aside.
2. Add Fruit To Pitcher
3. Add Your Liquids
Triple sec!
Soda!
Wine!
4. Mix Your Pitcher
5. Pour, Serve, And Enjoy!
For best results, refrigerate your mixture for one to two hours so that the fruit has time to infuse your wine. If the mixture is not fully chilled, pour over ice.
Images: Kenny Suleimanagich