Give Your Eyes A Jolt With Caffeinated Eye Cream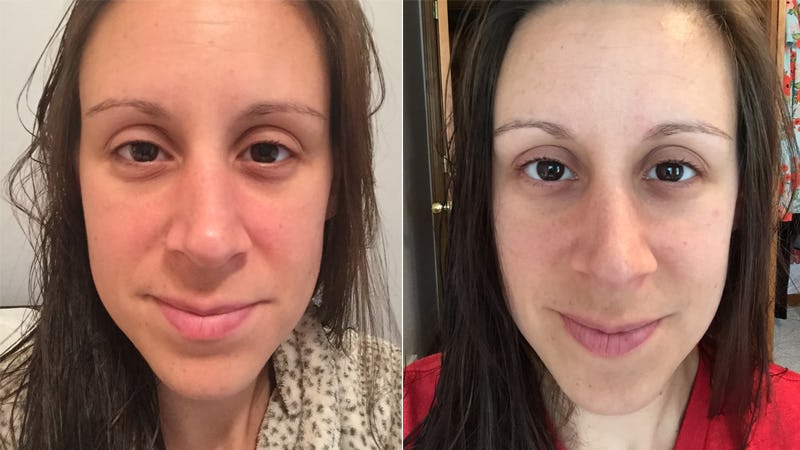 Caffeine is a staple in many morning routines — with magical powers that help fend off those early a.m. meltdowns — so it only makes sense that this ever popular stimulant has begun to makes its way out of our coffee cups and into our skin creams. With the beauty world specifically abuzz over the benefits of caffeinated eye gel, I decided to incorporate the highly praised product as part of my nighttime regimen to see if it would make the cut as a sleep habit to enact for healthier skin. Is it possible that it could be as effective on our faces as it is in our morning mugs?
Many beauty experts and dermatologists consider an eye cream infused with caffeine a necessity in their bag of skin care tricks because it is particularly effective at gently treating nagging under eye symptoms. Most notably, formulas with caffeine are said to soothe puffy eyes, brighten the skin by reducing dark circles, and diminish the appearance of bags and fine lines. Being a natural stimulant, the ingredient works to constrict the blood vessels around the eye, which is the one simple action that leads to the many above benefits, in addition to promoting hydration. When applied before bed and allowed to work its magic overnight, all signs point to the notion that a caffeinated eye gel will have users waking more bright eyed and bushy tailed.
Since I have already established the beauty benefits of good linens — like dozing on white sheets and catching zzz's on a silk pillowcase — I figured it was time to step up my game and test out an actual product that works while we slumber. And while I kept my new, beloved silk pillowcase, all other aspects of my sleepy time routine remained the same: Each night, I washed my face per the usual, applied my caffeinated eye gel of choice — MAC Fast Response Eye Cream — and let the stimulant go to work.
MAC Fast Response Eye Cream, $32, Nordstrom
Day 1
I can't say I saw any visible difference this first morning, but what I can confirm with dire certainty is the skin under my eyes was softer than it had ever been — it didn't feel dry or rough and even the tiny little bumps I sometimes have didn't feel as prominent. Despite there being no aesthetic change, it would seem the gel was having some positive effects that may eventually lead to the benefits I read about.
Day 2
No new news on the second morning. My under eye skin is still smooth to the touch, but other than that, I am not experiencing significant differences in overall appearance. For me, caffeine is still best suited in my mug.
Day 3
This morning I have conflicting feelings on caffeinated eye cream — on one hand, the skin under my eyes is still incredibly smooth and feels more hydrated. In addition, the fine lines under my eyes are a little less noticeable, which I highly appreciate.
However, my under eyes seems a bit puffier than normal, perhaps from the added moisture retention? Overall, I think I am starting to see more positive benefits than negative effects, but I am still withholding complete judgement for a few more days.
Day 4
Morning number four produces similar results as the prior day — slight smoothing of fine lines with improved hydration, but still a little puffy. Also, my dark circles are still alive and well, so brighter eyes are a benefit I have yet to see.
Day 5
This morning, it appears as if the puffiness is starting to go down, while the fine lines are still less noticeable and hydrated. My dark circles are still pretty prevalent, but since I never get anywhere near enough sleep, I'll cut the caffeine some slack — it's just a gel, not a magic wand.
Day 6
Today I finally feel like I have a little of that bright eyed, busy tailed look I was hoping for. It took a few days for the gel to really set in, but after almost a week, I think the skin under my eyes is reaping positive benefits and I can definitely see a small reduction in fine lines.
Day 7
A week later and my dark under eye circles aren't any lighter, but I absolutely have improved under eye skin overall. The puffiness is gone and the tiny wrinkles are on their way out as well. Two definite pros for this skin care product.
So, is caffeine as effective on our face as it is in our cup? While the instant gratification is not quite the same, I found that an eye gel infused with caffeine is certainly beneficial for our peepers. If you have dark under eye circles, either naturally or from lack of sleep like me, I wouldn't expect to see a significant lightening effect. However, I believe the caffeinated formula did result in increased hydration and, after only one week, it started working its magic to rid my eyes of those tiny wrinkles that have started creasing my under eyes.
The verdict: If you have fine lines, slight puffiness, or tired looking eyes from minimal darkening, I would recommend trying out an eye gel or cream infused with caffeine. Based off of the results I experienced after just seven days, I will finish my tube and consider incorporating it into my nightly routine full time if I see continued positive results. However, if you have significant dark circles or deep wrinkles, you may want to skip the caffeine and go for a formula that specifically and more effectively targets those symptoms. Don't worry though, no one can ever take away our coffee and tea.
Images: Katie Patton