What To Wear During Your Period For Total Comfort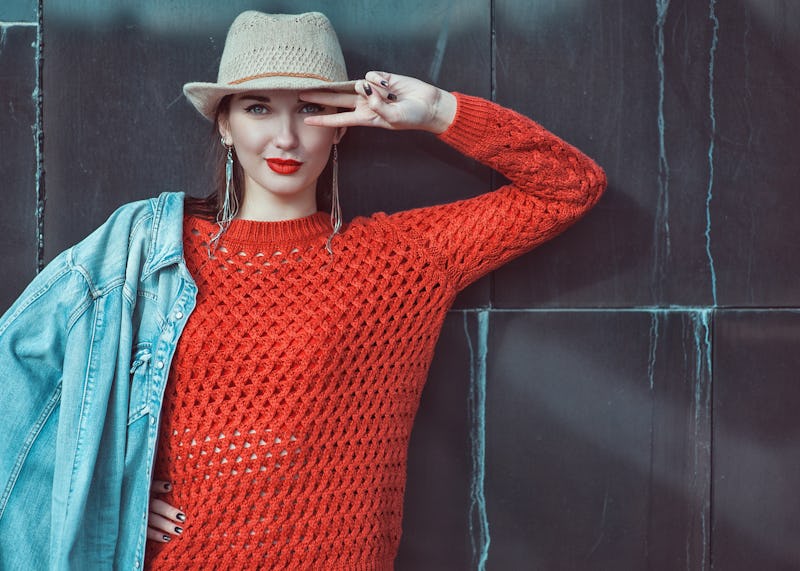 There are many wonders to being a woman, but deciding what to wear during your period is not one of them. Personally, when blood flows from my vagina and I'm required to clean up every couple of hours or so, the only thing that sounds comfortable is a pair of sweatpants. Unfortunately for me, sweatpants are generally not acceptable in most real life settings, or really any setting outside of our couch, accompanied with chocolate covered candies and Netflix.
However, despite our female reproductive organs sometimes causing many of us miserable, insufferable, excruciating pain, and just making us generally uncomfortable, we're still functioning human beings. This means real clothes — not sweatpants — are required to make it through the day. But that's the challenge: Choosing comfortable clothes that are totally wearable in the day to day.
Of course, women's clothes are hardly made with the menstrual cycle in mind. Pencil skirts? Skinny jeans? Dresses? While they're fine any other time of the month, they pose threats and unnecessary discomfort during this special time (falling tampons, anyone?). Luckily, there are other pieces in almost everyone's wardrobe that are perfectly comfortable and acceptable in most environments for those few days that we need them.
Lookout High-Rise Jean in Wallace Wash, $125, jcrew
I love denim, and while it may not seem like the best fabric for dealing with your period, there are major benefits to wearing jeans. You'll probably want to stay away from the super tight, restricting pair that's impossible to get on and off, of course. However, throwing on a pair you know you can rely on it, that fits well, and that doesn't make you feel like your pad or tampon is at risk of slipping is a sure way to completely forget about your cycle.
Out Of Bed Tee, $15, Forever21
What better way to show the world that you're on your period than with a sassy graphic T-shirt? Some of us feel the effects of the hormones on days before we even see any blood. Instead of having to talk about how you feel and getting down to business, just wear a T-shirt that explains it for you. No words necessary, with barely any effort involved.
Dip-Dye Ribbed Knit Jumper, $80, Topshop
Soft clothing is a no brainer when all you need is some comfort and warmth on your period, and a soft, cashmere sweater that feels like a cloud is embracing you is without a doubt the way to go. I'm a big fan of cuddling up with a hot cup of tea and a good movie on Netflix, and, of course, my favorite cozy, comfortable sweater. There's nothing better than feeling warmth and love, even if it is from an inanimate object.
4. Jumpsuit
Plus Diana Strappy Slouch Jumpsuit, $35, Boohoo
Period or not, sometimes getting dressed can just be a hassle. However, with easy one piece ensembles, like the above jumpsuit or even a romper, there need not be any struggle in the mornings. Something like this can be dressed up or down, and is a great foundation for pretty accessories and jewelry.
On-The-Go Glam Leggings in Black, $30, Modcloth
Leggings are nearly sweatpants, right? Well, not exactly. Leggings have the comfort of sweatpants but are much easier to pair with professional-looking blouses and shirts. Especially when they're a little more dynamic and unique. They're movable, breathable, and super chic, so no one on Earth would even know you're on your period.
New Look Inspire Jersey T-shirt Dress, $33, Asos
If your schedule requires you to attend formal, professional events but you're looking for a more comfortable option, a T-shirt dress might just be the answer to your prayers. They provide the comfort of an old shirt but in an elongated form so no pants are necessary. Whether you're on your period or not, a piece like this is sure to get a lot of use in your wardrobe.
7. Sweatpants
Zipper Pocket French Terry Pants, $23, Charlotterusse
Remember what I said about sweatpants not being socially acceptable clothing? I must admit that I have never worn sweatpants outside of the house. When it's that time of month, however, and there's absolutely no reason for me to go out, it's sweatpants time all the way. There's just nothing more comfortable or more relaxing than letting the blood flow in a pair of sweats. Plus, the athleisure trend is actually resulting in some pretty nifty loungewear, so not all hope of chicness is lost.
Right, ladies?
Images: Fotolia; Giphy; Courtesy Brands