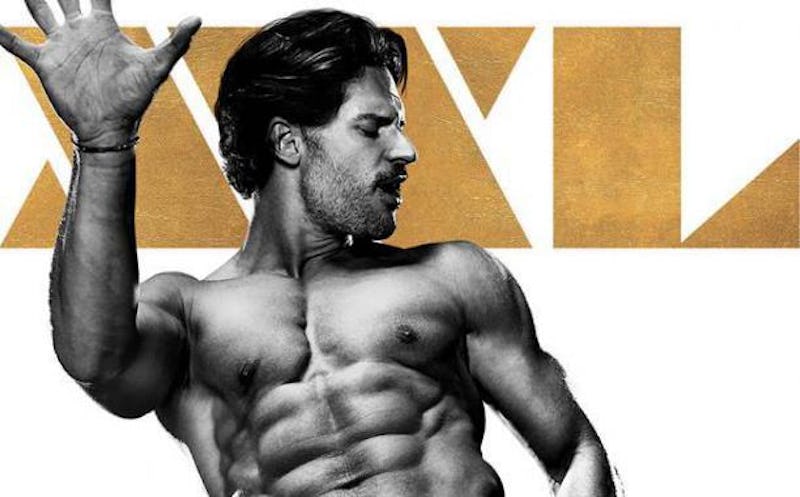 Condomints: Genius or madness? One outrageous scene of the new Magic Mike XXL finds Joe Manganiello's character Big Dick Richie (BDR) on the cusp of a brilliant business plan. "Condom-mints," he explains. A duo of going-out essentials, condoms and mints, in one convenient package. It would be sold at gas stations and drug stores, for convenience's sake. The other guys shut him down immediately — that already exists, they tell him. Are they right, though? Are condomints real?
I'll admit: I am a connoisseur of neither condom nor mint. Still, I had never heard of such a thing before until it was said in the movie. It's kind of genius, if you think about it, but I wasn't convinced that there was already a wide market for the "condomint." And so I set out on an investigation: do condomints really exist? The search took me down a seriously deep rabbit hole, venturing from an American wholesaler to sexual health initiatives across the country. It turns out there's nothing quite like it currently in mass-production. But there are some similar items — and every possible permutation of the combination "condom-plus-mint" one might desire. Be it mint-flavored condoms or condom-shaped mints, some intrepid entrepreneur has tried it all. Still, you might be onto something with your own "condomints," Richie. It's still a competitive market.
First, a definition of the term, via Urban Dictionary.
This is not quite what Richie envisioned in Magic Mike XXL, but the Internet is clearly thinking about this necessary and obvious combination of two personal hygiene necessities. With that in mind, I plunged into my search. The first hit came from candy boutique IT'SUGAR, with a box of condomints advertised to "practice safe breath."
Condomints were sadly out of stock on the IT'SUGAR site, though this bodes well for Richie, because this means fewer competitors. Less subtle on the "mint" side of the equation were Peppermint Peckers, alias Pecker Mints. (Sort of like Condom Mints!) They're, well, exactly what they sound like — pecker-shaped peppermints.
On the other side came a couple of lines of mint-flavored condoms. Trojan, LifeStyles, Trustex, and ONE have all offered condoms targeted for oral sex. Both Trojan Mint Tingle and LifeStyles Kiss of Mint condoms were discontinued as of the time of press.
None of these were quite what Big Dick Richie imagined as a weekend essential, though. The closest is what's offered by several safe-sex initiatives: a combination of condoms and mints in a package, advertising protection against sexually transmitted infections. Wrap M.C., a Washington, D.C. Department of Health-sponsored prevention resource, previously offered condomints they called "Gonna Get It On, Gotta Put It On." The packet contained two classic red-and-white pinwheel mints and a Trojan Magnum condom. Unfortunately, there's been no news from Wrap M.C. since 2012, though it's still listed on the DOH website as a sponsored family planning organization.
The University of New Mexico also ran a similar program, distributing condoms and mints free-of-charge in an effort to promote safe sex and contraception. Many universities, as well as organizations like Planned Parenthood, position baskets of condoms at convenient locations, though often without the added presence of mints. If sex sells, fresh breath sells even better. But finding a prevention-minded campus might not be as convenient as a drug store or minimart. A company called US Imprints also offers packets of condoms and mints, this time with custom designs for all your public relations needs. Apparently, US Imprints envisions its product marketed to Hummer customers. You can bet I'm requesting my free sample.
Still, wholesaling lacks the convenience factor that was so critical in Richie's original proposal. I returned to the original search, and finally stumbled on a kit by sex-toy outfitter Jimmyjane. Entitled "Essentials," it's a little case that includes condoms, lube, and mints.
Clean and well-designed, the Jimmyjane Essentials Pleasure Kit is probably the platonic ideal of "condomint." Sorry, Richie. Looks like someone beat you to it after all, and added lube to the mix. There still might be a niche for something punnier, though.
Images: Warner Brothers; Urban Dictionary; IT'SUGAR; Bachelorette.com; The Condom Review; Wrap M.C.; US Imprints; Project No. 8