Get Your Summer Style Inspo from 'Jane The Virgin'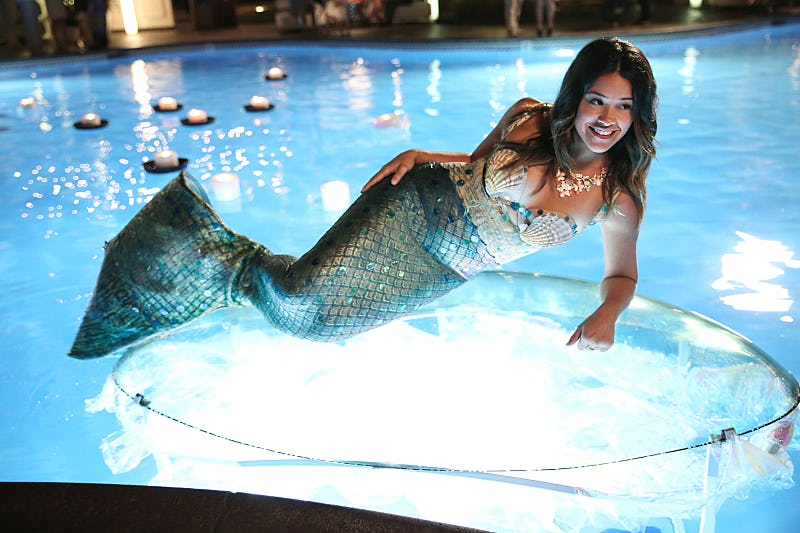 Are you crying a little bit on the inside from Jane The Virgin withdrawal? I mean, yes, Jane the Virgin just got its Season 2 premiere date, which is definitely a good thing — but does it have to be all the way out in late October? How are fans going to survive all of the cliffhangers until then? What, with the Sin Rostro-helmed kidnapping of Mateo, Michael and Nadine's carefully planned sting, and Rogelio and Xiomara's booze-fueled Vegas wedding on our plates, it's going to be quite the torturously long summer. That said, I might have just the thing to balm the cliffhanger pain: Jane the Virgin- inspired summer fashion. After all, we're well into summer now, and what show has better summer style game than JTV?
Apart from a telenovela-worthy tropical storm or two, it's basically sundress weather year-round at the Marbella. Whenever she's not waitressing, Jane seems to live in floaty floral frocks, and Petra's got the moneyed sheath dress look on lock. There's no denying the fact that the ladies of Jane the Virgin certainly boast quite the gorgeous wardrobe of clothes, so why not take a leaf from Jane and Petra's playbooks as you curate your summer wardrobe? Here are a few shopping options to help you get the ball rolling.
Jane's Look
Jane's basically queen of the floral summer dress. Throughout the first season's 22 episodes, she wears countless brightly patterned fit-and-flare numbers, so if you're looking to replicate her look, that's definitely the place to start.
Circle-Skirt Dress
Circle-skirt Dress, $34.94, H&M
This dresses' intricate print and asymmetrical hem make it a fun twist on a classic look.
Floral Print Sleeveless Fit & Flare Dress
Floral Print Sleeveless Fit & Flare Dress, $83.93, Nordstrom
Jane wears a lot of Ralph Lauren sundresses throughout the series, and this flirty pink and purple number hits right on target.
Vintage Floral Dress
MINKPINK Vintage Floral Dress, $99, Urban Outfitters
If you're looking for something a little less ethereal, this retro number adds a little edge to the easy-breezy summer dress vibe.
Watercolor Floral Cami Sundress
Watercolor Floral Cami Dress, $22.90, Forever 21
Perfect for beach day in Miami, eh?
Midi Skater Dress with Large Floral Print
Midi Skater Dress with Large Floral Print, $81, ASOS
This splashy floral is a little bolder than Jane's usual fare, but it still has her signature look to it (after all, it's perfect for salsa dancing!).
Jane typically sticks to florals and prints, but she's also been known to dabble in well-deployed LWDs. Case(s) in point?
Little white dresses have that old timey romantic vibe, which completely befits Jane's position as the virginal star of her own personal telenovela.
Babydoll Applique Sundress
Babydoll Applique Sundress, $68, Topshop
Cue "Summer Nights."
Lace Dress
Lace Dress, $49.99, H&M
This one looks like a lacy white version of her adorable work uniform!
Petra's Look
As befitting of her role as society wife-turned-hotelier, Petra wears a lot of luxurious, business-appropriate dresses. Professional as her overall vibe may be, however, it's still all pitch-perfect for summer — though you might want to save these looks for fancier fare, like a vineyard wedding or high tea in the garden.
Draped Jersey Dress
Draped Jersey Dress, $140, Karen Millen
Karen Millen's dresses tend to run on the pricey side — but it's definitely one of Petra's preferred brands (along with Rebecca Minkoff, Diane von Furstenberg, and Versace). Luckily for us, this one happens to be on sale.
Crochet Rose Dress
Crochet Rose Dress, $165, Ted Baker
You know Petra would dig that print.
Shift Dress with Organza Overlay in Lily Print
Shift Dress with Organza Overlay in Lily Print, $127, ASOS
Petra usually keeps things classic, but she tends to wear her clothes with a stylish twist — I can definitely see her rocking a dress with a sheer overlay like this one.
Floral Print Fit and Flare Dress
Floral Print Fit and Flare Dress, $140, Adrianna Papell
If you're ever looking to ensnare the heart of your soon-to-be-ex-husband (who also happens to be dating his accidentally artificially-inseminated baby mama), this sweetheart-necklined sundress might just be the way to go.
You're also going to want a fancy romper (and maybe even some formal shorts), because Petra's been known to rock them like nobody's business.
D-Ring High Neck Romper
Artfully draped, ultra-modern, and very Petra.
Topshop D-Ring High Neck Romper, $95, Nordstrom
Silk Jumpsuit
The silk gives this romper that luxurious, rich lady-vibe.
Silk Jumpsuit, $49.99, H&M
So, what do you think? Will you be taking your style tips from Jane Villanueva and Petra Solano this summer? I sure will be. I mean, who can resist a good flowery frock and/or silk jumpsuit?
Images: Danny Feld (2), Greg Gayne (2), Tyler Golden (2)/The CW; H&M (3); Nordstrom (2); Urban Outfitters; Forever 21; ASOS (2); Topshop; Karen Millen; Ted Baker; Adrianna Papell