'Dukes' Pulled From TVLand Due To Confederate Flag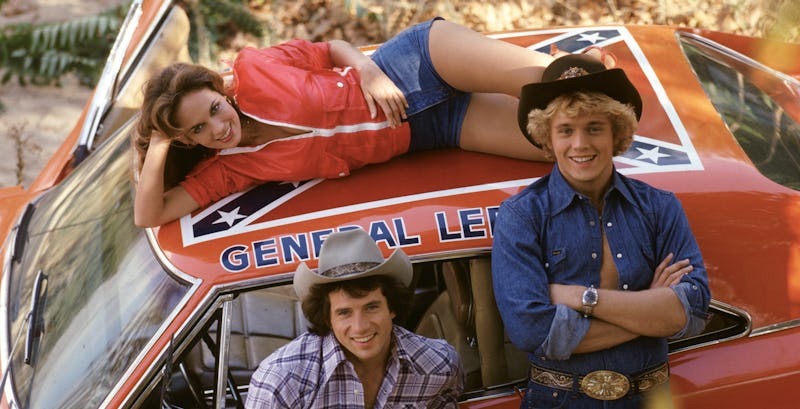 The Confederate Flag is a big part of the look of the '80s TV Show The Dukes of Hazzard, so much so, that it's emblazoned on the roof of the series' iconic car. And it's for that reason, reportedly, that Dukes of Hazzard was pulled from the TV Land lineup, per a report from The Hollywood Reporter. Bustle was able to obtain confirmation from a TV Land representative that the series was pulled from the schedule, but the network offered no further comment. As you may recall, the Duke brothers drove about their Southern town in a 1969 General Lee Dodge Charger, and as if a car named after Confederate General Robert E. Lee wasn't bad enough, the car also had a big Confederate Flag fixed to the top. Removing the series from its lineup puts TV Land in the camp with so many other individuals and organizations taking a stand against the Confederate imagery.
In the wake of the tragic shooting in Charleston on June 17, there has been a nationwide discussion about the horrible history of Confederate imagery and how its place in our current society. The perpetrator of the devastating Charleston attack, Dylann Roof, was reportedly inspired by Confederate imagery, a concept that was all but confirmed when pictures of him with the flag affixed to his jacket began to surface.
John Oliver, host of HBO's Last Week Tonight, recently made an impassioned case for the abolishment of the Confederate flag, making the rather blunt argument that the flag belongs to the side that opposed to the union during the civil war:
On Saturday, activist Bree Newsome climbed and removed the flag from the South Carolina statehouse. And this was after the South Carolina governor called for the flag to be taken down.
Walmart, Target, and Amazon have also stopped selling items with the flag, and with this news about Dukes of Hazzard, it seems many others are at last acknowledging the flag's violent history.
Image: Warner Bros. Television