12 Unusual Pizza Toppings From Around The World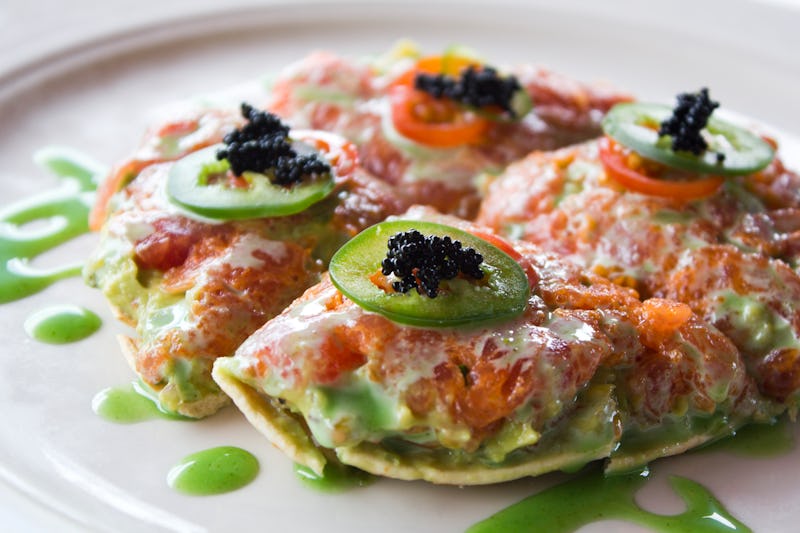 Pizza holds a very dear place in the hearts of many, and this seems to be a universal truth. Love for pizza knows no boundaries. Even the Pope isn't above the temptation of this oven-baked staple. After all, pizza is the most addictive food, and that's science. And as these unusual pizza toppings from around the world prove, there's no wrong way to eat your favorite pie.
The first appearance of the term "pizza" dates back to 997 A.D., and modern pizza has its origins in 18th-century Naples, Italy. The first American pizzeria is said to have opened in the Little Italy neighborhood of New York City in 1905. Pizza began gaining worldwide prominence almost a half-century later. Now, American-style pizza has a global reach, especially with American chains like Domino's expanding with locations in 73 countries, including Paraguay, Iceland, and Nepal.
Well-loved worldwide, pizza comes in all shapes and sizes, with an unending array of convention-busting toppings to choose from. Intercontinental expansion has meant recipe localization and novel flavor fusions to please a vast array of palates. In the past hundred years, pizza has seen so many transformations that in the early 2000s, the Italian Parliament passed a bill to safeguard "traditional Italian pizza."
Here's a curated list of the most unusual of these international experiments.
1. Mango Pizza
Guimaras Island in the Philippines is home to white sand beaches, breathtaking waterfalls, and the world's sweetest mangoes. So it's no wonder that this vacation destination is also the motherland of the mango pizza, a specialty of the Pitstop Restaurant, whose menu also features mango spaghetti and mango shakes. Decked out with green bell peppers, cheese, cashew nuts, chili sauce, and, of course, mango slices, this atypical pizza has become a must-try for those visiting the island.
2. Paneer Makhani Pizza
Pizza Hut opened its first outlet in India in 1996, and has since been remixing its American options with toppings better suited to please local tastes. Pizza Hut India's menu is scattered with ingredients like creamy masala sauce, chopped coriander, tandoori chicken, and "peppy paneer."
3. Sushi Pizza
While Japan is now infamous for American-style pizzas with bizarre toppings like seaweed and mini hot dogs, the OG Japanese pizza has its roots as far back as the 16th century. The traditional interpretation, nicknamed "Japanese pizza," is called okonomiyaki , which roughly translates to "what you want, grilled." The savory pancake is composed of flour, yam, and shredded cabbage, and is typically decked out with a variety of ingredients, including pork belly, octopus, squid, and mochi.
4. Kangaroo & Emu Pizza
Head Down Under to the Australian Heritage Hotel to try a meat-centric offering that goes beyond your typical sausage or pepperoni pie. This ode to the Outback is nicknamed the "Coat of Arms Pizza," because its two main toppings, kangaroo and emu, can be seen in profile on the Australian 50-cent coin.
5. Crocodile Pizza
This other decidedly Down Under pizza variety also on menu at the Australian Heritage Hotel is smothered in saltwater crocodile meat.
6. Deep-Fried Pizza
For pizza lovers looking to take their pie consumption (and cholesterol) to a whole new level, the Venice Beach boardwalk in California offers a deep-fried take on the American classic.
7. Tuna Fish Pizza
The "Thunfisch Pizza" is a favorite in Germany, so popular that it's offered at pizza chains like Pizza Hut and Domino's. It's even available for take-and-bake in grocery stores.
8. Banana Curry Pizza
When it comes to unconventional pizza experimentation, the Swedes might take the cake (or pie). This iconoclastic Swedish signature is comprised of a palate-thrilling mix of banana and curry.
9. Caviar Pizza
Leave it to the French to transform the everyman's cheap eat into an epicurean indulgence for the most discerning of gourmands. Founded in 1920s Paris, the historical Petrossian boutique is famous for its caviar. Now, its restaurant menus boast pizza adorned in the sought-after fish eggs.
10. Mashed Potato Pizza
Connecticut makes its American-style pizza even more American by going the loaded mashed potato route. A member of the "New Haven pizza" family, the potato-centric masterpiece is generously topped with bacon, cheddar jack, and sour cream.
11. Haggis Pizza
This UK specialty is a true crowd-pleaser and a favorite culinary choice to consume on Burns Night, a celebration for Scotland's national poet Robert Burns, who in 1787 penned the poem Address to a Haggis. As the name suggests, haggis -- a savory pudding comprised of sheep organs, oatmeal, onion, and spices, traditionally encased in animal stomach -- is the centerpiece of this pizza.
12. Reindeer Pizza
This venison specialty hailing from Norway and Finland is most popularly distributed through Kotipizza, the biggest pizza chain of the Nordic countries, whose motto is "Pizza, Love, and Understanding." After visiting Finland in 2005, former Italian Prime Minister Silvio Berlusconi insulted the local cuisine, scoffing that the country only ate "marinated reindeer." The Finns got the last laugh when, three years, later their smoked reindeer delicacy beat out Italy in an international pizza competition. The winning pie has since been named Pizza Berlusconi. Nothing like sweet (or savory) revenge.
Images: Quinn Dombrowski/Flickr; Alexacancio_photography, Only1swami , Sachieskitchen , Eatingaustralia , Afg_k, Leorabzwolfe , Ju.liia_ , Livnwellness , Lesliebirnbaum , Afadingparlance , Tania_rahman , Kotipizza/Instagram