15 Plus Size Women Rocking Sexy Dresses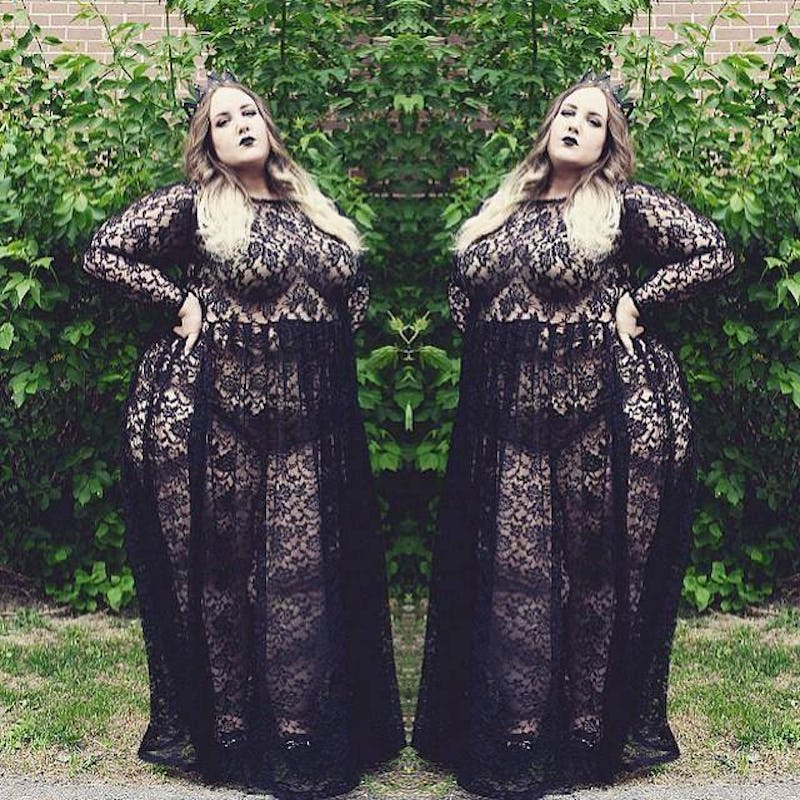 With size acceptance and the body positive movements in their brilliant prime right now, there is nothing more glorious than seeing tons of stunning, inspiring plus size women in sexy dresses. I am an extremely proud member of the plus size community, and can I just say: We are truly made up of some of the most beautiful, gorgeous, confident, sexy women you have ever seen. Gone are the days when we were "pretty for plus size." Times are finally ch-ch-changing, and we fashionable, fabulous, beautiful big babes are here to stay. We are creating visibility for ourselves and refusing to apologize for it.
These days, I can't go onto any of my social media accounts without being bombarded by beautiful plus size women wearing the sexiest dresses: And I love it. Aside from feeding my fashion and shopping addiction (which is an addiction I'm never seeking help for, just so you know), seeing all these amazing women looking absolutely killer in these dresses (that weren't even available to us not that long ago) shows just how far we have come in the body positivity world, and what a beautiful world it is.
We plus size women have had to be brave, bold, strong, and persistent in our quest for not only self confidence within ourselves, but for an equal place within society and the universes of fashion and beauty. That journey has made us not only triumphant in our quest, but extremely powerful as well. We have faced the odds, the stares, the disapproval, the concern trolling, and the name-calling, and turned it all into fuel for our fires.
You only have to look once at all these absolutely stunning women dressed in the prettiest, sexiest dresses to know that they are full of pride, self assurance, and oodles of beauty and sexuality. So for a little #fatshion eye candy, why don't we take a look at 15 plus size women in sexy dresses:
1. Essie Golden
This stunning woman is the creator of the hashtag #goldenconfidence and is looking utterly gorgeous in her perfect curve-hugging striped dress. Working it is an understatement.
2. Vivi Ennui
That pose. Those lips. That dress. The attitude. The combination is effortlessly suggestive and oh-so-sexy.
3. Killer Kurves
Karyn Johnson is an absolute bombshell who is a little Anna Nicole Smith, a little Barbie, and a whole lotta gorgeous. Out of all the plus size babes in the world, her closet is the one I'd love to share the most. She is constantly wearing the most feminine, flirty, beautiful dresses that just scream sexy, sexy, sexy.
4. Nicolette Mason
With the celebration of gay marriage now being a nationwide constitutional right across the U.S., what better way to honor a union of love than to wear a glittering, whimsical, effervescent wedding gown to your very own nuptials? Nicolette Mason is wearing one of the most gorgeous plus size wedding dresses that I have ever seen (and plays the part of the stunning bride perfectly whilst standing next to her beautiful partner). Nothing says "sexy" better than love and happiness.
5. Thy Colour God
This fierce and fabulous mermaid-unicorn princess serves us sexy realness in this two-piece dress. White, sheer, and detailed with lace and sequins, this dress isn't for the fair of heart. Showing off a little skin (and a lot of style) results in a provocative look that is undeniably stunning.
6. Georgina Grogan
The way this dress hugs her curves so beautifully, the color, and the gorgeous floral pattern: Just visibly stunning. Not to mention the flawless makeup that's on point.
7. Thera Cloud
This fierce, pink-haired beauty is giving us everything in this sexy little-black-dress number. The woman simply oozes confidence, attitude, and sexiness.
8. Marie Southard Ospina
This timeless beauty continues to dazzle me with her perfectness, and this outfit is no exception. The way this dress clings and drapes along her body in all the right places, the gorgeously rich color and velvet texture, and the perfectly casual, whimsical pose are enough to make anyone sigh with absolute delight at the sight of her.
9. Zelie For She
A tropical island fantasy. Sexy, sensual, and absolutely dreamy.
10. Model Radical
Jennifer Buckingham looks absolute flawless in her asymetrical patterned maxi dress (from her line at Cool Gal Blue). She looks confident, beautiful, and like an absolute goddess in this dress: Ready for a summer evening of wining and dining.
11. Candy Strike
This fantastic designer brings a little edge to her dresses, which are also deliciously feminine and extremely sexy. This dress not only fits her like a dream, but is also patterned in a way that accentuates a woman's natural curves. Talk about absolute eye candy.
12. Willow Curves
This purple-haired babe looks absolutely delightful in this pastel-teal pinup dress. Combined with the black tights, she evokes the feeling of a fairy-princess-ballerina — a look that she most definitely pulls off fabulously.
13. Lucia Loves Lucia
There is nothing sweeter than a woman rocking a deliciously sexy dress like Lucia is doing here. This woman knows how to have her cake, and wear it, too.
14. Tasha Page
There are no words to describe the sexiness that is Miss Tasha Page. This dress shows off her perfect curves absolutely beautifully, and she is giving us sexy, sensual, and confident. I have never seen anyone look better in a red dress. Seriously.
15. Courtney Mina
OK, so you're probably wondering why I have the audacity to include myself in this list, and I don't blame you for your judgement. But I just couldn't resist showing off the black lace Boleyn Dress from Chubby Cartwheels, as it's seriously one of the sexiest dresses I have ever owned.
And bam. All of our #curvesreign, ladies!
Images: Courtney Mina; essiegolden, viviennui, killerkurves, nicolettemason, thycolourgod, georginagrogan_, thera_cloud14, mariesouthardospina, zelieforshe, model.radical, candy_strike, willowcurves, lucialoveslucia, tashasaurus__rex, khaleesidelrey/Instagram