Is 'Magic Mike XXL' Based On A True Story?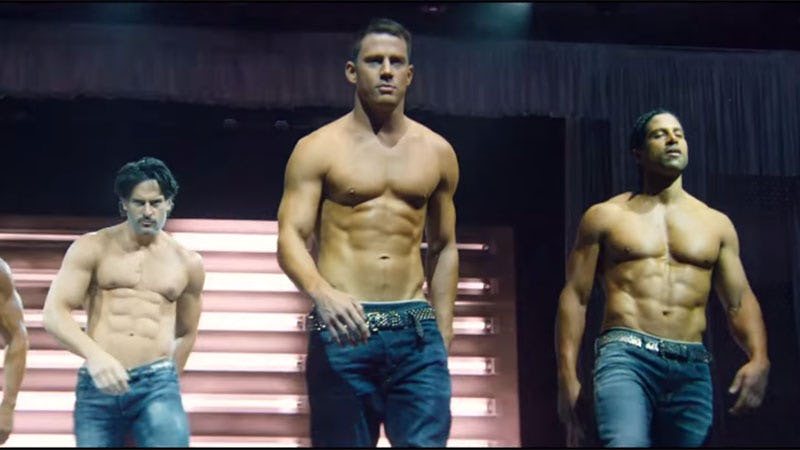 By now, all Magic Mike fans know that the first movie was based on Channing Tatum's experience as a stripper. After a seemingly interminable wait, the sequel is officially in theaters and while the debate rages on about whether Magic Mike XXL is feminist, I can't get enough of the "stripper odyssey." However, many fans are left wondering if Magic Mike XXL is also based on a true story.
The answer is "kinda." The sequel centers around the remaining Kings of Tampa heading to Myrtle Beach for a stripper convention. That aspect of the movie ties directly into Tatum's life. According to GQ, the actor told Magic Mike XXL writer Reid Carolin,"I want to do the story of when I'm in a dark U-Haul with a bunch of these guys and we're doing drugs driving up to the stripper convention." Cinematographer Steven Soderbergh reportedly responded by saying "You know what? It's too big — that idea alone is a movie." Thus the Magic Mike sequel was born.
In a press conference, Tatum elaborated on what actually happened en route to these conventions, saying, "That's the problem. We didn't do anything ... We just blew each other up ... We told each other how wonderful we were and how good we looked."
So, yes, there are definitely parallels to Tatum's life. But the script itself? Not so much. In fact, parts of Magic Mike XXL were even improvised. For instance, the oft-repeated phrase "you bangy"? Carolin told Cosmo, "That was Channing. That was not written. Those are the nuggets you can't write, that's Channing."
In fact, director Greg Jacobs credits this improvisation for helping to make the movie so amazing.
"Some of the magic of Magic Mike is a Chan-invented line on the spot," he told Screen Rant. "You want to create an environment where people feel like they can contribute without any kind of judgement being passed."
So there you have it. Magic Mike XXL is part true life, part improvisation and part the magnificence of Channing Tatum.
Image: Giphy