Bring These Beauty Items To Your Next Cookout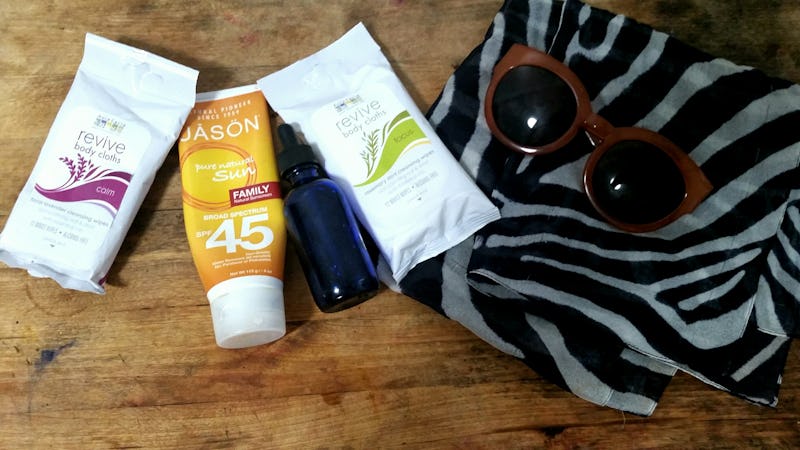 The fourth of July marks the start of BBQ season for many of us, and if you're heading for some outdoor fun, you'll definitely need to know what bring to a cookout other than food. Certainly, you'll want bring some extra cookout goodies that will make your host thankful they invited you — an extra set of buns or a black bean salad can easily have you be the celebrity of the cookout. What's really going to set you apart from the other guests is having a secret stash of beauty items otherwise forgotten during a casual BBQ affair or a planned Fourth of July bash.
I like to be prepared for any event. It may look like I have absolutely nothing in my giant tote bag, but there is a pouch that contains tampons, deodorant, tea tree oil, band-aids, lavender oil, lip balm, and black eyeliner. Of course, those are just the standards that I or someone in line for the bathroom may need. A cookout requires my little green pouch to be slightly altered for outside factors. I'm not trying to be attacked by bugs while I enjoy my potato salad, nor am I going to wake up the next morning with my skin raw from a blazing sun. No, these items are beauty essentials to maximize the enjoyment of cookout season. After all, it doesn't last forever.
1. Bug Spray
At most cookouts, citronella candles just don't cut it for me. With all the delicious food around, spraying bug spray seems just plain rude, I'm not trying to lose the flavor of a veggie burger to bug spray. A natural bug spray can make you a life savior (or at least, a blood savior) at a BBQ. Not sure where to find one? Make your own with tea tree oil, lavender essential oil, and vodka.
2. Oil Absorbing Papers
Despite the natural ventilation of outside, oily faces are plentiful at cookouts. The grease from the grill and the heat from the sun all play a role in how fast your face can get oily and how fast a breakout can happen. Bring oil absorbing papers to blot your face when you feel the build-up start to take-over.
3. Hair Accessories
Hair accessories are a must at any outdoor party and that includes a Fourth of July BBQ. Headbands, ouchless hair elastics, scrunchies, and even a scarf to wrap up your hair are a great way to keep it out of your way. Since I usually leave BBQ's smelling like charcoal and ribs, I've always got a plan to keep put my hair out of sight, especially if I'm heading somewhere else afterwards.
4. Sunscreen
The only thing burning at a cookout should be the grill, not your skin. If you're grilling at night, you may be able to ditch the sunscreen, but that sun better be completely down. The sun is a powerful star at any BBQ and being in its presence without protection can definitely make you regret the hours spent chilling outside the next day.
5. Body Wipes
If you are at a BBQ, chances are, you smell like you are at a BBQ. Carrying body cloths that are moisturizing, refreshing, and can take some of the grilling stench away is key to smelling more like a human and less like a hot dog. I like to bring Aura Cacia's Rosemary Mint Cleansing Wipes; hit the pits, get those feet, and definitely feel free to share.
Image: Ginny /Flickr; Kristin Collins Jackson