What Will Piper's Release Mean For 'OITNB'?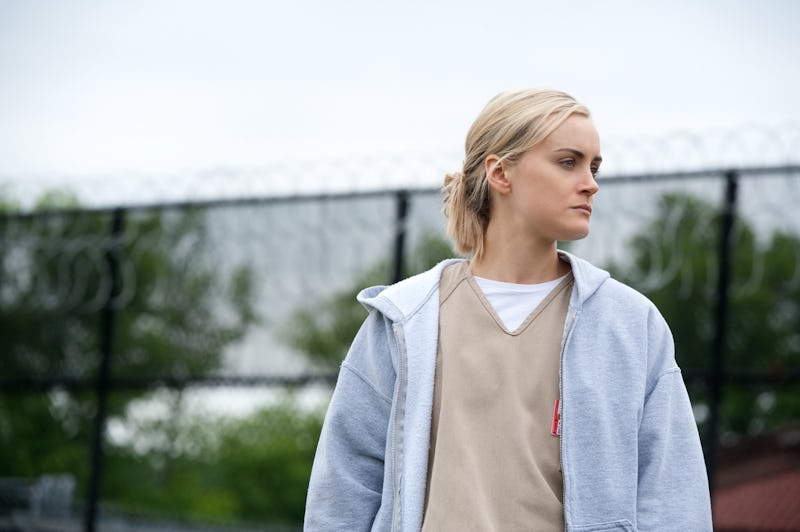 As a diehard supporter of all great television, I feel it is my duty to come right out and say that Orange Is the New Black can't end ever. Period. I'm sorry, but it's simply become too good of a show to not exist. Cancelation is just not an option, folks. That being said, it's only a matter of time until Piper's 15-month prison sentence comes to its inevitable end. And then what happens? Does the show just end, or could OITNB continue even after Piper leaves Litchfield? Given just how popular the Netflix series has become throughout the past three years, I'm willing to bet that Jenji Kohan has every intention of giving viewers a lifetime sentence of our beloved inmate shenanigans. (OK, so maybe not an entire lifetime, but you get what I mean. OITNB is here to stay.)
Of course, there's no way to guarantee that this will actually happen. (I, unfortunately, don't have Norma's powers.) And we all know by now that the writers and actors tend to keep OITNB storylines pretty close to the chest as to not spoil any plot twists they have planned. So it seems unlikely that they'll be up for sharing what will happen to the show once Piper gets released from prison. Or should I say, if she gets released from prison?!?!
Orange Is the New Black may be based off of the real life story of Piper Kerman, but that doesn't necessarily mean it can't veer off course into its own fictionalized entity. The show has already taken some liberties with Piper's character, so what's to stop the writers from perhaps increasing her sentence on the show, even if that's not what happened in real life? I'm no prison expert, but I have to believe that Piper's dirty underwear scheme would come with some serious repercussions if the wrong people found out about it. It could be enough to warrant an extended stay or even worse — a trip to Max. (Maybe that will be the way we finally get Nicky back. Please?)
But that's certainly not the only option at the show's disposal to keep Piper around. There's always a chance that she'll become so fascinated with prison life that she decides to get a job right there at Litchfield. I'm not sure that's entirely allowed, but since when has this particular prison system done things by the book? It could totally happen and I'd be fascinated to see how the other inmates would handle things if Piper were on the other side of those bars, acting as their superior.
And let's not completely rule out the option of OITNB existing without Piper completely. She may have started out as the central character of this series, but I don't think it necessarily has to stay that way forever. Fans have come to love several of these women throughout the years, some of which could easily take on a larger role. Don't get me wrong, I'd be sad to see Piper go, but if I had to choose between a Piper-less OITNB or no OITNB at all, I'd go with the former every single time. It's what Toast Norma would want.
Images: JoJo Whilden/Netflix (2); Giphy