7 Ways To Trick Your Body Into Thinking You Slept
by Lara Rutherford-Morrison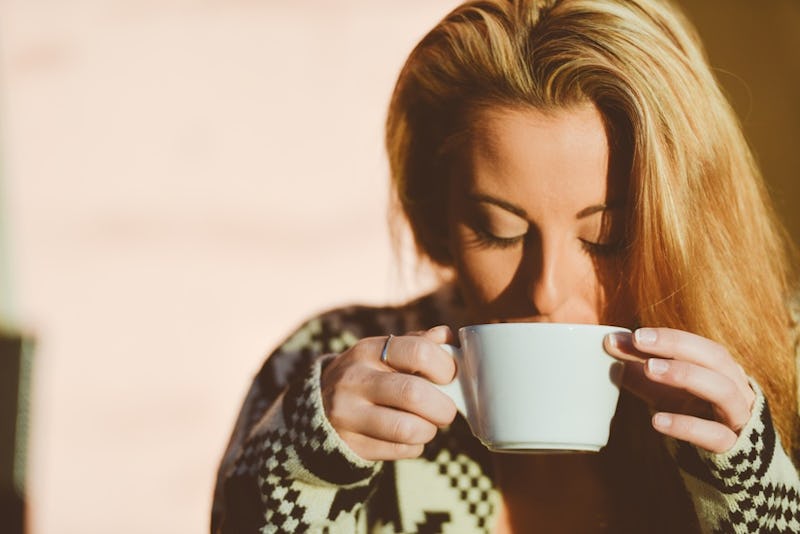 The National Sleep Foundation recommends that adults between the ages of 18 and 64 get seven to nine hours of sleep a night. I know that some of you are thinking, "Seven to NINE hours? That is HILARIOUS." But whether you're chronically under-slept or suffering from a single late night, trying to be a functioning human being when you haven't gotten enough sleep is challenging at the best of times, and dangerous at worst. (Ahem. Dear people who drive on no sleep: Please stop.) There are many reasons that people don't get enough sleep, from partying like rock stars, to taking care of new babies, to good ol' insomnia. Thankfully, there are a few simple things you can do to help yourself feel more alert and awake. These tricks won't by any means replace a whole night of sleep, but they can help keep you functional long enough for you to get through your day and crash at bedtime. One important thing to keep in mind as you're recovering from a bad night is that the next night, you should try to stay on a normal sleep schedule. Going to bed three hours early, or letting yourself sleep three hours late, can make you feel better in the short term, but in the long term, it will only throw off your schedule and make it harder for you to sleep the next night. If you're exhausted and bleary-eyed, try these tips today, and then tuck yourself into bed tonight.
1. Maximize the sleep you DO get.
So maybe you only had time to sleep for an hour and a half last night – but you can at least try to wring the best sleep that you can out of that time. That means that you should turn off electronics an hour before you hit the sack, avoid late night caffeine, and go easy on the alcohol. (I know, I know: If you're staying up crazy late, it's probably because you have to work on something on your computer, or you're out partying/drinking. But you can TRY.)
2. COFFEE.
It's no secret that coffee (or caffeinated tea, if coffee's not your thing) can help wake you up. In fact, a South Korean study found that simply the aroma of coffee might help people feel more alert. It's important, however, to be careful with your consumption. The Mayo Clinic reports that adults shouldn't have more than 400 mg of caffeine per day; that's the equivalent of about four cups of brewed coffee (Keep in mind that a "cup" here is 8 ounces, not a Venti cappuccino with three extra shots of espresso). Exceeding this limit may take you way past "perky" and into jittery and hyper. Fast Company also suggests drinking coffee in small amounts periodically, rather than having a single, giant dose when you first wake up. Having a steady, moderate stream of coffee going into your body throughout the day will help you to stay at a stable level of alertness, rather than crashing when the initial buzz has worn off.
Finally, lay off the caffeine once you get into the evening — after all, if you're awake with a caffeine buzz all night, you'll be dealing with this same problem tomorrow.
3. Let the light shine in.
Light has a major effect on our circadian rhythms (our internal "body clocks" that tell us when we should be asleep and when we should be awake.) Our bodies naturally read darkness as "sleep time" and light as "awake time," so convince your body that it's time to be awake ­— despite your lack of sleep — by giving it a big dose of light. If it's sunny when you get up, go outside to soak up some rays. If it's not, simply keeping your artificial lights nice and bright in the morning and for the rest of the day can help to remind your body to stay awake.
4. Eat a good breakfast.
Mornings when you haven't slept are not the times to skip breakfast. Start your day off by drinking a full glass of water, and a breakfast that provides a balance of protein, healthy carbs, and fiber. Health recommends breakfast ingredients like oatmeal, Greek yogurt, bananas, eggs, almond butter, and berries. Be sure to avoid lots of added sugar. It may give you an initial surge of energy, but it'll have you crashing later.
5. Take a nap.
So it's the mid-afternoon, and you're feeling cranky and exhausted. It's time to simply give your body what it wants: A bit of actual sleep. The important thing with napping, however, is to get the timing right. Aim for no more than 30 minutes of shuteye when you lie down for your nap. As the video above explains, sleeping for longer than that could put you into REM sleep (deep sleep), and waking up suddenly from REM sleep can cause sleep inertia (a groggy, disoriented feeling that will only make you feel more tired).
6. Get some exercise.
I know when you're exhausted, the last thing you want to do is hit the gym, but it will really help: A 2008 study found that exercise can go a long way to boost energy and relieve fatigue. It's important to note that "exercise" here doesn't have to mean a grueling spin class; The study showed that a 20-minute walk might be enough to make a significant difference to energy levels.
7. Take an "UnNap Nap"
Naps can be really helpful, but sometimes they simply aren't feasible. In an article for The Huffington Post, Dr. Matthew Edlund explains how to use a paradoxical relaxation technique, or what he refers to as the "UnNap Nap." Start in a comfortable sitting position:
Start with any muscle in the head, tiny or large, which feels tighter than the one next to it.
…
Put you hand over your closed eyes (if asked at work, you can say you have a little headache).
With your other hand point at the muscle that's a bit more tense than the one next to it, then put your hand back.
Now, focus ALL your attention on that muscle. Feel it. Sense it. Map it in your mind.
DON'T relax it. DON'T tense it. Just FEEL it. Sense it. Know it.
You can also visualize the muscle. Muscles work like a set of teeth in a comb -- when they're tense, they bunch up; when relaxed, they pull away.
Sense that muscle and its tension for 30 seconds.
Now, open your eyes and pull away your hand.
Does that muscle feel relaxed? What about The REST of your body?
Edlund explains that focusing on that tense muscle will help you relax, writing, "Here's the paradox: with all your attention placed on one spot, the rest of the body relaxes. People often feel the rest of their muscles 'dissolve.'" After this first round, you can continue doing the same thing with other muscles.