The 'Minions' Narrator Is Not Who You'd Expect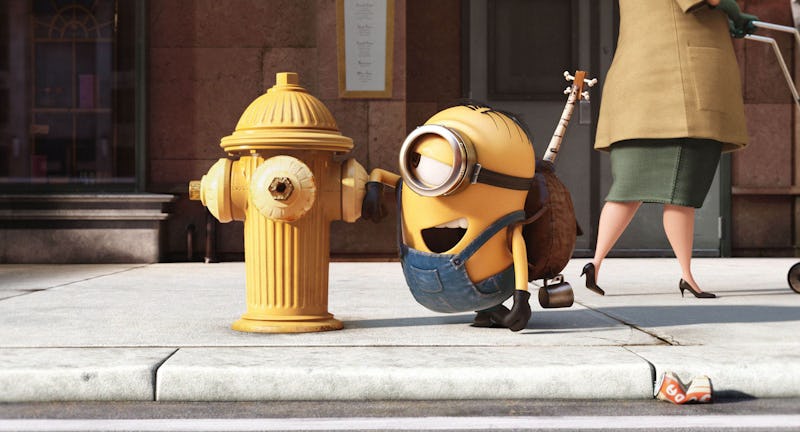 Most of the time, movies that utilize narrators are serious dramas or harrowing documentaries, not animated comedies released as potential summer blockbusters. Yet Minions, the Despicable Me spinoff out Jul 10, does just that, employing an actor to narrate several scenes throughout the film. But who is the narrator of Minions ? The regal voice will be familiar to some viewers, but placing it might be a real challenge.
Yet the person who lends his voice to Minions is none other than Geoffrey Rush, an Oscar-winning actor whose typical fare is nothing like the silly comedy of the Minion world. Rush is probably most famous for his Academy Award-nominated performances in movies like Quills, Shakespeare In Love and The King's Speech. In fact, he won the Oscar for Best Actor in a Leading Role in 1996 for Shine — and that was his first ever nomination! Not too shabby.
Yet the actor has also delved into popcorn fare on occasion. You probably recognize him as the swashbuckling baddie Captain Barbossa in Disney's Pirates of the Caribbean franchise. It's his regal voice, though, that might be his most recognizable feature. He has that effortless voice that not only works for great acting, but is perfect for any kind of narration or voiceover work. He's well within the regal ranks of captivating voices that you would want to have on your outgoing voicemail: Patrick Stewart, James Earl Jones, and the best of them all: Morgan Freeman.
With Minions, Rush's name should become even more synonymous with voice acting than it already is. He's had an impressive career in narration — here are other movies you might've heard him in:
1. Oscar and Lucinda
One of Rush's first narrating gigs was in this 1997 period piece starring pre-Voldemort Ralph Fiennes and the eternally fabulous Cate Blanchett.
2. Green Lantern
It wasn't the best superhero movie ever made, but the involvement off Rush, who provided the voice of Tomar Re, a fish-like creature who was buddies with Ryan Reynolds, certainly helped.
3. Legend of the Guardians: The Owls of Ga'Hoole
When I hear Rush's voice, "wise owl" seems to be one of the first things that come to my mind. It fits seamlessly.
4. Lowdown
Rush can be heard as the all-knowing narrator in the Australian series about an entertainment journalist attempting to be a more hard-hitting news reporter. He is also credited as "God" on IMDb for this show. Looks like he is giving Morgan Freeman a run for his money.
5. Finding Nemo
Remember that snarky Pelican from this Pixar favorite? Yup, that's him, too.
Whether it be his regular acting or his narration of internal dialogues, Rush has impressively cemented himself as one of the most recognizable voices in Hollywood, and Minions is a perfect next step.
Images: Getty Images; Universal Pictures; Fox Searchlight