Hillary Dodges Bernie Questions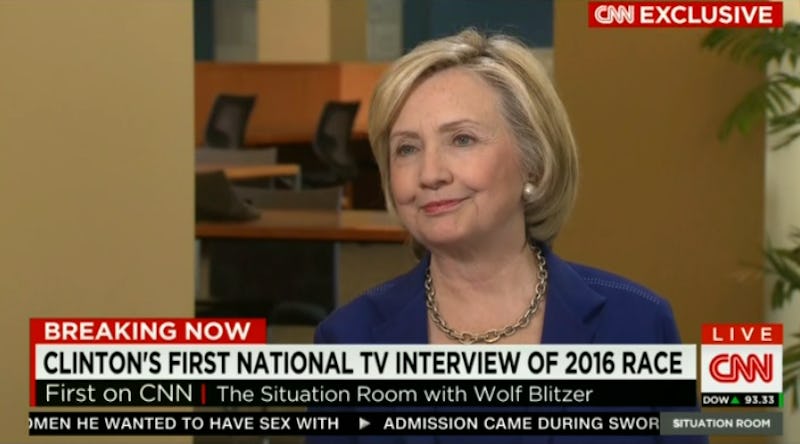 On Tuesday afternoon, CNN aired Hillary Clinton's first national interview since announcing her campaign in April, between Clinton and Brianna Keilar. The Democratic frontrunner has been shrewd, sometimes vigilant, with her media appearances, so this sit-down was a rare opportunity to glimpse her run through her own words. Clinton addressed the most significant topics surrounding her campaign, from the private email address she used during her time as Secretary of State to, of course, Clinton's opinion on Bernie Sanders. Her Democratic rival has recently surprised America, and certainly Clinton, as his ratings climbed quickly in early primary states like Iowa. But even as he becomes a viable threat to Clinton's chances, the two have always shared a cordial relationship.
"I always thought this would be a competitive race, so I am happy to get out and run my campaign as I see fit, and let other candidates do exactly the same," Clinton said when asked about Sanders — e.g. not directly answering Keilar's question.
When asked again her opinion on Sanders by Keilar, Clinton said, "[With the election] I wanted to be competitive ... I would be laying out my own economic policies — again, everyone has to be running his or her own campaign ... We'll let voters make up their minds." She repeated the sentiment. "I'm going to put out my policies, and I'm going to let other people put out their policies."
It was a very careful and vague answer — or non-answer, depending on your opinion. From the very moment speculation over Clinton's run started, an air of invincibility has formed around her, as if she were running unopposed. However, last week, Sanders's numbers started rising at surprising rates, presenting real evidence that Clinton is not invulnerable. According to The Washington Post, one survey in New Hampshire placed him within eight percentage points of Clinton. And a Quinnipiac University poll revealed that Sanders' points in Iowa have more than doubled since a previous survey taken on May 7, going from trailing Clinton 60-15 to 52-33.
On Monday, Clinton's Communications Director Jennifer Palmieri admitted that they were legitimately worried about Sanders. She told MSNBC:
We are worried about him, sure. He will be a serious force for the campaign, and I don't think that will diminish.
However, that doesn't mean the two top contenders for the Democratic nomination will go the dirty route to topple one another. Palmieri told Morning Joe host Joe Scarborough:
We don't need to attack each other. He'll run his campaign, we'll run ours. The imperatives for us are different.
This amenable approach reflects an amicable relationship between Clinton and Sanders that goes back more than 20 years. Starting in the early '90s, when Bill Clinton was on the campaign trail and well into his presidency, Sanders, who was a Representative from Vermont at the time, continuously sought the support of Hillary to endorse a health reform bill that proposed single-payer health care for Vermont. Though Sanders didn't exactly win the support of either Clinton back then, the three have maintained diplomatic ties ever since.
Huck Gutman, one of Sanders's advisers in the early '90s, described Sanders and Clinton as "modest friends" to Politico. Ralph Nader, who at one time was close with Sanders, echoed that their relationship might have been more political than friendly, telling Politico:
The Clintons are very adept at expanding their alliances, so they've been very cordial throughout the years.
Rather than calling their relationship a friendship, Nader said, "It's more a mutual accommodation."
It's clear that Clinton's carefully-chosen words on Sanders during her current campaign reflects an extension of that "mutual accommodation." Likewise, Sanders has been equally complimentary of her during his media appearances. In May, Sanders defied media baiting by quelling any possible tension between the opponents, telling CNN:
Will the media, among others, allow us to have a civil debate on civil issues? Or is the only way you're going to get media attention by ripping apart somebody else?
And then, hinting at their long amicable history, he also said:
I respect Hillary Clinton ... Maybe I shouldn't say this: I like Hillary Clinton.
Images: Getty Images (3)