I Gave Up Skinny Jeans For A Week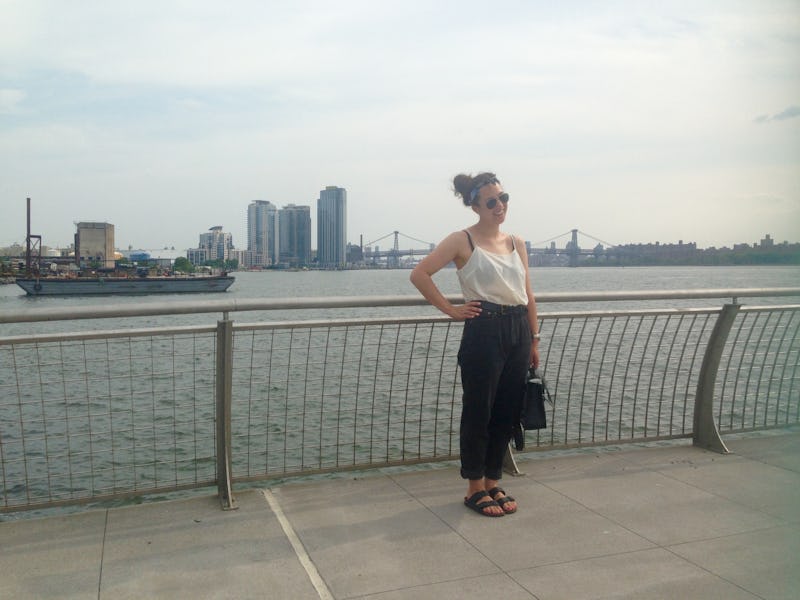 When I heard the news that a woman was hospitalized for wearing skinny jeans, I started freaking out because I am a hypochondriac who wears skinny jeans all of the time. Could I be next? I didn't want to find out, but although I know that there are plenty of pants that aren't skinny jeans, I'm hard-pressed to think of any that I'd actually like to wear.
Once I quit my full time desk job at the beginning of June, which had a serious business formal dress code, I was most excited to ditch my J. Crew black slacks and Calvin Klein pencil skirts in favor of something more casual. So my daily uniform has become a pair of skinny Cheap Monday skinny jeans, in either black or blue, with a plain cotton t-shirt, in either black or white or grey. If I'm going to a business-related meeting, I'll swap out the t-shirt for a button-up shirt or blouse. It's simple. It's neat. And I know it looks good.
But skinny jeans can be really uncomfortable, especially when you're biking around or just sitting around, and although I don't think I'm at high risk for being hospitalized, I figured it might not be the worst idea to switch up my routine a little bit. The thought of giving up denim entirely gave me hives though, and it would have been way too easy to just wear dresses for a week (except for the fact that I hate wearing dresses because I inevitably accidentally flash someone), so I challenged myself to not only forgo skinny jeans but to also still wear denim each day.
With that, here's what I came up with when I gave up skinny jeans for a week:
Day 1: Flared Jeans
'70s inspired fashion doesn't seem to be going anywhere this summer and flared jeans are hip again, so I decided to give that retro look a shot for my first day.
I had a meeting with a colleague so I wanted to look a bit polished, and while I would usually pair this printed silk top from Joe Fresh and my trusty Swedish Hasbeens with my black skinny jeans, I opted for an old pair of slightly-flared jeans from J. Brand that had been sitting at the bottom of my pants drawer for months.
My roommate said I looked really professional, which was nice to hear, but the whole outfit felt like more of a costume than something I'd actually wear. Because of that, I felt a little self-conscious throughout the meeting, which isn't what you want when you're trying to convince someone that you're really cool.
Day 2: Cut-Offs
When it's hot and humid in Brooklyn, the last thing you want to be wearing is skinny jeans, so denim cut-offs were the way to go. I made these a while ago, from vintage Levi's 517s, and I paired them with a thrifted black top and black Birkenstocks.
Biking was incredibly easy in these, but I kept pulling them down to readjust them while walking around. I also got cat-called, but that's pretty par for the course in Brooklyn during the summertime. I was just running errands and working at a local coffee shop, but if I had to do anything more formal, I would've been totally underdressed.
Day 3: Boyfriend Jeans
These white distressed boyfriend jeans from J. Crew felt much baggier than they look in this photo, and definitely stretched out as I wore them throughout the day. I paired them with a Silence + Noise silk floral top and my Birkenstocks, and really, the cut was comfortable even though the artificially-distressed knees were much higher than my actual knees.
I didn't love the look, as you might be able to tell from my face, but I could've done worse.
Day 4: Jumpsuit
I had another work-related meeting on the fourth day of the experiment and at this point, the no-skinny jean fatigue hit me hard. The only other jeans in my drawer were the forbidden skinny jeans or jeans that were totally inappropriate for an office because they were either too ripped or too faded.
I still put on the white button-up shirt, this one from H&M, and in a panic, layered it with a black jumpsuit, also from H&M, instead of my beloved black skinny jeans.
In some ways, this look is probably more polished than the one with skinny jeans would have been, but it was definitely outside of my comfort zone, which outweighed the added comfort and movement afforded by the jersey jumpsuit.
Day 5: Denim Shirt
My boyfriend's friend was in town for the weekend, so all three of us went out for dinner in Manhattan's Koreatown. I would usually wear skinny jeans and a t-shirt to an event this casual, but since I had all but run out of jeans that looked nice and weren't skinny, I went for a bright orange skirt from Topshop with a denim shirt from Joe Fresh.
This was my favorite outfit, and definitely not one I would usually wear out. At first, I felt a little bit out of place, especially because I'm usually wearing monochromatic outfits, but by the end of the night, I had warmed up to the look. It was so much fun to put together, it felt super playful, and my boyfriend thought I looked cute, so I'm chalking it up as a win.
Day 6: More Cut-Offs
Another day, another party on a rooftop in Brooklyn, another chance to wear denim cut-offs. I threw on a white silk Calvin Klein camisole over that same pair of Levi's cut-offs, and stayed cool in the hot sun. In terms of ease of getting dressed, this was the closest I came to my regular uniform, and it felt nice to finally reach that level of comfort without skinny jeans.
Day 7: Mom Jeans
Since mom jeans are the ultimate anti-skinny jean, I figured they'd be the perfect way to end my weeklong experiment. I basically took the same outfit I wore the day before and swapped out the black Levi's cut-offs for vintage black Levi's jeans. Did I feel totally dorky while biking around Greenpoint in baggy, high-waisted mom jeans? Yes. But was I physically comfortable while biking around Greenpoint? Yes. Did I feel like I was starring in an episode of Girls? Maybe.
Conclusions
You don't know how much you love something until it's gone, and it wasn't until I told myself that I couldn't wear skinny jeans that I realized how much I actually rely on them and truly love them. It's not that I didn't like these outfits, but none of them felt totally natural. I was scraping the bottom of the closet to come up with these looks, and though that kind of challenge can be fun, there is a reason I wear skinny jeans all of the time... Because they work for me! They might not be as comfortable as yoga pants, or even mom jeans, but they're what I feel comfortable wearing, health risks be damned.
There were some other benefits, to be fair. I was way more comfortable physically, especially in the summertime heat and while biking around. There was no pinching or sticking of fabric to legs or any of the other things that happen when you wear tight jeans for too long. Plus, most of my outfits were much trendier than my uniform black skinny jeans and white cotton t-shirt. Although I might be more open to trying out different styles of jeans than before doing this experiment, I was relieved when it was over, and I could comfortably squeeze back into my tight black skinny jeans, just like every other day.
Images: Maxine Builder