You Have To See Why This Selfie Went Viral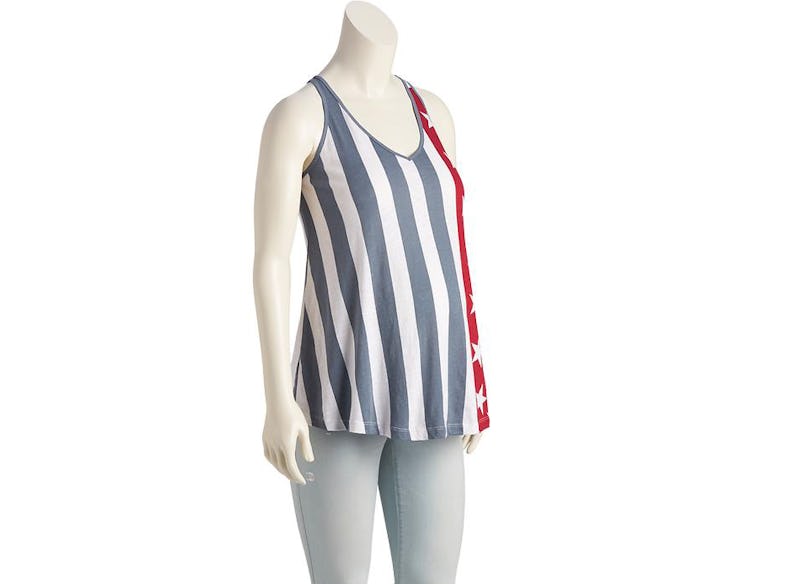 Trying on clothes in a store is generally a private thing, but a selfie taken in an Old Navy dressing room went viral, and it's full of some serious body positivity. It just goes to show, sometimes sharing your personal life with the world can be pretty darn inspiring.
Rachel Taylor, a wedding photographer, posted a picture of herself in an Old Navy dressing room wearing a red, white, and blue tank top on July 3, but patriotism had nothing to do with the pictures popularity (it was liked over 73,000 times and shared over 11,000). Rachel actually chose to document the moment because the shopping trip turned out to be a particularly emotional one for her.
Rachel explained in the caption, "today I was shopping in Old Navy, standing between a teenage girl and her mom. The girl picked up a plus-size tank top, showed it to her mom and said, 'Look! Me and So-and-so can fit in this tank top!' Her mom laughed and said, 'Yeah, you could! That thing is huge!'"
It was insensitive and callous, to say the least, but what the two didn't know was that the tank was actually Rachel's exact size. After breaking down into tears and allowing her husband to console her in the car for over an hour, Rachel eventually returned to finish her shopping, showed her inner strength by trying on the tank top, and of course looked totally fierce in it.
Rachel ended her caption with the simple message, "Be kind. Think about others before you speak. And if someone hurts you, you have to move on."
Brave, powerful, and absolutely beautiful.
Images: Old Navy; Rachel Taylor/Facebook