Recognize The Voice Of Scarlet In 'Minions'?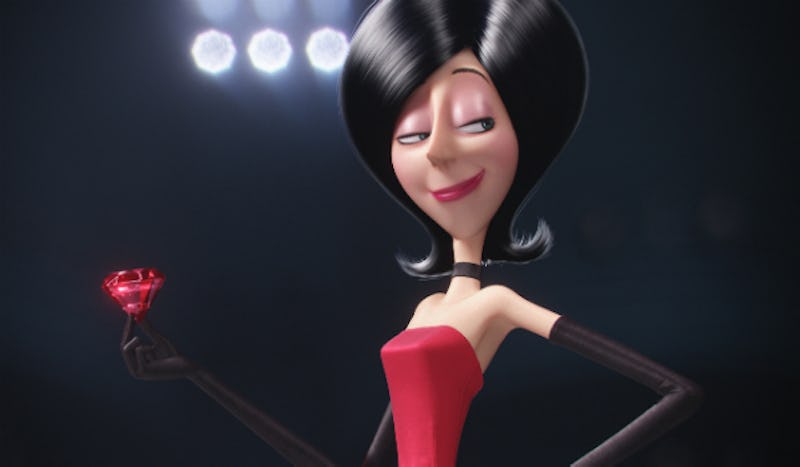 Obviously, the main focus of Minions is, well, Minions, but there's also a significant human element in the film as well. After all, you can't have 90 minutes of nothing but gibberish-speaking creatures running around with no easily-understandable character there to guide the plot. The main character in Minions, besides the Minions themselves, is Scarlet Overkill, also known as the world's greatest supervillain, and from what we've seen in the trailer, she looks like an intense character voiced by a strong performer. But much like the Russian-accented Steve Carell in Despicable Me , it's not so easy to recognize just who the actress is behind Scarlet's voice. So, who is the voice actor for Scarlet Overkill in Minions ?
The mysterious voice tormenting the Minions belongs to none other than Sandra Bullock. Yes, that's right, huge movie star and current World's Most Beautiful Woman, Sandra Bullock. Now if you think that the actress is an odd choice to voice the role, think again. I'm convinced that Bullock is not only perfect for the part of Scarlet, but that she should definitely take many more voice roles in the future. Here are a few reasons why Sandra Bullock was pretty much born to voice Scarlet Overkill.
1. She's A Queen Of Animation
The last time Bullock voiced a character in an animated film was in 1998, when she voiced Miriam in a little film called The Prince of Egypt. That movie became the highest-grossing animated film of all time not made by Disney at the time of its release, a distinction that now belongs to Despicable Me 2 at the worldwide box office. If anybody is going to continue the blockbuster streak with Minions, it's Bullock.
2. She's An Excellent Actress
A proven performer, Bullock took home the Best Actress Oscar for The Blind Side in 2010, and was also nominated in the same category in 2014 for her performance in Gravity. Clearly, Bullock has always had the chops to pull off a convincing "World's Greatest Villain."
3. She's Funny!
In case you forgot, Minions is a comedy, and while Bullock's dramatic accolades get most of the attention, she's also an accomplished comedic actress. The Miss Congeniality films, The Proposal, The Heat... Sandra Bullock makes us laugh more often than she makes us cry, and I expect that trend to continue in Minions. Seriously, is there anyone who doesn't think she's incredibly funny (besides her son)?
4. A Great Voice Is In Her Blood
Just because Bullock's currently considered the most beautiful human alive doesn't mean fans have to see her to appreciate her. As it turns out, a great voice runs in the family. Bullock's father, John W. Bullock, made his living as a voice coach. See, she was practically bred for her Minions role!
5. She's A Cartoon IRL
Well, sort of. Bullock received a nomination from the Visual Effects Society as the Best Animated Character in a Live Action Film. Which film, you ask? Gravity. That's right, she was so good no one even realized she was animated! Of course, this wasn't a Bruce Willis situation where she was a cartoon the whole time; only around 80 percent of the movie was CGI, but it's still an impressive feat nonetheless.
Seriously, Sandra Bullock is a perfect choice for Minions, and I, for one, couldn't be more excited to see her in the movie, terrorizing those little guys and making all of us laugh.
Images: Giphy (2); buzzfeed/tumblr; moviegiffs/tumblr; gravitymovie/tumblr