Let's Talk About That 'Minions' Post-Credits Scene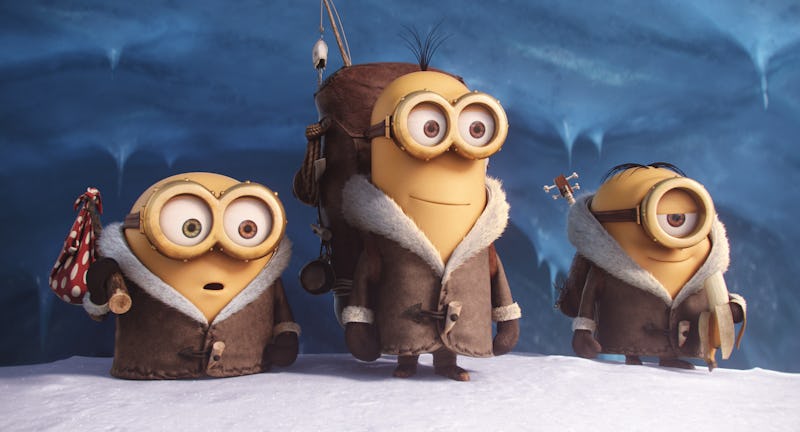 Minions are basically this generation's Ewoks — but with less of the fanboy/fangirl backlash. They're funny, speak an indecipherable language, and they are just so gosh darn cute. They are so adorable that when their movie Minions ends, you immediately want to see more of them. You want to see them get into clumsy trouble and talk more of their nonsense language (that we all somehow understand for some reason). Lucky for us, there is quite a lengthy and enjoyable Minions post-credits scene that will have you stuck to your seat and grinning and giggling like a minion yourself. Here's how it all goes down (spoilers ahead!)
After a battle that culminates in the defeat of super-villain Scarlett Overkill, the minions are honored for their efforts by the Queen of England. During the celebration, they find out that they didn't get rid of Overkill. She swoops in and steals the Queen's crown. The Minions chase after her but she is stopped by — surprise! — a very young Gru (yes, he's still voiced by Steve Carrell) and his freeze gun. He snags the crown and flies off on his rocket motorbike with little Kyle (remember that dog-like creature from the Despicable Me movies?). The Minions are in awe of his super villainy and follow him. What happens makes a sequel seem totally inevitable, and very, very needed.
The credits start to roll and there is an extensive series of scenes that have the Minions interacting with a young Gru. We see them have clumsy accidents, obsess over bananas and, in one of the funniest scenes, we see the Minions deface a portrait of Gru's mom. When Gru sees what they are doing, you think he's going to lose it, but he joins in on the fun only to be interrupted by his mom. At the very end, there is a stinger when Kevin, Stuart, and Bob are playing instruments and blowing bubbles. There's a finale to all of it featuring all the characters and a fun conclusion that '60s music fans will love. It all goes to help develop the fun-loving and familial relationship that we "later" see in Despicable Me and Despicable Me 2.
If they teased us with a Minions spin-off with a post credits scene in Despicable Me 2, this is probably the perfect opportunity for them to tease us with a taste for a sequel. As for what to call the next movie in the franchise? I have one idea: Minions 2: Despicable Gru. It's just too good to pass up.
While you ponder on that, check out the Despicable Me 2 post-credits scene (which hinted at the Minions spinoff to come) one more time.