Clay & Shelli Aren't The Only 'BB17' Showmance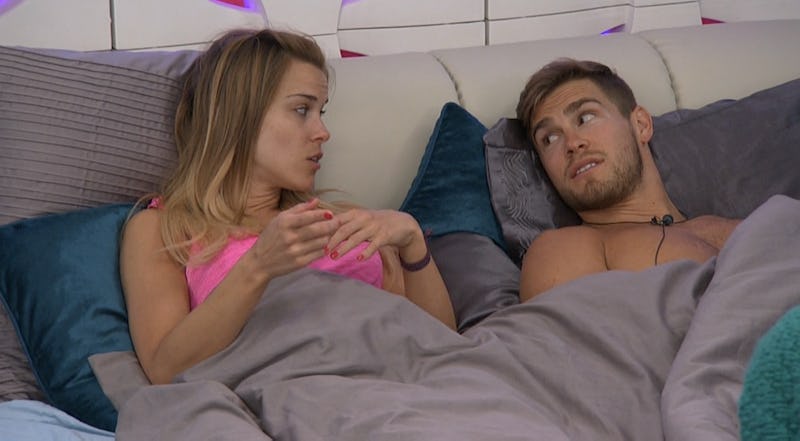 Showmances have long been a part of Big Brother, going all the way back to Season 2 when Dr. Will totally played Shannon. Whether they are purely for strategy like Mike Boogie with Erika and Janelle with Will (again), or have a deeper connection like Jeff with Jordan and Brendon with Rachel, it's fun to follow what develops and maybe even see what goes on when the lights go off. BB17 is no different. Shelli and Clay were linked from the start and their showmance is still going strong. But with a houseful of hotties (looking at you, Steve-Without-Glasses), they can't be the only ones with eyes for someone else. Big Brother 17 is rife with potential showmances just waiting to be acted upon.
As the live feeders know, Austin and Jeff have been hosting a late-night "podcast" that mostly centers around dating and relationships. Over the last several nights, the houseguests have revealed everything from their hook-up history to what they find attractive in a potential partner. This has given BB fans plenty to work with for showmance theories and speculation. So, here are three showmances that need to happen ASAP, because Clay and Shelli can't be the only BB couple of their season.
Austin & Jackie
When Jackie revealed the type of guy she's attracted to, it sounded just like Austin (minus the long hair). Everyone in the house noticed it, including Austin, who made a quip about catching up after the podcast. A couple of days later, it was the ladies' turn to find out more about Jeff and Austin's dating chops, and when Austin won their Silver Power of Love prize, it included a kiss from Jackie. Is a showmance brewing? My vote is yes.
Meg & James
From the start of this season, James has referred to Meg as Taylor Swift and commented on how attractive she is. After admitting he's got a bit of a crush on her, the podcast callers asked Meg if she'd grant James' wish for a kiss. James was ready for some full-on lip action but Meg turned his cheek before going in. So does that mean she's against this showmance? Maaaaybe... But, she admitted the next night that she simply doesn't like public displays of affection, which could leave the door open for some undercover action.
Jeff & Liz
Jeff has been quite vocal about his attraction to Liz/Julia. (At times, this has even included some really gross comments about going to the jury house.) It's clear to Jeff that one of the twins is more into him than the other, and that twin is Liz. Their cutest moment in the house so far was prepping for their BB Prom Night when they worked together on a Big Brother cheer. It was so high school in the cutest way possible.
Fortunately, the season is just starting, so I'm sure many more showmances will begin to brew in the coming weeks.
Want more Big Brother? Listen to Bustle's latest Big Brother podcast, The Diary Room, below, and check out more new episodes on our Soundcloud page. And, of course, expect the unexpected...
Images: screengrabs/CBS (4)