Buy The Hats From 'My Love From Another Star'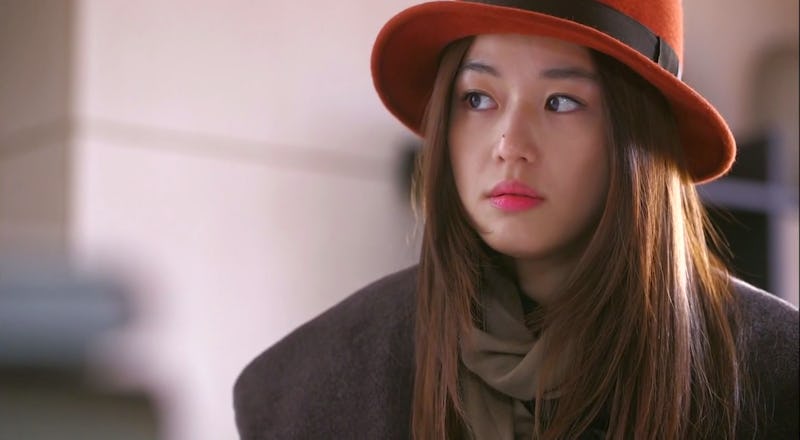 Recently, I majorly waxed poetic about the hats in My Love From Another Star, and ultra-popular Korean drama. After all, the style on the show is pretty darn unbeatable, and the hats are like the cherry on top. What would top hallyu star Song Yi's fab oversized cape be without the addition of a rust-orange fedora? Or how about her best friend/rival Se Mi's fabulous furs, without the accompanying Parisian felt hats? Oh, and as long as we're talking headgear, I must mention Song Yi and Se Mi's personal makeup/hair artist, Min Ah — because that lady's got the best hat game in town (throughout the series, she wears everything from a rainbow leopard spotted baseball cap to a mustachio'd beanie).
Anyway, it may be the scorching middle of summer, but that doesn't mean you can't do a little virtual shopping to really get going on your hat collection. If I've learned anything from the ladies of My Love From Another Star, it's that a statement-making hat can take an already-excellent outfit to new heights of fabulousness. So, no matter you like little bowler-type hats, flashy wide-brimmed fedoras, or hats with faces, I've got you covered with some fun shopping options.
1. Song Yi's Pom-Pom Beanie
Song Yi's good at dressing to the nines, but she's also pretty darn unparalleled in the art of leisurewear. Case in point? This comfy ensemble, topped of with a slouchy beanie, featuring a rabbit fur pom-pom.
Cashmere Beanie with Fur Pom, $78, Vince.
2. Min Ah's Sock Monkey Beanie
Min Ah wears a lot of truly great hats throughout the series, but this is honestly one of her best. Sometimes, there's nothing better than having two faces on your head (unless you're Professor Quirrell, that is).
Bear Beanie, $55, Revolve Clothing
3. Song Yi's Black Fedora
One of Song Yi's most slay-worthy outfits to date (with a nice assist from Min Ah's eccentric mustache beanie).
Wool Hat, $25, H&M
4. Se Mi's Gray Floppy Hat
I'm a huge fan of Se Mi's ultra-feminine fashion sense, and this particular dove gray hat paired with this particular cotton candy pink fur jacket look totally front row-ready.
Felt Wool Floppy Hat, $52, Topshop
5. Min Ah's Colorful Printed Cap
If you're not feeling like going the high-fashion route, you can always take a leaf from Min Ah's book and go for something ultra-colorful.
Leopard Print Knit Beanie, $54, Neiman Marcus
6. Se Mi's Black Floppy Hat and Min Ah's Red Cap
Ooh, a felt wool hat double shot!
Skinny Band Felt Floppy Hat, $36, ASOS
Mini Pillbox Hat, $34, Urban Outfitters
7. Song Yi's Orange Fedora
It can be tough to pull off such a bold hat in such a bold color, but Song Yi does it with ease.
Jordan Wool Fedora, $49, Gilt
8. Min Ah's Happy Beanie
Last but not least, I was completely won over by this expressive green beanie. I couldn't find another hat quite this cheerful, but the winky-faced hat below has a lot of personality, too.
Chiara Ferragni 'Flirting' Beanie, $204, Farfetch
Will you be looking to the women of My Love From Another Star for hat inspiration? I know I'm seriously going to be on the look out for more hats with faces from now on!
Images: My Love From Another Star/DramaFever