Amy Schumer Comments On Red Carpet Culture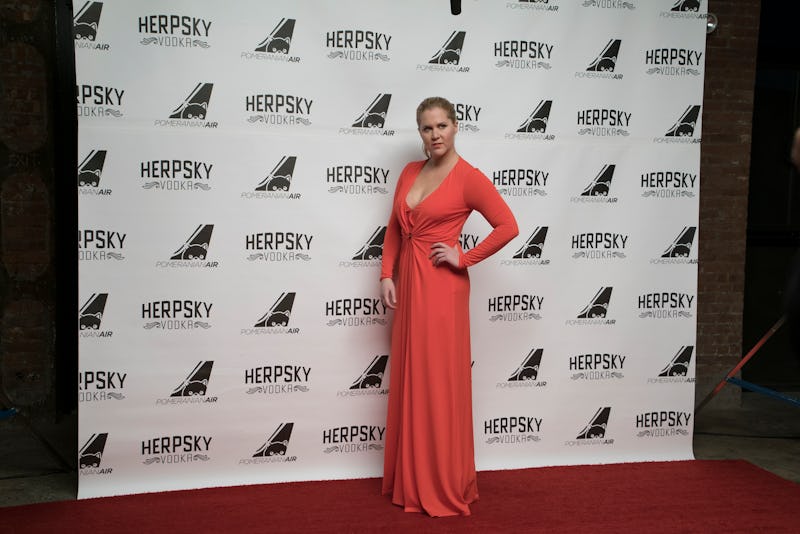 Amy Schumer has taken on many aspects of being a woman in Hollywood, and her take on Red Carpet culture did not disappoint. On the season finale of Inside Amy Schumer, the comedienne visited a "Smile Consultant" to help her better her image after losing a "Who Wore It Better" online poll to a dog. The consultant was played by Jon Glaser, who you may recognize as Councilman Jamm from Parks and Recreation. He repeatedly told Amy to "cock and smile," which bizarrely tied him to his other sketch character that evening — a personified "cock blocking" chicken.
First of all, the fact that stars are judged by how they rank against others on the red carpet is completely ridiculous. The fact that Amy was being ranked against a dog added an extra level of silliness to the sketch. It's delightfully ironic that you would have to work on your smile — the one thing that true confidence should just be able to do for itself. How can a smile be natural if you have to fix it to appease others? How can you "love your smile" when you're told that it's garbage? What's more, Glaser's character doesn't give her any training. He just constantly rejects her and puts her down before arbitrarily deciding that she's good to go. What she ends up with isn't exactly a smile. It's just a consistent face that can be photographed easily.
Unfortunately, this is not entirely inaccurate. Celebrities are trained in Public Relations and how to handle Media all the time. I would not be surprised if stars, especially young or upcoming stars, met with people who taught them how to pose and smile in photographs. As ridicules as this sketch seems, there is an "art" to appearing on the red carpet. It's crazy to think that something so minuscule could actually drive public opinion, and yet it does.
Image: Ali Goldstein