What To Do In Milwaukee This Summer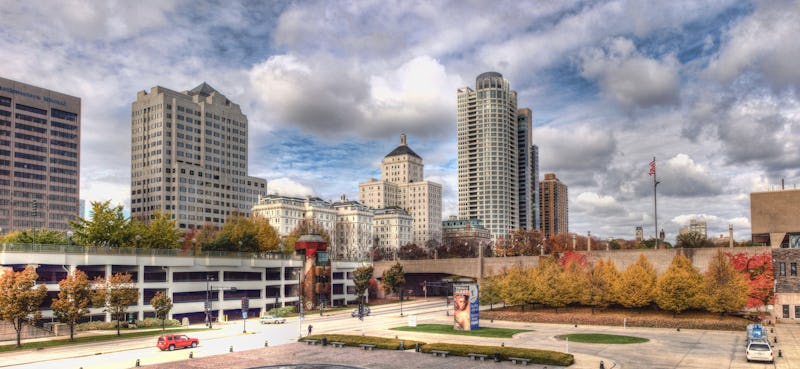 To state the obvious: winter in Milwaukee is long and cold. For months each year, while the snow piles up and the temperature plummets below zero, the city hibernates, and Milwaukeeans dream of sunshine as they shovel their driveways. But now, finally, it's July! The snow has melted and the summer in full swing. Which is good news whether you live in Milwaukee, or are just passing through for a visit — because, in addition to the beautiful weather, there are also plenty of fun events and activities that make summer in Milwaukee truly special.
Milwaukee can easily be overlooked as another Midwestern city with nothing to offer but beer and cheese — which, well, OK, being known for beer and cheese, that's not the worst thing. But this city has so much more going on for it than that. Why is Milwaukee great? It borders Lake Michigan and the Milwaukee River, has several hip areas filled with coffee shops, bars, and unique shops, and is a wonderful, small, down-to-earth city that's easy to navigate. It's also cheaper than many other big cities — you'll be paying less for dinner or a concert here than you will in nearby Chicago.
So even though the bleak winter might be the first thing that comes to mind when you think of Milwaukee, our surprisingly sunny and bright summers are chock-full of fun warm-weather activities. Say goodbye to hibernation and get out there! And whether you're looking for a bite, a beach, or a view, we've got you covered with a best of Milwaukee list.
Best Ice Cream
Purple Door
Ice cream is a staple of summer anywhere — but especially in the Dairy State. Check out Purple Door, located on 2nd street in the hip Walker's Point neighborhood, to get your fix. Their creative flavors are far from ordinary, with scoops of whiskey, lemon cardamom and spicy chocolate-flavored ice cream available. Bonus: the ice cream is also made in Milwaukee and uses local ingredients when possible.
Best Beach
Bradford Beach
Bradford Beach is a go-to for local fun in the sun. Relax on the sand with the city as your backdrop and the massive great lake ahead of you. Plus, there's always people out enjoying the weather and the volleyball courts, so you'll always have plenty of company. If you get hungry, stop by the beach-side Northpoint for their famous custard.
Best View
23rd Floor of the Pfister Hotel
In a small city overlooking a Great Lake, there are plenty of places to get a good view. But the absolute best? The 23rd floor of the Pfitser Hotel, located downtown on East Wisconisn Ave. Hanging around the 23rd floor of a hotel might sound boring, but the top floor isn't just full of hotel rooms. You'll also find Blu Bar and Lounge, a place where you can relax and enjoy the view. Sip a drink and check out the city through massive glass panorama windows.
Best Farmers Market
East Side Green Market
Warm weather means growing season! Check out the East Side Green Market to taste the freshest vegetables Wisconsin has to offer. Open Saturday mornings from 10 a.m. to 2 p.m. on North Avenue, this farmers market features local produce alongside the work of artists from around the city. You'll also find tasty bakery items and crafts. If you get tired of open-air shopping, the green market is also conveniently located next to Beans and Barley, a vegetarian focused café with an interesting specialty grocery store.
Best Milwaukee Summer Afternoon Activity
Brewers Game
Nothing says summer like a baseball game. And when the sun is out, the roof at Miller Park comes down. Yes, you heard that right: the park's roof opens and closes like the top of a convertible all summer long, as the Milwaukee Brewers play. Come for the baseball, stay the peanuts — or the famous 7th inning stretch sausage race.
Best Green Space
Lake Park
Taking in all the sights is a great part of travel — but sometimes, you just need to keep it simple. When you need to disconnect and become one with nature, take a stroll through Lake Park. While not quite on the lake, the park — designed by by the same architect as Central Park — sits near it and offers up a slice of lovely green space in the bustling urban area. Located on the East Side, the park also sports a small golf course and a beautiful lighthouse.
Best Outdoor Lunch
Colectivo (Lakefront)
Colectivo, a local chain of cafes around the city, holds a special place in any Milwaukeean's heart. This location, on Lincoln Memorial Drive, has outdoor seating facing the lake and some serious atmosphere. The renovated late 19th century building has industrial-chic vibes, with brick walls and artistic decor. But it's more than just cool — Colectivo offers delicious food like fresh chili, falafel sandwiches, veggie pesto burritos, and my personal favorite, baked oatmeal, along with a menu of coffee and espresso drinks.
Best Outdoor Dinner
Cafe Benelux
Located in the heart of the chic Third Ward area, this European-inspired cafe takes it name from the Benelux region of Europe, which contains Belgium, Netherlands, and Luxembourg. The menu features plenty of options for every palate — from mussels to burgers to salads, plus an enormous selection of beers. For dessert, check out the salted caramel cheesecake. And make sure to enjoy all that deliciousness in their rooftop seating area, which is adorned with fairy lights and offers an awesome view of the city.
Images: Jim Bauer/Flickr; Mor/Flickr; David Reid/Flickr; ThreeIfByBike/Flickr; Moyan Brenn/Flickr; Bryce Edwards/ Flickr; Julia Taylor/Flickr; brennanMKE/Flickr; Mike Rhode/Flickr