Make Summer Sweeter With 11 Ice Cream Style Pieces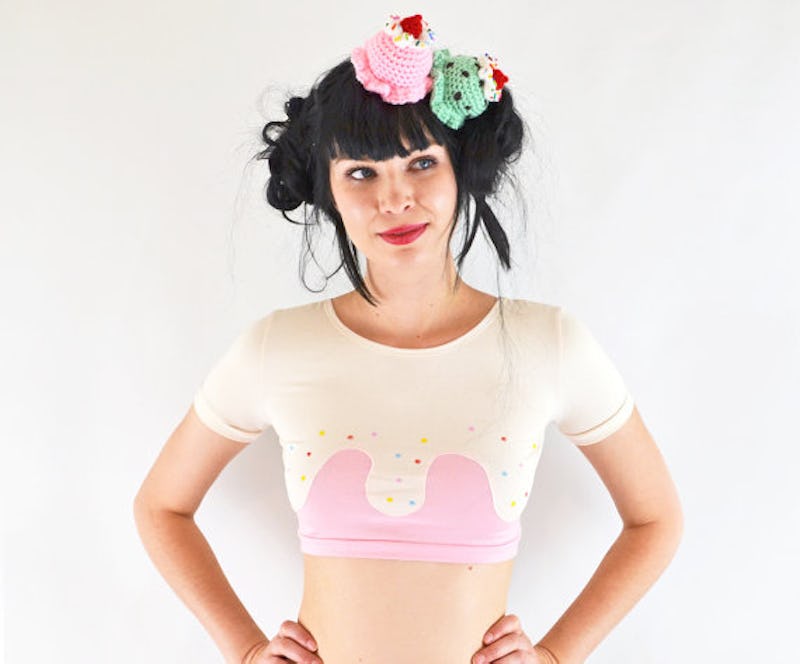 Ice cream is the king of both the food and fashion realms this summer. If you're starting to feel a little sick from eating too much of this sweet delight, then don't worry — you can get your ice cream fix another way: With ice cream fashion. Everywhere you turn, designers are looking to our favorite iced treat for inspiration. Nicolas Martin Garcia showed his ice cream inspired collection "Lolito" at London Graduate Fashion Week 2015, ASOS collaborated with Walls to create some whimsical summery pieces, and Moschino released its novelty phone cases including tongue in cheek ice cream designs.
There's something so playful and fun about ice cream inspired fashion. It also evokes feelings of nostalgia and memories of vacations and trips to the beach. There are tons of ways to wear it too; you can choose to channel a vintage style pastel theme, an alternative creepy cute look, or go down the comedic, cartoony style route. Don't forget all of the different types of ice creams that are out there. There are so many different flavors, you can eat ice cream in a cone or piled high as a sundae, and don't forget the array of toppings!
So here's an ode to the humble ice cream in the form of ice cream inspired fashion, which will have you looking super sweet this summer.
1. The Minty Vintage Style Dress
Flavor Fave Dress, $100, ModCloth
Are you a vintage vixen who happens to love ice cream? Then this gorgeous, pale green dress is for you. Its pistachio hue and pastel colored cones make for a perfect combination of summery colors. Plus it's available in sizes XS to 4X so we can all join in the fun.
2. The Strawberry Sprinkles Crop Top
Pink Strawberry Ice Cream Crop Top, $69, Etsy
Stay cool and look cute in this adorable strawberry ice cream crop top complete with a white chocolate sauce and sprinkles design.
3. The Scented Triple Scoop Necklace
Scented Triple Scoop Ice Cream Cone Necklace, $38, Tiny Hands
I am completely besotted with Tiny Hands' food jewelry. The designers create miniature versions of our favorite foods and make them into wearable trinkets. The best part: They are scented and smell like actual food. I am literally lusting after everything on the site.
4. The Cute Retro Two-Piece
Savor The Sunshine Swimsuit Top, $27, ModCloth | Savor The Sunshine Swimsuit Bottom, $28, ModCloth
Oh golly! Isn't this the most darling two-piece swimsuit you've ever laid eyes on? The Neapolitan ice cream style frills in strawberry, chocolate, and vanilla colors add the cherry on top of this majorly cute design. Plus both designs come in sizes XS to XL — hurrah!
5. The Ice Cream Cone Glasses
Mint Green Frames With Ice Cream Cone Print Arms, $12, Claires
Have some fun in these sweet novelty glasses. The addition of a tiny ice cream cone on the frame just makes your heart melt.
6. The Strawberry Sundae Skirt
Ice Cream Skirt Dusty Pink, $40, Etsy
This divine, dusty pink skirt looks like something one of the Pink Ladies might wear to a trip to the local diner. It's also made with a lot of love and care; it is handmade and even hand screen printed.
7. The Sundae Style Bag
Blue Ice Cream Sundae Purse, $68, Unique Vintage
This ice cream sundae purse looks super delicious and totally fun. IMO the sundae design stirs memories of sleepovers while the pale blue, chain shoulder strap brings to mind high end Chanel bags — an appealing combination.
8. The Alternative Gal's Tank
Skull Cones Girls Tank Top, $21, Hot Topic
If you're not a fan of sugary sweet fashion then you may wish to choose something a little spookier, like this creepy, skull ice cream tank top. Channel pastel goth vibes by wearing this top with a powder blue PVC skirt, a studded baby pink choker, and some polka dot creepers.
9. The Sweet Pastel Ankle Socks
Stretchy Ice-Cream Ankle Socks, $6, Top Shop
Become sugar coated from head to toe like a California Gurl in these sweet, pastel ankle socks. Pair with your favorite vintage dress and high heeled sandals for maximum cuteness.
10. The Ice Cream Mac
ASOS Rain Pac A Mac in Ice Cream Print, $45, ASOS
Who cares if it's raining outside? You can keep dry and still look sweet in this charming, lilac mac with an ice cream print.
11. The Melting Moschino Phone Case
Moschino Ice Cream iPhone 5 Case, $51, ASOS
This drool–worthy, comedic phone case by Moschino will have you craving a chocolate ice cream. Just don't mistake it for the real deal — it definitely won't taste as nice!
Look totally yummy this summer in ice cream inspired fashion!
Images: Courtesy Brands; Giphy