The Body Issue's Most Memorable Photos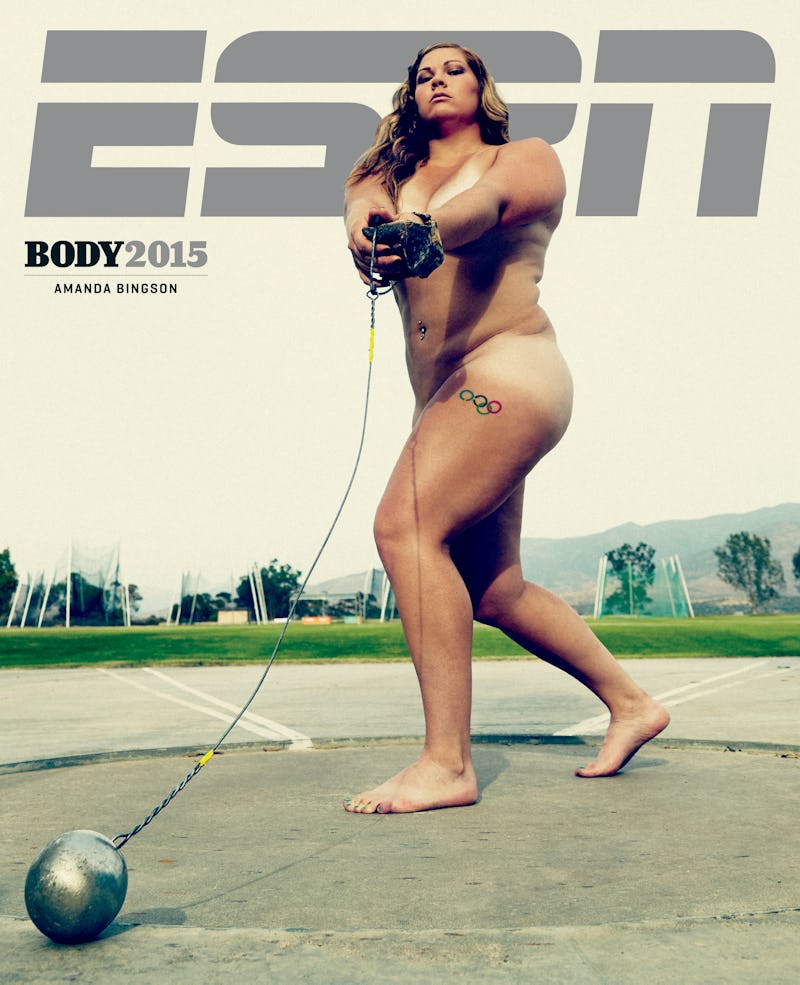 For anyone who's ever picked up a copy of the Sports Illustrated Swimsuit Issue and wondered what exactly photos of Kate Upton flying in a zero gravity plane have to do with "sports," there's ESPN The Magazine's Body Issue. Now in its sixth year, the annual issue features top athletes in nude poses that split the difference between displaying their raw physical power and giving readers a glimpse of some tasteful Olympic-level T & A. Originally conceived as a way to perk up flagging print sales for the magazine in 2009, the Body Issue has been a wild financial success and its multiple covers, thoughtful interviews about bodily acceptance, and pictures of athletes holding equipment over their junk have become an annual tradition.
Throughout its six years on newsstands, the Body Issue has been a magnet for controversy, as well — fielding criticisms that the magazine's pictures undermine the achievements of athletes by shooting them in provocative (and often inactive) poses, and that the magazine's portraits don't depict the real diversity of athletic bodies out there. Though there's some truth to both criticisms (especially in past years, when female athletes were mostly shown in passive poses), the Body Issue is still quite notable for its focus on athletes speaking candidly about their bodies — particularly female athletes who, through the six Body Issues, talk again and again about their struggles, and eventual successes, in loving their bodies. Though criticism's of the magazine's beauty standards are certainly valid, the broad shoulders and solid muscles on display in the Body Issue's female athletes are as gratifying to look at as they are rare to find on any newsstand.
So, in honor of the release of the magazine's sixth issue this week, let's go back through the history of the Body Issue, to check in on its highlights, controversies, and best photos of someone clutching a basketball over their genitals.
2009
The first Body Issue was published in October 2009, as an attempt to reinvigorate sales of the print magazine. This first issue also debuted the magazine's traditional set of multiple covers — which included shots of tennis player Serena Williams, mixed martial artist Gina Carano, and Sarah Reinertsen, the first female amputee to complete the Ironman.
2010
Current Dallas Maverick and former New York Knick Amar'e Stoudemire posed for one of the 2010 issue's covers, in a shot that led a number of sports blogs to work double-time to come up with some "ball" jokes. Stoudemire's cover inaugurated one of Body Issue's biggest traditions: making people who think male nudity is kinda "gross" super uncomfortable.
2011
Recent Women's World Cup Golden Gloves recipient Hope Solo was one of four cover models in the issue's third year. Though Solo's interview contained great reflective moments, where she mused on issues like how "my entire purpose is trying to be the best, and if that exudes beauty too … it means the image of the typical female body type is finally evolving," the issue came under fire for depicting Solo watering her front lawn ... instead of, you know, performing any of the actual athletic feats that made her famous.
2012
Tyson Chandler's cover shoot, which gave sports fans a look at the New York Knicks forward's butt, was a source of what was now the issue's regular shot of controversy — though the criticism seemed to mostly amount to, "You can see his butt. Isn't that weird? I mean, like, it's a butt. A man's butt. And it's on a magazine cover! What will they think of next?"
2013
For a publication that seems to boldly court controversy, it's a bit shocking that the Body Issue didn't provoke any real public outcry until its fourth edition. Tennis player Agnieszka Radwanska came under fire by some groups in her native Poland for her nude shoot in the issue, and was dropped as the spokesperson for a Catholic youth group as a result. Radwanska issued a press statement in reply to the controversy, asserting that "I train extremely hard to keep my body in shape and that's what the article and the magazine is all about."
2014
Out of all the covers printed for the 2014 Body Issue, the one featuring Texas Rangers infielder Prince Fielder proved to grab the most media attention. Fielder's appearance garnered every single reaction the web has to offer when it comes to bodies: praise for his sex symbol status and the ways that his inclusion on the cover may expand popular ideas about what athletic bodies look like; cruel body-shaming; and criticism that his athletic body still reinforces traditional beauty ideals. In the accompanying interview, Fielder seemed to anticipate a lot of the discussion, pointing out that "Just because you're big doesn't mean you can't be an athlete. And just because you work out doesn't mean you're going to have a 12-pack."
2015
The 2015 edition's six cover models — including Olympic heptathlete Chantae McMillan (pictured above) and Olympic track and field star Amanda Bingson (pictured at the top of the page) — feature so many women in powerful, active poses that this issue could be viewed as the magazine finally getting the memo regarding its previous traffic in sometimes-objectifying shots of female athletes. The women on these covers are not here to water your front lawn, for sure.
Both McMillan's and Bingson's interviews are notable for their love for active, powerful female bodies. In McMillan's interview, she notes that, "I don't look in the mirror and think 'slim'; I look in the mirror and I'm like, 'Whoa, beast!'" In Bingson's interview, the athlete — who holds the U.S. record for the hammer throw — noted that "[g]enerally when you look at athletes, you see their muscles and all that stuff; I don't have any of that ... Whatever your body type is, just use it. There are definitely things that I can do that skinnier people can't do. But then there are things that skinnier people do that I'll never be able to do" and that "I think it's important to show that athletes come in all shapes and sizes."
Bingson also said, "I'll be honest, I like everything about my body," a statement that shows the true power possible in the Body Issue. How often do we get to read any woman — record-breaking Olympian or otherwise — say that?
Images: Amanda Bingson photographed by Peter Hapak for ESPN The Magazine; Sarah Reinertsen photographed by Sheryl Nields for ESPN The Magazine; Amar'e Stoudemire photographed by Peggy Sirota for ESPN The Magazine; Hope Solo photographed by Francesco Carrozzini for ESPN The Magazine; Tyson Chandler photographed by Peggy Sirota for ESPN The Magazine; Prince Fielder photographed by Alexei Hay for ESPN The Magazine; Chantae McMillan photographed by Carlos Serrao for ESPN The Magazine