11 Foods You Didn't Know You Could Eat On A Stick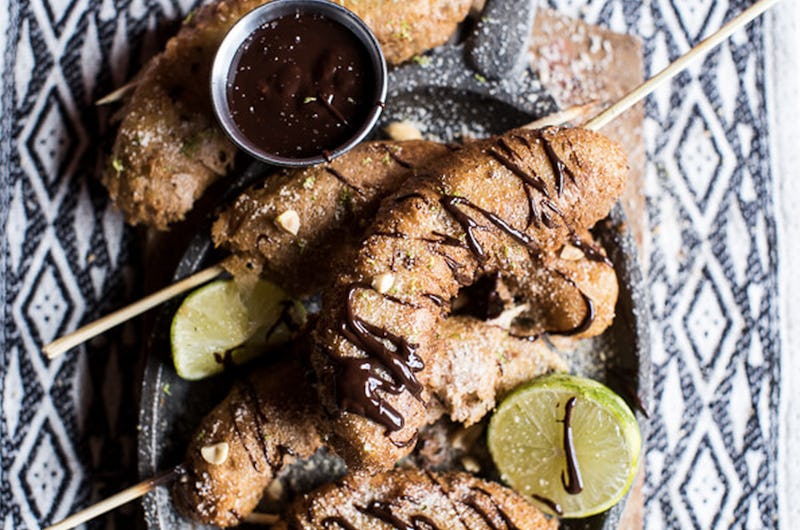 Since the advent of Pinterest, food on a stick has seen a major surge in popularity. No longer reserved for the fried Oreos at your county fair, food on a stick is officially "cool" again... or, er, for the first time. Consider this a public service announcement — food just tastes better when it's balanced on a little skewer in your hand. It's cute, it's portable, and it's perfect for entertaining.
If I have to go to one more party where they serve puffed air and cucumber sandwiches, I might declare myself a social recluse. Like, I came to your party, please feed me real food. I get it, though — party hosts are in a tough position because they can't put out delicious things like spaghetti and meatballs or mashed potatoes because, well, they're not exactly finger foods.
UNTIL NOW.
Did I mention that the skewer will be your new best friend? Say goodbye to lame and non-filling party food, because baked brie, meatball subs, and pie are all fair game again thanks to the brilliant masterminds who thought to put them on a stick. Whoever those geniuses are, thank you.
Here are 11 things you can (and should) put on a stick, because it might just taste better that way.
1. Fruit and waffle kabobs
What's better than brunch? BRUNCH YOU CAN WALK AROUND WITH. Mom On Time Out ups the brunch game with these waffle kabobs.
2. Cocktail-sicles
You know what goes well with brunch? Cocktails on a stick from Endless Simmer. All you need is prosecco, some blackberries, and a splash of lime to make this refreshing treat.
3. Meatball subs
Say goodbye to messy marinara sauce; with everything already built-in, these meatball sub kabobs from Cookies and Cups are perfect for snacking on.
4. Chicken tender pops
OK, so chicken tenders are already a pretty legit finger food, but how good do these chicken tender pretzel pops by A Spicy Perspective look?
5. Caprese salad
Caprese salad on a stick is a thing now... and it is delicious, according to Mel's Kitchen Cafe.
6. Brownie s'mores on a stick
Now you're just showing off. These brownie s'mores on a stick by Confessions of a Cookbook Queen are sure to impress guests.
7. Baked brie
...a.k.a classy Pop-Tarts stuffed with cheese you can carry with you at all times. This baked brie recipe from Joy the Baker looks unreal.
8. BLT sandwiches on a stick
You can finally say goodbye to lettuce and tomato spilling down your shirt mid-bite. Family Fresh Cooking shows you how to make these bite-sized BLTs.
9. Banana fritters
I can't. I'm done. Half Baked Harvest has the full scoop on these banana fritters.
10. Frozen key lime pie-sicles
I'm not a judgy person, but we can't be friends if you don't find it at least a *tiny* bit gratifying to eat a pie without utensils. The Kitchn nails it with this frozen key lime pie on a stick.
11. Vodka gummy bear pops
Are those vodka gummy bears in popsicle form? You bet they are. A Spicy Perspective has this genius, boozy recipe.
Images: Mom on Time Out, Endless Simmer, Cookies and Cups, The Kitchn (3), Mel's Kitchen Cafe, Joy the Baker, Family Fresh Cooking, Half-Baked Harvest; Confessions of a Cookbook Queen; A Spicy Perspective (2)