Katniss Is Ready To Lead In New 'Mockingjay' Promo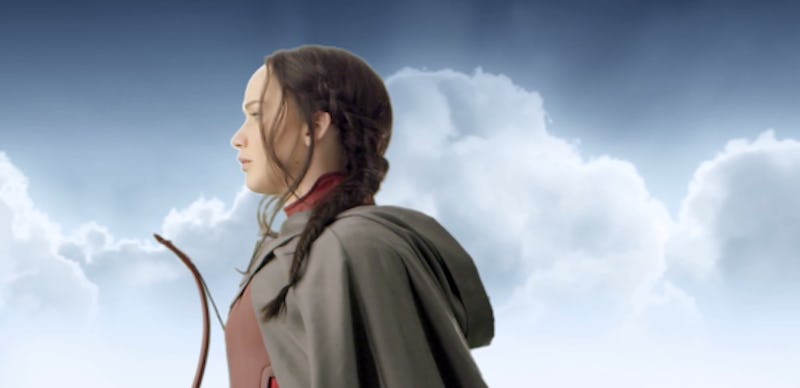 I got so distracted by Trainwreck coming out soon, and staying up-to-date on the dramas of Big Brother 17 every week, that I completely forgot to be on the lookout for Mockingjay — Part 2 updates for the final movie in the Hunger Games series coming out this fall. And the updates have certainly been coming, in the form of a Mockingjay — Part 2 promo featuring Katniss that literally gives me chills. I truly don't know how I let this happen, total negligence on my part, but, luckily, Katniss Everdeen herself is here to remind me of all the gloriousness that's in the works. Actually, the new Snapchat clip is not even a promo, really; it's a teaser for something bigger that's going to be released tomorrow, Jul. 9. And, yet somehow, that doesn't make it any less exciting.
Like most of the footage designed to get us amped for the franchise, this 43 second clip is directed at us as if we're citizens of Panem, designed as a message from District 13 urging everyone to united against the Capitol and President Snow. It doesn't even have words in it. Instead, it's just a close-up of Jennifer Lawrence as Katniss, dressed in red instead of her customary black, that zooms out to show she's high in the sky, standing atop a statue of the three-fingered salute that's become a trademark greeting in the Revolution. It has soaring music behind it, crazy strong visuals, and is basically a kick-in-the-pants reminder that Katniss is bringing us home this Nov. 20 in a very big way.
What's it called when your entire body is covered in goosebumps until you're just one goosebump shivering in anticipation? Because that's how I feel watching this new promo. Can't wait until tomorrow to find out what the deal is with all this. Check this awesomeness out, and try not to shiver when Katniss looks you DEAD IN THE EYES.
Image: Lionsgate