Steve Madden Is Facing A Major Suit From Skechers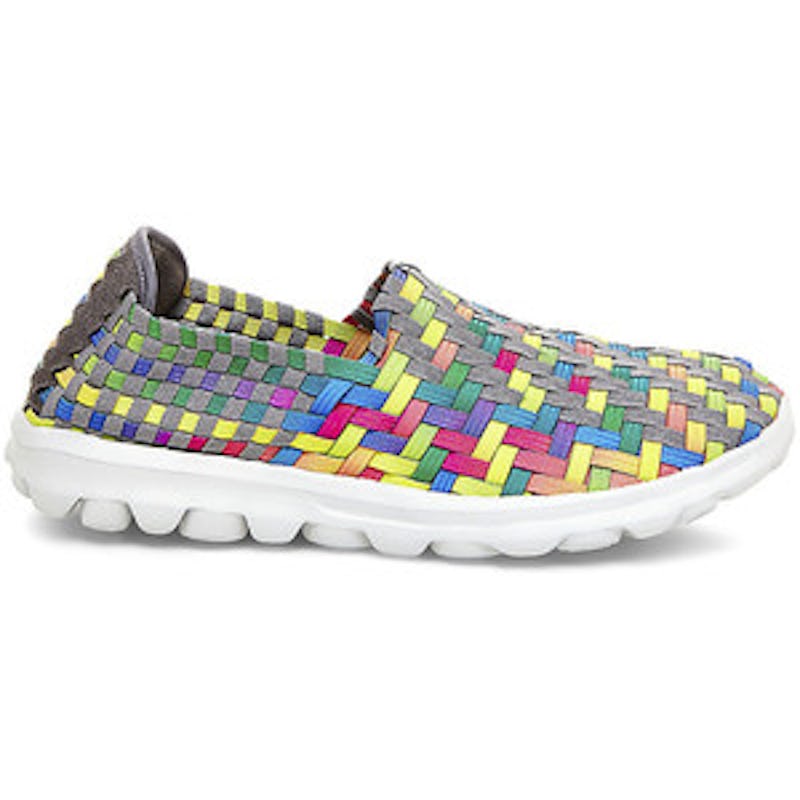 If you live by the immortal words of 10 Things I Hate About You's Bianca who states, "I like my Sketchers, but I love my Prada backpack," you may be shocked to find that the company responsible for your favorite kicks might have been the victim of copyright infringement. According to Women's Wear Daily, Sketchers is suing Steve Madden Ltd. on several counts of design infringement, a suit that may be settled in court. In an age of rampant ripoffs, it appears no brand is safe.
Sketchers' suit is based on the claim that Steve Madden duplicated Sketchers' signature Go Walk shoes, known for their comfortable, movement-friendly design, and fashioned the similarly-rendered Setta shoe on the Go Walk's model.
"While we prefer to compete in the marketplace, Steven Madden is selling its infringing footwear to Sketchers' wholesale customers and in other sales channels where the Sketchers products are sold, and we believe this is causing us enormous damage. Considering our investment in the Sketchers Go Walk and our other product lines, we will not allow anyone to infringe on some of our most valuable intellectual properties," Sketchers COO David Weinberg alleged to Women's Wear Daily.
The Steve Madden Setta, $79.95, stevemadden.com
The Sketchers GoWalk Aspire, $62, sketchers.com
The similarities between the two shoes is undeniable, as both were created with slip-on designs and visible, ground-gripping tread. Moreover, both companies manufactured their renditions of the design in similar colorways, favoring neutral hues like black, beige, and cream.
However, the remarkable likenesses between the two shoe designs may be nothing more than coincidence. The offerings of Sketchers and Steve Madden are comparable in price point and appeal to the same consumer demographic, which may explain the resemblance of the Setta and GoWalk shoes.
In fact, the two brands share several similar designs, from metallic slip-ons to lightweight sneakers. Whether Sketchers will succeed in proving that Steve Madden did in fact replicate the GoWalk style remains to be seen, but it seems that fraudulent design and fakes are a rising issue for the fashion industry.
Steve Madden could not be reached for comment at press time.
Images: stevemadden.com; skechers.com; stevemadden (2), skechers (2)/Instagram