6 Signs From 'Veronica Mars' That Logan & Veronica Were Always Meant To Be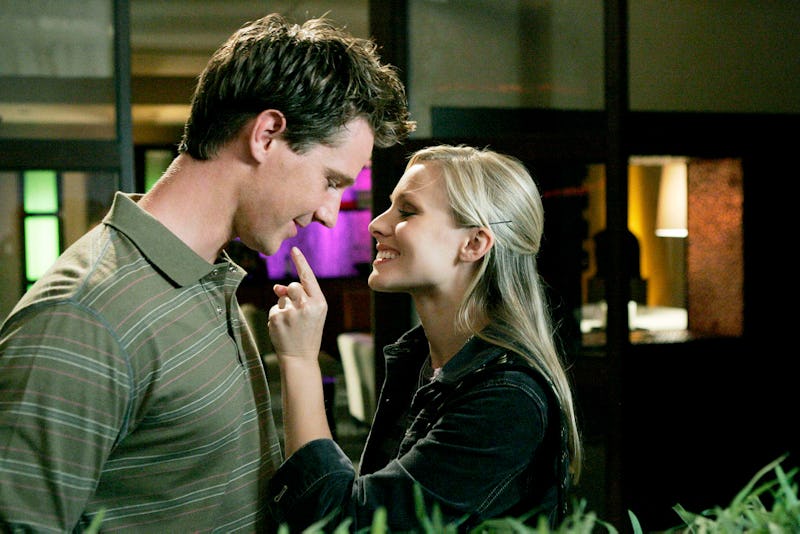 There are so many reasons to love Veronica Mars, from the consistently jaw-dropping weekly mysteries to Veronica's sass — but one of the biggest things that defines the show — and has fans still re-watching old Veronica Mars episodes — is definitely LoVe. Not just any "love": I'm talking about my OTP, aka the ultimate on-again-off-again couple that is Logan and Veronica. Logan and Veronica didn't have the easiest courtship: in fact, just on principle alone, things should have been weird. Veronica dated Logan's best friend, while Logan dated Veronica's best friend who just so happened to be his own best friend's sister. That's not even counting the fact that Logan was an "obligatory psychotic jackass" to Veronica after his girlfriend Lilly's murder, or that Veronica once suspected him of actually killing Lilly. Definitely not the beginning of your typical love story.
But just because Logan and Veronica's love story didn't start out in the typical way doesn't mean that they weren't meant to be. There were plenty of signs from day one that proved Veronica and Logan were meant to be together — all we had to do at the time was believe that LoVe would prevail. Here are the signs that LoVe shippers spotted way before anyone else did:
1. They Were The Only People In Neptune With Any Wit
Veronica Mars had plenty of witty banter, but no one had quite the same way with words as Logan and Veronica. Every conversation between the duo in their pre-dating days of Season 1 felt like a battle of wits — no one was quite as quippy as these two were with one another. It's amazing that Veronica ever wanted to hold a conversation with anyone else when her equal in sarcasm was just a few lockers down.
2. The Limo Video Said Everything
Logan admitted to Veronica that he thought she was hot the first time he saw her, thereby confirming what we always suspected: that Logan pretty much always had a thing for Veronica.
3. They Save Each Other, Even When They're Not Dating
Logan and Veronica broke up between Seasons 1 and 2, and Logan was pretty broken up about it. Even so, though, he jumped through hoops to keep Veronica safe (including saving her from a very scary face tattoo) — and Veronica returned the favor by keeping him out of jail.
4. This Happened After They Broke Up:
Yeah, if there was ever a sign from the Veronica Mars powers that be, then this was it.
5. Everyone Else In Their Lives Could See The LoVe
Even Parker, whom Logan dates in Season 3, can recognize that it's Veronica who has Logan's heart — even when Logan can't admit it to himself.
6. They Can't Stay Away From One Another
Nine years later, and they still find their way back to one another. Really guys: did anyone think these two were anything less than endgame?
Image: Warner Bros. Television