7 Thoughts About The 'Mockingjay Part 2' Teaser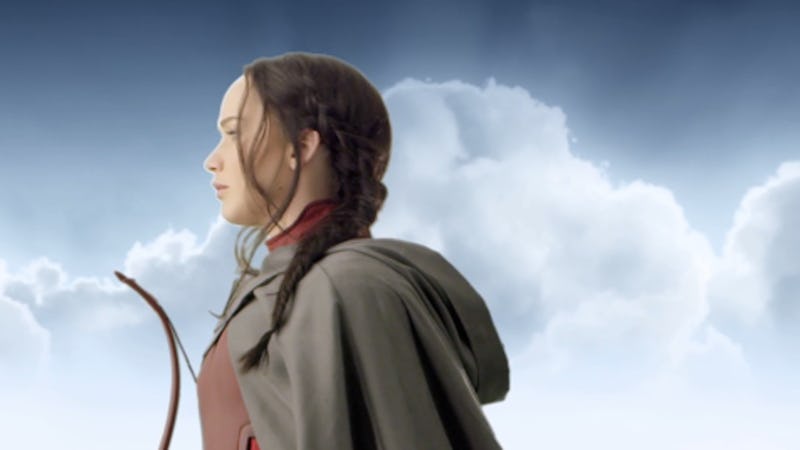 Instead of being all clingy and sending the illusive Katniss Everdeen a very obvious, desperate, not-at-all low key text like, "Hey girl, I'm missin' you…" Why not just check out The Hunger Games: Mockingjay — Part 2 "United" teaser that she stars in instead? (Because you know, Katniss is not the type of person to respond to half-assed advances, anyway — especially, not of the texting variety. Does she even have a phone?) I know, I know: It feels like the movie isn't coming out for so long. But Nov. 20, Mockingjay — Part 2's release date, isn't that far off, and you'll come across as way cooler if you just wait it out like the rest of us.
However, once you do feast your eyes on the aptly named "teaser" (aka, it's short and sweet and most certainly not at all fulfilling for those of us dying to see the third film in full already) you may be a bit perplexed. Don't worry, that is a very normal reaction — I am just as puzzled as you, in fact — and I think that may be the point. Katniss is the queen of cryptic messages, and this one definitely, without a doubt, takes the cryptic cake. I kind of love it for that.
It will also give you a lot of thoughts. For instance, here are seven very real thoughts I had while watching the Mockingjay — Part 2 teaser:
1. How Did She Get Up There?
No, really. How? Did she scale that thing? Did she use a giant ladder? Why doesn't the teaser explain?!
2. Is That A Side Braid/Fishtail Braid Hybrid? Was It Created By Magic?
Talk about a braid upgrade from the original Hunger Games film! Did she do that herself? I mean, she had to have, right — in the franchise, aren't most of the stylists dead at this point? Or, at the very least, not exactly "in commission?"
3. The Cape Is A Nice Touch
Makes the wind look extra... windy.
4. Oh, She's Not Actually Not Standing On A Piece Of Abstract Art At MoMa!
I repeat: How did she get up there?!
5. Where's, Like, Everybody Else?
Gale? Peeta? Prim? Bueller?
6. That Tag Line Is... Misleading
Of course, if you haven't read the books, I won't spoil it for you.
7. The Propos Team REALLY Stepped Up Their Game
They've come a very long way.
You sure know how to keep us all wanting, Mockingjay — Part 2 powers that be.