'Catfish' Is Back With A Bang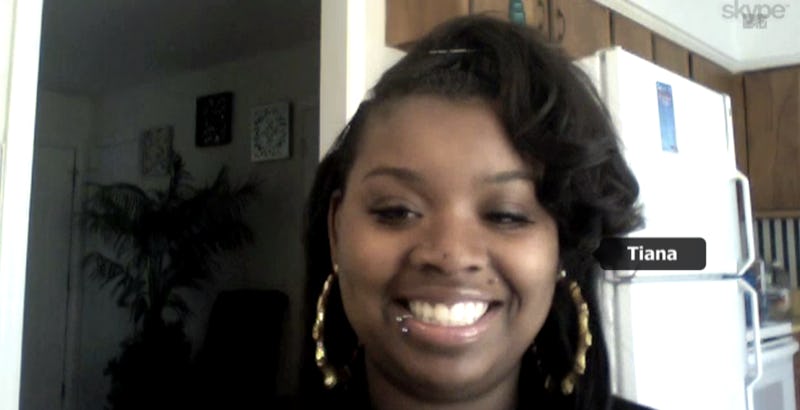 After a relatively short hiatus that still felt like forever, Catfish is back — and with a crazy intense episode to kick things off for the second half of Season 4. This week, Nev and Max introduced us to Tiana, who had been talking to James for three years after meeting him on MySpace... and they were so serious that she actually moved to North Carolina to be with him, despite the fact that they hadn't actually met (despite Tiana's multiple attempts). And the truth? Way crazier than just your typical internet dating scenario. Because when Tiana and James met on Catfish, it turned out that their issues went way deeper than just avoiding an in person meeting. And the way the premiere ended? Not even Nev and Max could have predicted it.
After their initial Facebook and Google investigation, the worst case they came up with was that instead of a young car mechanic, James was actually a 50-year-old car mechanic. Clearly not an ideal situation, right? But compared to what ended up happening, it would have been way preferable. When Tiana and her friend, Aisha, arrived at his body shop, they were greeted by a huge shock: James is actually Trez, the father of one of Aisha's children. YIKES.
Before you jump to the conclusion that Aisha put him up to this to fool her friend (like Tiana initially did), don't worry. Aisha's totally innocent in this. James just happened to have feelings for his baby mama's BFF, and didn't know how else to express it without it "being messy" — and then ended up making the situation way worse.
So how did things turn out? Trez is actually in love with Tiana, and after chatting one-on-one, Tiana realized Trez is actually the guy she fell in love with online, too. Obviously, his tie to someone she's so close to is a major hurdle, but they clearly care for each other. Happy ending, right?
Nope. In the update, Tiana admitted that they didn't actually work as a couple — and her friendship with Aisha is over, too. What a bummer!
This seems like a literal nightmare for everyone involved, but I'll give you this, MTV: You've definitely gotten me interested in the rest of the season.
Image: MTV