8 Female-Fronted Bands You Need To See This Summer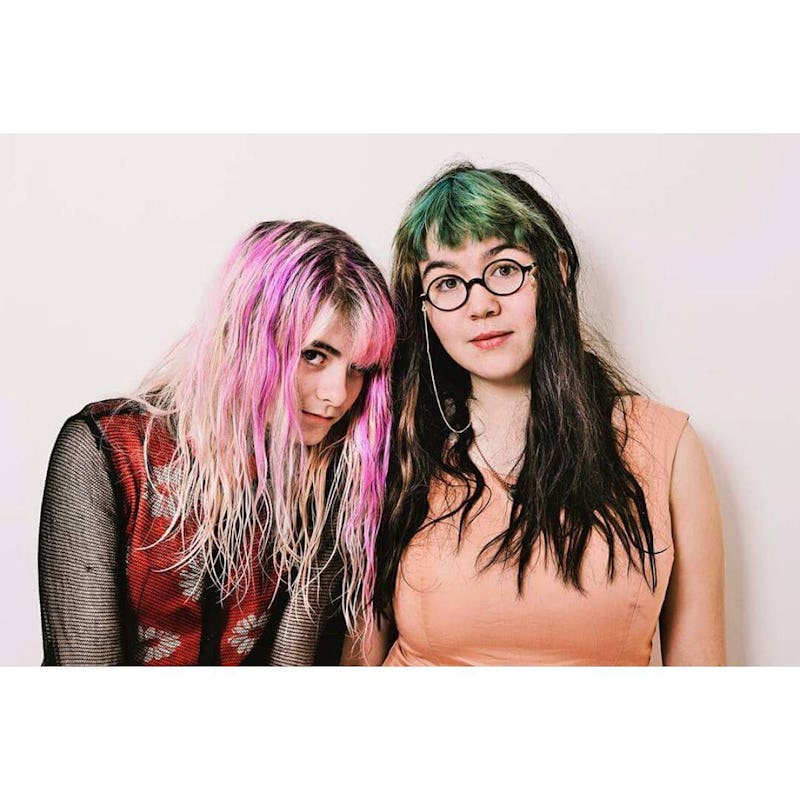 For many of us, summer means a season full of seeing live music. If you're lucky, festivals might be blowing through your area, and if you're really lucky, and you may even find yourself making a cross-country trip to see some big name acts at Pitchfork, Coachella, and Bonnaroo. Musicians from every genre will spend the entire summer hitting as many stages as possible, and there's no reason you shouldn't benefit.
But summer concert season also means you'll also get the chance to see some badass ladies hit the stage — and if you haven't, then you're doing it wrong. Don't let men hog the spotlight: We're halfway through the summer, but there's plenty of live music fronted by women left to be enjoyed. From the indie crooners to the punk rockers and the singer-songwriters, there are more reasons than ever for you to swoon over the power and talent these female-fronted bands can bring to the stage.
So, to get you started, here's a list of just a few of the many strong female-fronted acts you need to see before the summer is over. Because it's time to put your feminism where your ears are.
1. Le Butcherettes
Le Butcherettes, a band founded in Mexico, may be one of the most ferocious bands you'll see all summer. From the very moment they set foot onstage, the band's frontwoman has your attention in her tightly fisted grasp: Teri Gender Bender may very well glare down at every single person in the audience, and she, along with her bandmates, is menacing as all hell in head-to-toe blood-red threads. These garage rockers demand equal parts fear and respect out of the audience, and should not be missed when they roll through your town this Summer. Find Le Butcherettes' tour dates here.
2. Babes In Toyland
Riot Girls, rejoice! One of the most iconic alternative rock bands from the '90s has reunited and has their sights set on a fairly lengthy string of U.S. tour dates that start in August and run through the end of the year. Come for that authentic punk sound you miss so much, stay so you can marvel at the power and force behind Kat Bjelland's commanding vocals. Find Babes In Toyland's tour dates here.
3. Veruca Salt
Speaking of '90s alternative rock bands, here's another act reuniting and hitting the road, much to the delight of Generation Xers everywhere. Veruca Salt's leading ladies, Louise Post and Nina Gordon, were also among the ruling Riot Girls of the '90s, and the band just recently announced a new album, Ghost Notes. Veruca Salt have only a handful of dates left this summer, so get on it. Find Veruca Salt's tour dates here.
4. Waxahatchee
Waxahatchee is the moniker for Katie Crutchfield, a singer-songwriter from Alabama. The indie rocker gained notoriety after an album she recorded in her bedroom took off. Waxahatchee toured in support of Tegan and Sara and Kurt Vile, but is starting to stand out on her own, and was recently signed to Merge Records. It's hard to ignore Crutchfield, thanks to her emotionally-thick lyrics and catchy tunes you'll be humming in your head all day long. Find Waxahatchee's tour dates here.
5. Purity Ring
Purity Ring makes the kind of music you can both dance and brood to. If you're a lover of synthpop and a visually stunning experience, Purity Ring is the band for you. The Canadian duo features the vocal stylings of Megan James, who produces a hypnotizing stage presence and dons just the most gorgeous and eye-catching getups. For years, the band has toured with massive light orbs onstage, timed to go off and on with their poppy electro sounds. The band is wrapping up a world tour right now, but heads back for more shows in the U.S. at the end of the summer and well into the fall before heading back overseas once again. Find Purity Ring's tour dates here.
6. Beach House
For something a little more dreamy and dizzying, please head to your nearest Beach House performance. The Baltimore-based duo have released a series of well-received albums since 2006, and will be releasing its newest album Depression Cherry later this year on Sub Pop. Victoria Legend's soothing and mesmerizing vocals are the standout characteristic of this band, woven over a delicious combination of sustaining synth chords and Alex Scally's guitar wails. Catch them in the U.S. before their world tour. Find Beach House's tour dates here.
7. Speedy Ortiz
Speedy Ortiz may have started as a solo project from Sadie Dupuis, but it eventually expanded into the full indie rock band that it is today. Speedy Ortiz's shows are fun, lively, and may put you in danger of completely falling for their charming onstage energy. Dupuis is the very picture of a confident frontwoman, and her empowering lyrics reflect that attitude. (For a good pick-me-up on any day, I highly recommend giving "Raising the Skate" a listen.) Speedy Ortiz is touring the U.S. now through September, and will then head off for more tour dates overseas. Find Speedy Ortiz's tour dates here.
8. Skating Polly
Skating Polly is one of those up-and-coming bands that should definitely be on your radar. The Oklahoma-based duo consists of stepsisters Kelli Mayo and Peyton Bighorse. Even cooler? They founded the band when Kelli was nine and Peyton was 14. Since then, they've wowed audiences with their feminist fury and unique instrumentation. They touch on a number of genres, including garage rock and indie rock, and toured with Babes In Toyland earlier this year, where they very quickly turned heads. You'll have to be fast to catch them at just a handful of festival dates this summer. Find Skating Polly's tour dates here.
Images: Le Butcherettes, Holly Parker, Katie Crutchfield, Purity Ring, Sub Pop, Impose Magazine, Skating Polly(2)/Instagram