17 Food Inspired Nails To Literally Drool Over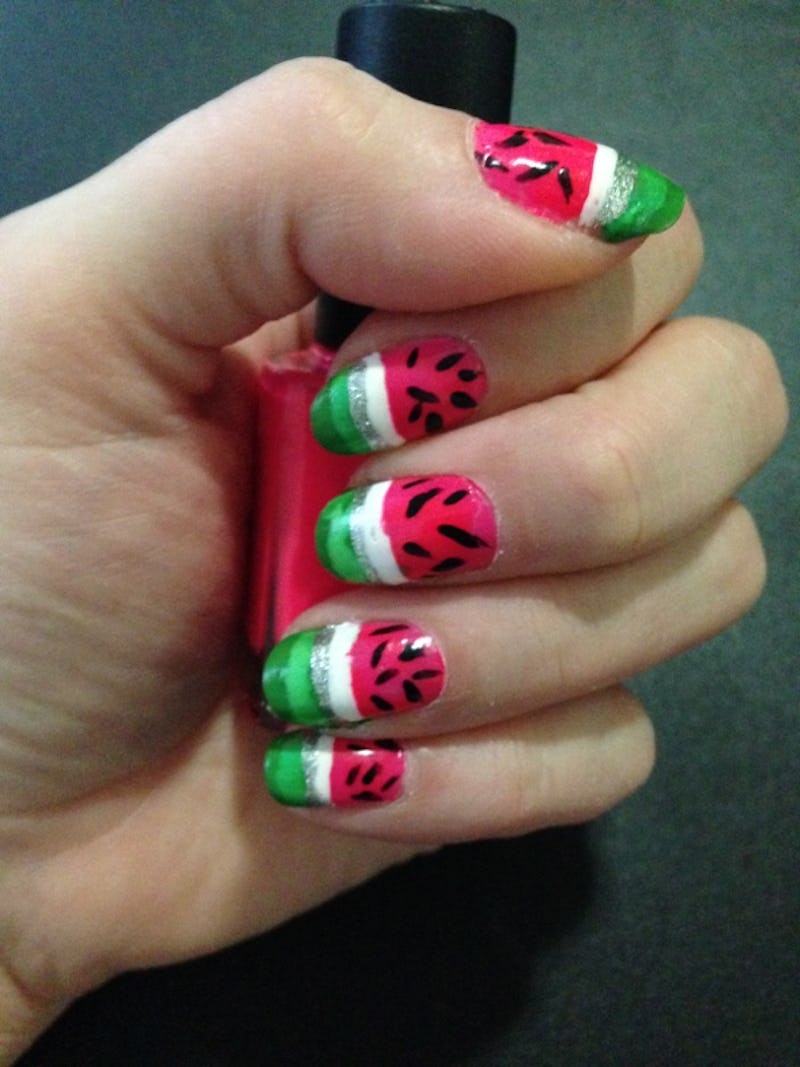 Nail art is certainly having its 15 minutes of fame; actually, scratch that, more like its 15 months of fame, and food inspired nails are no different. While beauty trend analysts wax and wane over the popularity and future of embellished nails, it doesn't seem that we're about to hit peak nail art saturation any time soon. And while some styles leave you scratching your head, wondering how they pulled it off (and how they do daily tasks with 3D art or super-long nails), there are fortunately countless nail trend tutorials on the Internet that can level up your finger skillz so you can create the coolest designs. The latest yummy trend that's totally wetting my cosmetic appetite? Delectable food-themed nails.
It seems to me that detailed nail art tends to divide people and can take some time to get used to — some (like myself) hoard nail polish and obsess over recreating every quirky design, while others wouldn't be caught dead in anything but a perfectly polished classic French manicure. Whatever camp you consider yourself part of, you can surely appreciate the time, dedication, and steady handedness that it takes to accomplish these intricate digits.
In need of some foodie inspo for your next nail art design? Then keep scrolling for some delicious ideas, and don't blame me if you're hungry by the end!
1. Pop Tarts
Breakfast of champions (or hungover college students).
2. Pretzels
Gluten free and adorable.
3. Bananas
These nails are certainly appeeling...
4. Oreos
These won't get soggy in milk.
5. Strawberries
Strawberry fields forever, right?
6. Chocolate-Dipped Strawberries
Getting all romantical and fancy with it!
7. Hamburgers
Be the burger Queen with this meaty look.
8. Hot Dogs
What's a summer picnic without hot dogs?
9. Cherries
Just the perfect topping for your sundae best.
10. Fried Eggs
I guess it's better to have egg on your nails than on your face.
11. Bacon & Eggs
Making Ron Swanson proud.
12. Veggies
Keeping digits healthy!
13. Gumballs
Anyone have a quarter?
14. Sushi
The freshest set in the game.
15. Avocados
I bet you're craving guacamole now (sans peas, of course)!
16. Ice Cream
The perfect summer treat, now portable at all times!
17. Sour Patch Kids
First they're sour, then they're sweet!
Images: Liz Black (1), Juliatmll, Polishmepretty_nails, Blonde_nails_101, Iheartnailart03, Gaudyoctopus, Stephyclaws, Ayewuykenails, Monicahues, Goldifurman, Lisa.b.ivystar, Lazy_sunday_afternoon, Tattiz201d, P_inklilynails, Teasp00n, Vanessabeezkneez, Savvyshinenails, Gabbysnailart/Instagram