Paul Rudd Was "Miserable" Making 'Ant-Man'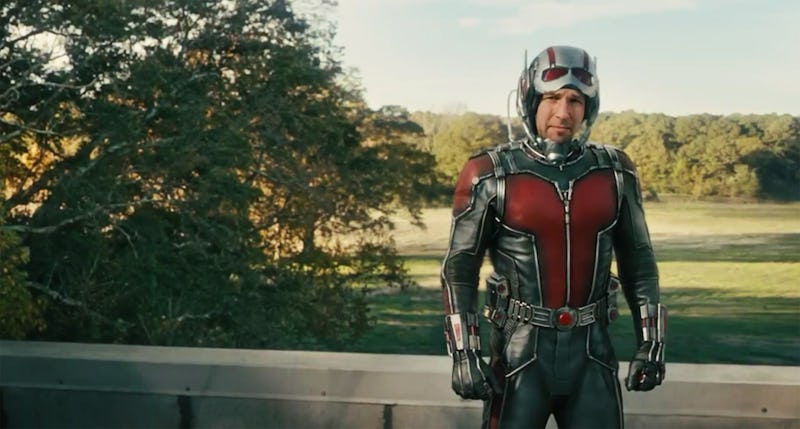 A lot of people had to smother a chuckle when Marvel revealed that its next major film would feature Paul Rudd as Ant-Man. For starters, the name "Ant-Man" doesn't have quite the same ring to it as Iron Man, or Daredevil, or Wolverine, or really any other superhero name, if we're being honest. Also, although Paul Rudd is a versatile actor, he's always been known for his comedic chops as opposed to his athleticism. But fans have gotten to see a lot more of Rudd (literally and figuratively) over the course of Ant-Man's marketing push, and he successfully comes off as a total badass. Also, he is ripped. How did Paul Rudd get in shape for Ant-Man? Seriously, this guy looks good.
Like many actors tasked with playing superheroes, the actor worked hard to get in such good shape. At an Ant-Man press conference in London on July 7, Rudd revealed that he spent a year on a strict diet and exercise regime in order to be physically and mentally prepared for the role. The 46-year-old said that the intense physical conditioning helped him to feel like less of an "imposter" playing a superhero. Having this external motivation kept him committed to the regime, which he admits was very taxing.
Said Rudd, "I knew I was going to be held accountable, so that made it a little easier. But I'd never done anything like that before to that extreme."
He went on to reveal that he was "miserable" for the 12 months that he had to adhere to the diet and workout plan, which became the focus of his day. Rudd explained in greater detail: "We'd work out with a trainer and I worked with a guy who was doing tumbling and taught how to do flips and stuff like that. I was eating a lot of protein and vegetables. I was eating at very specific times of the day and I didn't drink any alcohol...I didn't do anything fun for a year."
Rudd did, however, enjoy getting to learn fight choreography with co-star Evangeline Lilly. He said at the press conference, "Those scenes were really fun because it's just fun to fight. I don't get to do it too much in movies, so to go through all the training and all the choreography and really work on things like that is great."
Although it's a departure from his regular body of work (no pun intended), there's no doubt that Paul Rudd committed to the role of Ant-Man in a big way. It helped that he had another comedian-turned-superhero to look up to for advice; talking to Variety, Rudd said that he "took the Chris Pratt approach" when it came to preparing for action scenes. The comparison makes sense — both stars were known predominantly for their lighthearted, if foul-mouthed comedy, but then became superheroes thanks to a little studio called Marvel. They're also both lovable dudes who look eternally youthful — seriously, how do they do it?
Will Rudd's year of being "miserable" in devotion to the role ultimately be worth it? We'll find out when Ant-Man comes to the big screen on July 17.
Images: Walt Disney Studios; swedishfishrules/Tumblr; Giphy