7 Ways Chipotle Is Different Around the World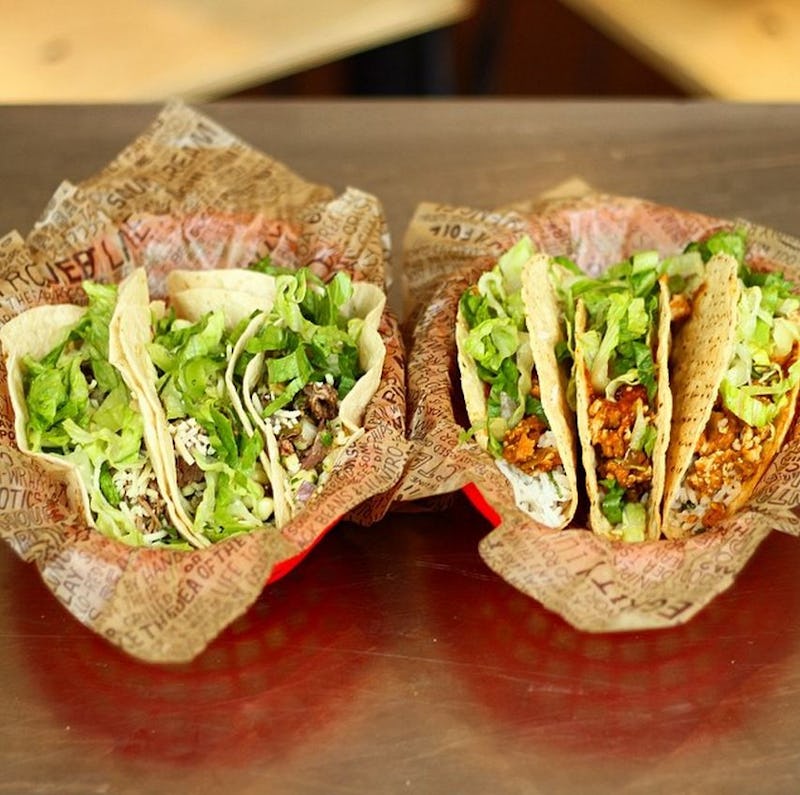 Chipotle, like Shark Week or Sriracha, has something of a cult following. The Subway of Mexican food lets you build burritos or burrito bowls (for the gluten free or "gluten free" people out there) with exactly the toppings you want. Everyone knows her best friend's Chipotle order by heart (shoutout to Ali's Sofritas and extra fajita veggies), because you never know when you're going to need to pick up some emergency comfort food. But, what if I told you that Chipotle isn't the same everywhere? What if the Chipotle that you've come to love and cherish just completely threw you for a loop if you went to one of its stores in Canada or France?
Look, we're Millenials: We know Chipotle. Many of us walk around the world with the swagger of someone who has spent entirely too much time on Reddit threads about hacking the Chipotle ordering system to get the most bang for our buck. Guac is extra, so we might as well ask for a tortilla on the side, two different meats instead of one, and also ask them to make it a Quesarito while they're at it.
We get embarrassed when our parents inexplicably can't pronounce "Chipotle," even though it's completely phonetic. No, it is not pronounced "Chi-polt-ay" or "Chipoddle." We feel a certain kinship towards our brethren who brave lines out the door for a burrito. They understand us, and we understand them. Blood may be thicker than water, but guacamole is thicker than both.
We are Chipotle, and Chipotle is us. Amen.
But as is the case for many fast food and fast casual chains, Chipotle is different in other places around the world. I know — it's a lot to take in. Not as much to take in as a burrito bowl with black beans, chicken, corn salsa, pico de gallo, cheese, sour cream, lettuce and guac, but a lot nonetheless.
These seven differences might challenge what you think of as Chipotle — but hey, at least you'll be prepared when you encounter them during your next trip abroad, right?
I mean, yes, coriander and cilantro both hail from the same plant... but still. What is this madness? The rice also goes under the moniker "Coriander-Lime" in Germany, too, so maybe it's a European thing.
2. Carnitas Is Still Available In the UK and Canada
BRB, moving to Canada.
3. Some People Think It's Less Spicy Outside the U.S.
Obviously, it depends on your heat tolerance, but some people have said that European Chipotle is less spicy than its American counterpart.
4. It's Pricier Abroad
Chipotle prices based on the cost of ingredients, and many of their ingredients cost more abroad, meaning your burrito will probably be a bit more expensive in Europe. This is what the taco description looks like in German, by the way.
5. The World's Biggest Chipotle Is In Paris
Well, they do say everything's bigger in... Paris. According to The Star online, this particular Chipotle is about 7,000 square feet, up from the standard 2,200 to 2,500 square feet of your typical Chipotle. Burritos look so classy in French, don't they?
6. People In London Don't Seem to Love It That Much
Sales for London Chipotles aren't close to those in the U.S. They obviously just don't get it across the pond.
7. You Can Only Get a "Kid's Meal' In the U.S.
The kid's menu option isn't available internationally. Given how picky American kids are about their food these days, maybe we should follow suit and jettison the kid's menu nationwide.
Images: ChipotleUK (2), ChipotleMexicanGrill (2)/Instagram; Chipotle; Chipotle.de; Chipotle.fr