How To Wear A Scarf As A Top Just Like Rihanna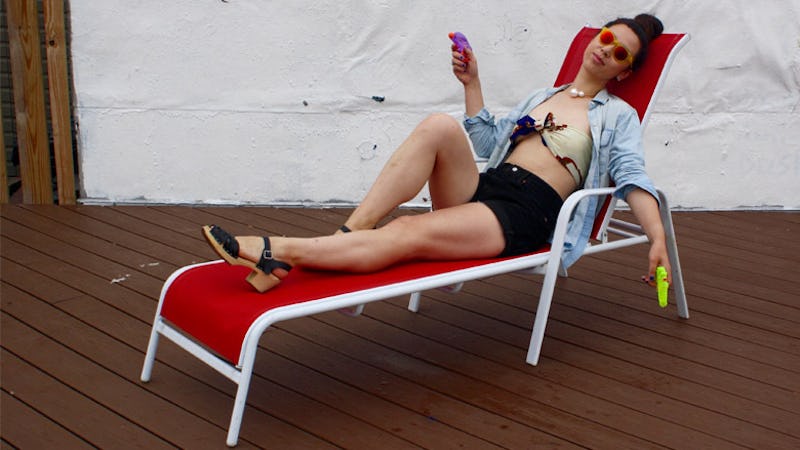 If you ever thought that classic silk scarves were out of fashion, you only had to look at Rihanna's Instagram to realize how woefully wrong you were, because here lies Rihanna, lounging by the pool in a Hermès scarf turned into a bikini top, looking totally chic and cool and sexy. But RiRi isn't the first person to rock this effortless summer look; she was beaten to the punch by Leandra Medine of The Man Repeller, who threw on a silk scarf as a tube top weeks ago. Really though, there are no losers in this game, because when you see two queens of cutting-edge street fashion posing in the same accessory-turned-shirt, you know it's a trend that's going to stick.
I'm beyond happy to jump on board with this trend because I love silk scarves and am always looking to find cheap, DIY ways to upgrade the clothes and accessories I already own. I'm also lazy and don't know how to sew, so if you're worried that this look will be too complicated to put together, I promise you that you can make the style work, too.
All you need to pull off the scarf-as-shirt trend is some confidence, a good scarf, and a little bit of know-how. Here's how to make two different shirts out of the same silk scarf.
The Scarf
The first step is making sure you're starting with a scarf that's big enough, and really, a Hermès scarf is pretty much the perfect size. At a square 35 inches, it's big enough to cover all the bits that you might want covered while still allowing for some flexibility. No worries if you don't have the funds to get a Hermès scarf though, or even one that's made of real silk. For a few dollars, you can get a scarf that's the right size at almost any thrift or vintage store.
That's where I got this cheeky Parisian-themed scarf. Ideally, you want a patterned scarf; it'll be more visually interesting, and if you're going to wear a scarf as a top, you might as well make it fun. If you're worried about accidentally showing some nip through the fabric, pick a scarf in a darker color.
Scarf acquired? Fantastic. Now let's turn that silk scarf into two different summer tops.
The Halter Top
Leandra Medine's love of silk scarves isn't news to anyone who regularly reads The Man Repeller. For her summer outfit ideas, she wrapped a floral silk scarf around a button-up shirt, but really, who needs the button-up shirt? You can make a perfectly flowing halter top out of a silk scarf, and you don't even have to wear a bra if you don't want to.
To get this look yourself, lay out the scarf, and tie two of the corners together, like you're making a cape.
Slip your head through the hole you just made, making sure the knot is on the nape of your neck. Take the bottom two corners that are still flapping around, and tie those around your waist. If you want to make the back of the halter top more uniform, you can twist the corners before tying together.
And that's it! If you want to show off a little more side boob, tuck some of the extra fabric in and secure the fold with a safety pin. The same is true if you want a lower neckline.
Make sure you're using double knots so your silk shirt doesn't accidentally fall off. (But really, that's good advice for all halter tops.)
The Bikini Top
When I saw that picture of Rihanna lounging on the beach wearing nothing but an Hermes scarf as a bra-bikini top, I knew I needed to make that look my own, and lucky for us all, it's super easy to pull off.
Take your scarf and lie it down flat. You want to fold it along the diagonal axis, so the bandeau will be as long as possible. Fold two of the corners down to the middle, and then fold the whole thing in half.
You can then adjust the thickness of the band depending on how much coverage you want. To make a smaller band, fold down some of the fabric at the top, and to make it wider, just fold the top piece of fabric down a little bit.
If you're worried about the fold coming undone, you can secure with a pin, but that shouldn't be necessary if you're tying it properly. Making sure the open side of the fold is up, wrap the scarf around your body like a bandeau swimsuit. Secure the scarf by tying it in front, right in between your boobs. How you choose to tie it is up to you, but I'd recommend a double knot topped off with a bow, demonstrated below.
You might have to do some slight adjustments to make sure you're covering what you want to be covered, but if you tie it tightly enough, you shouldn't have to worry about scarf-as-bikini top busting open.
I don't want to end this post with a close-up on my boobs, though. So here's another picture of me straight lounging on my rooftop, doing my best Rihanna impression in a silk scarf bikini top and two plastic water guns from the dollar store, with the hope that I've inspired you to do the same.
There are really unlimited ways to turn a scarf into a shirt, so keep experimenting once you've got these basics down, and maybe you'll come up with something that'll one-up Rihanna. Until then, you know where to find me.
Images: Maxine Builder; badgirlriri/Instagram