7 Reasons To Try The Neckerchief Trend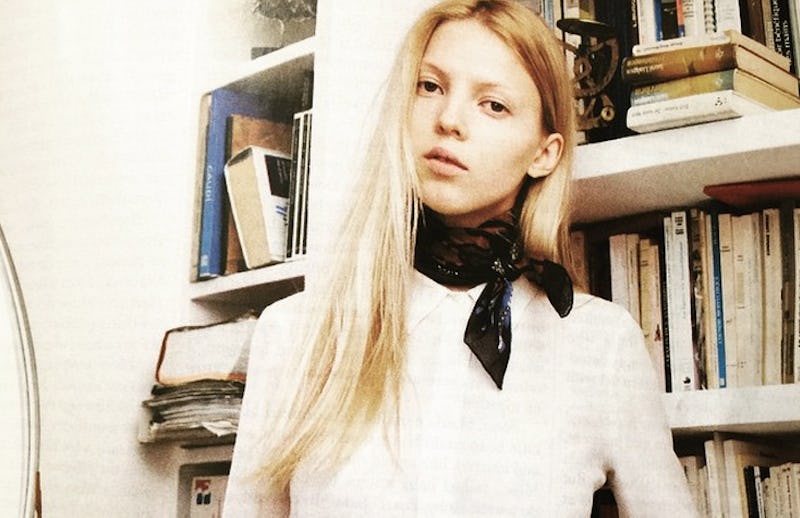 You may be asking yourself, what is a neckerchief? Is it a modified version of a bandanna? Is it a new type of turtleneck embellishment? Or is it simply a fad that will pass before you really understand it, á la "on fleek?"
A neckerchief is actually the middle ground between a scarf and a handkerchief, also popularly known as a square scarf. The "necker" part comes in to play because the proper way to wear these said square scarves is around your neck. And despite how trendy the name neckerchief actually sounds, the act of wearing a square scarf around one's neck is actually an old tradition. That being said, the neckerchief has recently made a major comeback, adorning the necks of both models and bloggers, proving the classic way to wear a scarf isn't as outdated as you might think.
I admit that when I think of neck scarves, I think of my grandmother. In my closet I have a few floral square scarves that she used to tie around her neck, always keeping her other accessories basic. When I was younger, I thought the neck scarf was only a grandma thing, but this neckerchief trend has proved me wrong. Now I wear those same scarves around my neck, also keeping my accessories understated, but adding in a bit of personality and style to my favorite outfits. And for spring and summer, the neckerchief trend is especially pretty and versatile, no matter how you wear it.
So, whether you clicked on this link because you were curious to find out what a neckerchief actually is, or if you already know about the scarves and want to try the look out yourself, here are seven reasons why the neckerchief isn't just another fleeting trend. And seven ways to please your grandmama with your sartorial choices, of course.
1. It Spices Up Any Outfit
Scarves are admittedly an afterthought in the warmer months. Since we're not counting on one to keep us alive while we bare the cold wind and snow in the winter, it's easy to forget about beanies, and mittens, and scarves when we're too busy soaking up the sun.
That being said, a light silk scarf or neckerchief can infuse a basic outfit with some personality and color with just the tie of a knot. And because it's such a breathable, light fabric, it won't make you too warm.
2. It's A Fool Proof Accessory
Accessories are meant to bring life to an otherwise basic outfit. While a pair of fantastic heels or a smart handbag might just do the trick, so can a neckerchief. Imagine an outfit comprised of a pair of basic skinny jeans and a white V-neck t-shirt. No one will bat an eye with a pair of tan sandals and a matching tan bag, but the real show stopper could be a bright, floral scarf tied around your neck. Styling doesn't get easier than that.
3. It Makes For A Great Selfie
Let's be real here, we all love a good selfie. And the key to a good selfie is, of course, something that makes it stand out. We've all seen amazing selfies featuring statement necklaces, dangling earrings, and even the classic red lip, but what about a neckerchief selfie? Depending on what kind of scarf you can find, and how you tie it, wear it, and accessorize it, a neckerchief might just be a good addition to your Instagram profile.
4. It's Unisex
If you thought neckerchiefs were "just for the girls," you are seriously mistaken. Because as "girly" as a scarf tied around one's neck sounds, boys can rock the trend, too. Whether they're wearing a floral pattern, a striped one, or even a classic Rosie-The-Riveter style scarf like this male model, neckerchiefs can look handsome and smart on any human.
5. They're Readily Available
Because I would buy everything if I could, I typically avoid looking around in shops in the hopes of avoiding purchases I don't need to make. That being said, I sometimes overlook accessories and unknowingly neglect neckerchiefs. Almost every brand and every store has a scarf section that typically sells silk, square scarves, and even most thrift stores and second hand stores organize their scarves in a separate area.
So, instead of just overlooking them, I have been looking out for scarves, shopping for the most unique patterns, colors, and designs I can find.
6. You Can Wear One On Your Pants
Just because they're called neckerchiefs doesn't mean you necessarily have to wear them around your neck. Sonya Esman of the blog Class is Internal tied a square scarf around one of the belt loops on her skinny jeans. Spelled out, it doesn't seem like the greatest sartorial idea. But as you can see from the photo, it's definitely an eye-catcher.
Her outfit is pretty casual, but the army-print of her scarf adds extra utility and a dash of coolness to her ensemble. Plus, imagine how cool that scarf would look blowing in the wind. Pretty rad, if you ask me.
7. And Even On Your Wrist
And that's not the only place you can wear one. You can also take a neckerchief and literally turn it into a bracelet by wrapping it around your wrist. Leandra Medine, also known as The Man Repeller, wore a red and white scarf around her wrist at the CFDA Awards and a gold cuff on her other wrist, looking absolutely stunning with barely any other accessories.
Sometimes the prettiest accessories are items you never would have thought to wear, and that includes neckerchiefs. Imagine all the other ways you could wear one: around your ankle, as a headband, around your waist… the possibilities are endless, so get creative!
Images: le21eme, manrepeller, allie_davies, thesartorialscout, nyfashionhunter, elleusa/Instagram; Giphy