This Is How Much Cheaper Destination Weddings Are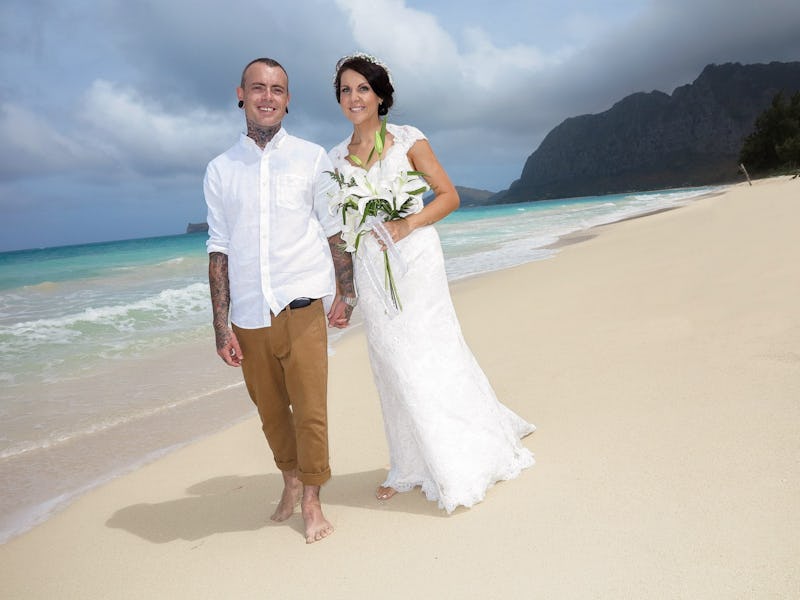 Weddings are beautiful affairs where friends and family gather together in celebration of a couple's love for one another. Weddings are also becoming increasingly freaking expensive. In a study conducted by travel site, LoveHolidays.com, they found how much the average person spends on a wedding. The average British person spends about £24,000 ($31,000) a traditional wedding. However, those who opt to take their weddings outside of the country and onto the beaches of somewhere warm, sunny, and sandy, spend anywhere between £6000 and £7000 (about $9000 and $11,000) on their destination weddings.
The annual Real Weddings Study conducted in 2013 by XO Group Inc., which is responsible for top wedding site, The Knot, found that the average wedding costs $29,858, excluding the honeymoon. If you're not ready to shell out thirty grand on arguably one of the biggest moments of your life when you could spend that money on, let's say, the down payment of a house, then maybe you should try taking your wedding elsewhere. Somewhere with sun, sand, and clear waters, for instance. A new study shows that destination weddings may actually save you over $20,000. Who isn't for saving tens of thousands of dollars?
Matthew Lawson, the Ecommerce Director at LoveHolidays.com said,
"As a travel agency, we can understand why couples tend to go away and get married. Not only is the money saving aspect the most crucial to them, but at the same time they will tick other requirements which they will receive for booking abroad. Who wouldn't want beautiful scenic views, and a personal wedding planner, which you get as standard by booking overseas."
The survey found that more and more people are choosing to get married abroad and that couples site financial reasons as one of the primary reasons why they choose to marry abroad. People also said they enjoyed the beautiful environment and intimate settings that destination weddings provide.
So, if you're looking to forego the whole traditional wedding setting, try looking into traveling elsewhere. In any case, you'll not only save a ton, but have beautiful memories and photos to match. Here are three things you may not have known about destination weddings.
1. Destination weddings keep the guest lists relatively small.
In fact, according to a 2013 wedding survey conducted by The Knot and Wedding Channel, destination weddings have an average of 86 guests in comparison to a traditional wedding where the average number of guests in a wedding is 138. However, it should be noted that the number of guests attending destination weddings are growing. In 2009, the average number of guests were 77 per wedding. For destination weddings that are "domestic," the average number of guests is larger at 96.
Couples who have destination weddings are also more likely to spend more per guest than traditional wedding couples. Those who take their weddings abroad spend an average of $404 per guest, while those who keep it domestic spend an average of $225 per guest. People who opt for more traditional weddings tend to spend an average of $137 per guest.
To make things even better for guests, one in three couples even plan group activities like sightseeing tours for their guests, and more than half of those couples even cover some of those costs for their guests. Furthermore, around 40 percent of destination wedding couples are generous and even pay for the travel and accommodations for some of their guests.
2. It's all about big, touristy spots
According to a 2012 destination wedding study conducted by TheKnot.com and WeddingChannel.com, 70 percent of destination weddings actually take place within the continental United States. In the continental U.S., Florida, California, and Nevada make up the top three places to have a destination wedding. Outside the continental U.S., the Caribbean, Mexico, and Hawaii are the most popular, and 69 percent of destinations are usually held outdoors.
3. Planning is key
You don't have to have to exchange "I Do's" on the sands of Turks and Caicos to know that planning your picture perfect wedding can be and will most likely be a struggle. As The Knot and Wedding Channel survey found, 51 percent of destination wedding couples utilize the services of a wedding planner. Good planners will help lighten the burden of researching, searching local vendors, and dealing with logistics like lighting and rentals. According to The Knot, many resorts offer a coordinator in their wedding packages, but couples can expect to spend about 10 to 15 percent of their budget on local planners, which are a couple's best bet. After all, who would know the location better than a local? As far as timing goes, starting early is the key. As Bridal Guide noted, six to eight weeks is the acceptable amount of time before a weeding to send out invites for a traditional wedding. For destination weddings, however, you need to give your guests at least a four months' notice.
Images: AngelaCzmiel/Pixabay; Giphy(4)