Celebrating The 9 Women Of Color At Miss USA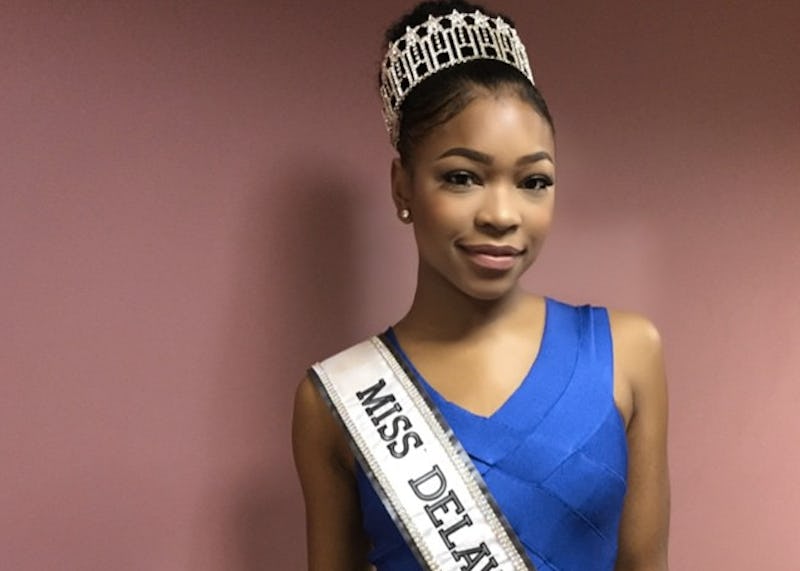 Beauty pageants — including the Miss USA pageant — in this country are chock full of issues, from a historic race problem to a size problem to a bit of a problem telling the truth. And in recent weeks, the upcoming Miss USA pageant has faced has a brand new problem by the name of Donald Trump, as the broadcast of the event is being dropped by networks due to Trump's extremely offensive remarks about Mexican people. Since Trump co-owns the pageant, many people have boycotted the event as an effort to boycott him.
Of course, among the millions of humans Trump insulted in the United States and worldwide with his heinous comments — which perpetuated stereotypes about Mexican people and basically made it seem like it is OK to categorize a large racial or ethnic group according to a ridiculous stereotype — were the women of color who are a part of this year's Miss USA pageant. Honestly, what was he thinking?
However, while Miss USA can't do much about the Donald Trump problem, it could certainly have made an effort to diversify the contestants for the 2015 pageant because, unsurprisingly, there are only nine women of color competing this year, out of the 51 contestants.
According to a report published on americanprogress.org in 2012, women of color comprised 36.3 percent of the population of women in the U.S. that year. That number, which has undoubtedly grown as the population has increased, is nowhere near the 17 percent of women of color represented in the pageant.
So who are these nine groundbreaking, fabulous women who are going where few women of color have gone before and paving the path for women of color to come? Find out more about these totally rad and inspiring women below:
1. Maureen Montagne
Maureen Montagne, Miss Arizona, is a current student at Arizona State University and hopes to one day be a reporter in Asia, specifically the Philippines or Singapore, where she wants to use her experiences to help women achieve their dreams. In addition to writing, Montagne loves hiking, playing the ukulele, watching Dance Moms, and dancing herself; in fact, she's experienced in ballet, tap, jazz, lyrical, and hip hop and dances for ASUs drill team. That's a pretty impressive dance resumé.
Montagne's mother is from the Philippines and her father is French, and she told Miss USA that having a mixed background makes for a really interesting atmosphere.
2. Natasha Martinez
Miss California is only 23 years old and already extremely accomplished. This Latina-American journalist is a TV host and currently works at KDOC-TV in SoCal but her adventures in the industry have brought her to work at Entertainment Tonight, the Emmy's, Grammy's, and Oscar's. Ultimately, she'd like to be a TV host for live shows and red carpet coverage.
Martinez comes from a mixed Latino background, and speaks both English and Spanish. Her mother is an immigrant from Nicaragua and her father is Mexican. In an interview for Miss USA, Martinez said she loves having a mixed cultured background because she gets to partake in amazing traditions but more importantly, amazing food. She's even recently taken up salsa dancing to "get more in touch with her Latina side." Not to mention she's a former Laker Girl. Is there anything she can't do?
Martinez is inspired by her mother, who is an eight-year breast cancer survivor, and currently works with her mothers former hospital to raise awareness and money for breast cancer. YAS QUEEN.
3. Talyah Polee
Miss Colorado Talyah Polee is not your typical Miss USA candidate. The Denver native was a Division I track-and-field athlete at the University of Nevada-Las Vegas, where she competed in a variety of athletic events such as the high jump, javelin throw, and shot put. Even out of college, Polee is serious about her fitness and told Colorado and Company that she works out twice a day, focusing on weight lifting (Polee says she could squat 400 pounds in college!), pilates, and core strength.
Being on stage and competing in sports were important in transforming Polee from a shy child into the confident woman she is today. Perhaps this is why she spends time interning for the NBA Summer League, which gives athletic opportunities to families and children who don't otherwise have access to them. If that isn't inspiring, I don't know what is.
4. Renee Bull
By the age of 22, Miss Delaware Renee Bull had already started her own nonprofit called Girls to Girls, which mentors young girls and shows them the importance of education and planning out steps for success. She told Miss USA that as one of seven siblings, she grew up with a lot of love and support, and wanted to reach out to girls who didn't have the same blessings and privileges as she did. In addition to her nonprofit, Bull has worked as a specialist at the Apple store and even makes and sells custom jewelry.
She hopes to use the Miss USA pageant to reach young women across the world and provide mentorship and community service. There's definitely a lot to be learned from Bull and her commitment to positive change.
5. Alexis Railsback
Miss Kansas Alexis Railsback is currently a freshman at the Johnson County Community College in Overland Park, Kansas where she plans on getting her Associate's degree and then moving to the University of Missouri-Kansas City to get a Bachelor's in business. Not only that, but Railsback wants to attend cosmetology school to become a licensed makeup artist and create her own line of cosmetics. There's no doubt that she's a dreamer, and by accomplishing her goal of representing her home-state in the Miss USA pageant, she hopes to inspire others to go after their dreams, too.
Railsback, who identifies as biracial, comes from a Mexican and German background and strongly values her diverse cultural upbringing.
6. Mame Adjei
Mame Adjei, Miss Maryland, graduated with a Bachelor's degree in Political Science and Africana Studies from Virginia Commonwealth University and is passionate about social justice and volunteering for humanitarian organizations. Her dream is to go to law school and work on human rights policies with the U.N. She told Miss USA that she especially wants to help women gain access to education and justice, internationally. In addition to bringing change through community service, Adjei has been modeling since the age of six.
Adjei speaks French and Akan, which is a language spoken in Ghana, the West African country where her father is from and where she lived until she was nine. She has also lived in Switzerland, and is inspired to combine her passion to serve with her experiences living all over the world.
7. Hoang-Kim Cung
Hoang-Kim Cung, Miss Nebraska, is a journalist for a news station in Nebraska and loves journalism because she's passionate about giving a voice to the voiceless. Not only does she do that, but she has her own lifestyle blog, which she uses to showcase her fashion and highlight current trends, both in Nebraska and elsewhere. Not only does she have a passion for fashion and storytelling, but she's teaching herself how to code, is a talented figure skater, and loves farm-to-table cooking. Honestly so #flawless.
Cung's family immigrated from Vietnam, and Vietnamese was actually her first language. Her family wanted to ensure they preserved their culture while in the states, so they made sure to solidify the language before she learned English.
8. Anea Garcia
Miss Rhode Island Anea Garcia has quite the story. Her mother was raped at the age of 13, and Garcia was adopted by her grandmother, with whom she grew up. She currently attends Roger Williams University in Rhode Island on a full scholarship where she is pursing degrees in both Philosophy and Legal Studies; ultimately, Garcia wants to be a criminal attorney.
She is of Dominican descent, and loves listening to Dominican music. She wants other people to be inspired by her story, never feel ashamed of who they are or where they come from, and show people that there's always a community of people out there that you can belong to.
9. Kiara Young
Miss Tennessee Kiara Young (who has probably heard the line "you're the only 10-I-see" a million times) graduated cum laude from Hampton University in 2012 and Meharry Medical College in 2014 where she received her Master's in Public Health. She is inspired by science and medicine and wants to become a pediatric gastroenterologist and work with children in areas without very much access to healthcare. Oh, also, she's an NFL cheerleader. NBD.
Young loves reading and volunteering and is known as the "Ultimate Organizer" in her family because of how meticulous she is with her planner.
Check out the full list of Miss USA 2015 contestants here!
Images: natashaamartinez, misscousa, missarizonausa, realmissdeusa, missksusa, realmissmdusa, hkcung, realmissriusa, realmisstnusa/Instagram